Early Bird Fantasy Football Rankings: Wide Receivers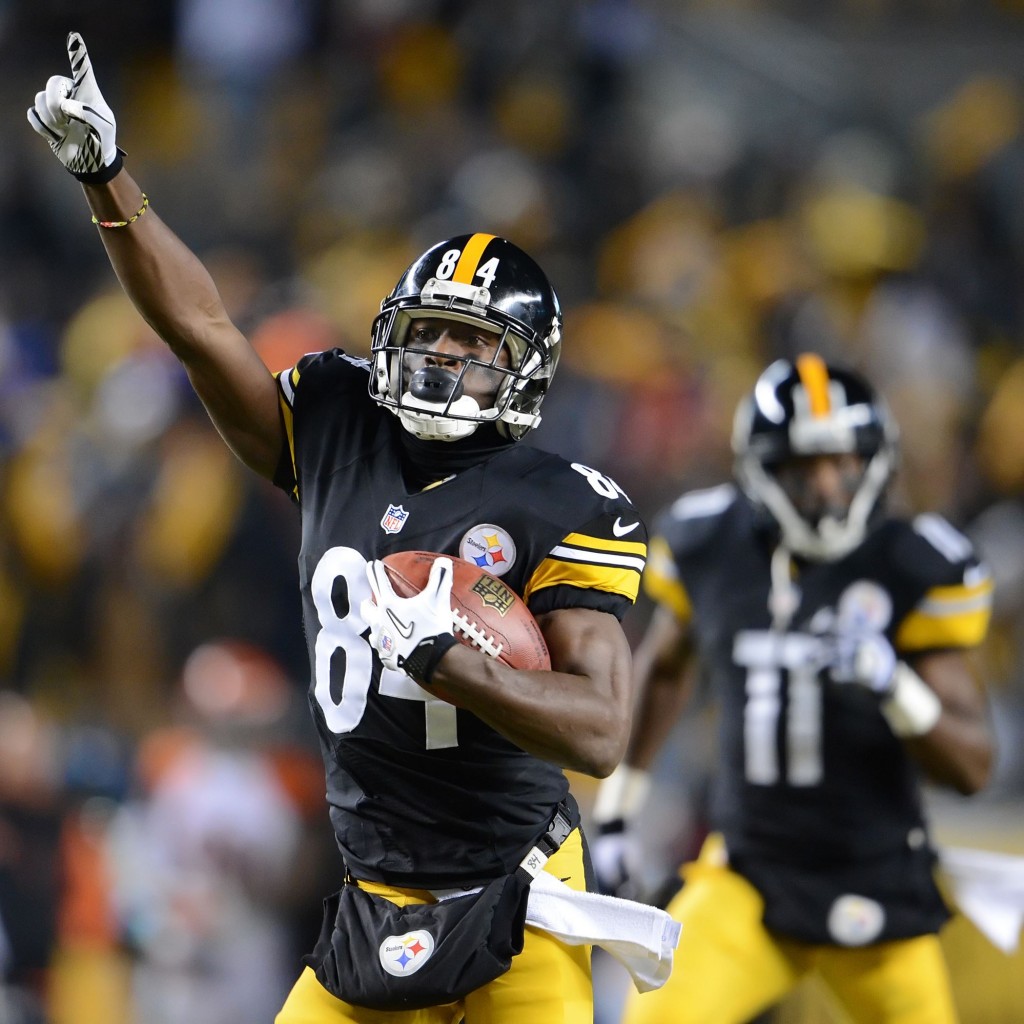 Here at Fantasyknuckleheads.com, we can't see the future. We don't claim to have any prophetic anointing nor any clairvoyant superstition of fantasy football flavor. What we can do is list our 75 of our favorite wide receivers in the order that we would want them on our rosters. And that we have done!
Check back regularly for updated analysis.
The formula with which we have put the following ranks together is not exact - fantasy football is not an exact science. But while looking at player projections, five things must be considered:
- Player Upside
- Level of Risk / Durability
- Workload (number of targets)
- Quality of Targets
- Player Floor
Let's get to it. Early Bird WR Ranks:
1. Antonio Brown, Pittsburgh Steelers
It's hard to argue against last year's #1 receiver after 1,698 yards, 12 tds, and a QB-coach combo that loves to put the ball in his hands anyway possible. Brown may still be working towards his prime, which is scary for defenses, but awesome if you are lucky enough to have him on your fantasy team. Pittsburgh boasts Brown, Le'Veon Bell, and Big Ben Roethlisberger on the offensive side of the ball - submitting their ballot for the most lethal QB-RB-WR trio in the league(fantasy-wise). An object in motion tends to stay in motion, and Antonio Brown on you roster tends to be a wise decision.
2. Dez Bryant, Dallas Cowboys
The X-factor to Dez's 2015 campaign will be how head coach Jason Garrett makes up for the loss of all-pro running back DeMarco Murray. The vacancy left by last year's league-leading rusher will cause Tony Romo to target Dez even more than in 2014, including a bump up in an already impressive number of redzone looks. He's fast, he's mean, and he'll flex and scream all the way to the top of the fantasy echelons once again in 2015. He'll be playing with some fire, I would be too if the biggest catch of my whole season was incorrectly taken away from me.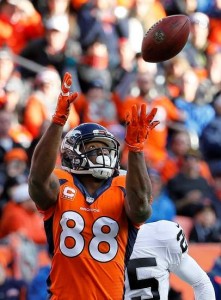 3. Demaryius Thomas, Denver Broncos
3 straight seasons of 1,400+ yards and 10+ touchdowns will earn you a lot of fantasy friends. Thomas has accomplished such, and he has gotten progressively better each year he's played with Sheriff Peyton Manning in the Mile High City. An uptick in fantasy points is probably not going to happen due to a change in offensive scheme shifting towards a bigger run game, but that will be offset by the increase in work he'll get due to the departure of TE Julius Thomas. Julius Thomas' 12 touchdowns will go somewhere - bet on a good portion of those heading Demaryius' way. Consistency is his middle name, draft him with confidence.
4. Julio Jones, Atlanta Falcons
Jones could very well end up as the league's top receiver when the 2015 dust settles. Should he stay healthy all year, the odds are in favor of enormous output: (1) He is the best athlete on the field as soon as he steps on the field. (2) QB Matt Ryan throws an accurate ball on short, middle, and deep routes. (3) No other receivers on the roster warrant a large number of targets. (4) The Falcons will not be winning any games with their defense - they will have to score plenty in order to win. This all culminates in a lot of passing plays, a ton of opportunity for Jones, and myriads of fantasy points.
5. Odell Beckham Jr., New York Giants
What can be said about OBJ that hasn't been said already? The man is ridiculous. 20 years from now there will be libraries (online) dedicated to the annals of his accomplishments. Monuments will be erected in his name. Every 13th floor in New York City will have a mandatory poster of Beckham Jr. "whipping." Oh, and he'll have a phenomenal sophomore season. No slumping will take place, he may actually improve. The Giants O-line has gotten better, the offensive scheme will be in its second year, and Victor Cruz's return will spread the field even more. Get your popcorn ready.
6. Jordy Nelson, Green Bay Packers
Mr. Aaron Rodgers' fantasy neighborhood is a friendly one. The top dog on that street is Jordy Nelson, and his fantasy forecast reads clear skies and big stat lines. Nelson saw a hot 151 targets from the league's best quarterback in 2014, and the result was being the third most productive fantasy WR. Bet on more of the same, and potentially even more than that. A scenario in which Nelson finishes as the top receiver is not completely out of reach. He has the deep threat ability, the workload, and the quarterback to do it.
7. Calvin Johnson, Detroit Lions
This is the lowest Johnson has been on a preseason fantasy ranking for a while, but we have to fear that Johnson's best years are behind him. His projection is not dire by any means, however. He is still going to dwarf cornerbacks and burn defenses weekly. He is still the best player on the Lions' roster. The future hall-of-famer (it's not too early to say that, right?) is a very safe bet for consistent production on a weekly basis.
8. A.J. Green, Cincinatti Bengals
Four straight 1,000+ yard seasons is an awfully good start to a career, and odds are that his streak doesn't end in year five. Green should have a better year in 2015 than he did in the previous season, assuming that he stays healthy. His talent is obvious and proven, despite up and down QB play from Andy Dalton. The running game behind Jeremy Hill will be strong with an improved offensive line (the Bengals' first two draft picks were both spent on offensive tackles), and WR Marvin Jones will be back to play opposite Green and spread the defense out for him. Green will again be the dependable stud you need. He's proven to be so good from the advent of his NFL days - he's got top five upside in what will be the Bengals' best offense in the last decade (at least).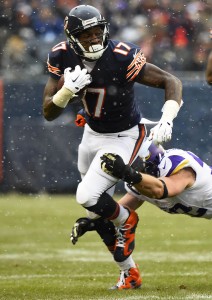 9. Alshon Jeffery, Chicago Bears
Now that big brother Brandon Marshall (in principle, not by blood) has been shipped out of the Windy City, Jeffery can shine as the top receiving weapon for the Bears. He has shone brilliantly as the number two guy there for two seasons now, but in 2015 he has the potential post monster numbers. Though Kevin White's addition may steal some value, the rookie's presence won't change the fact that Jeffery will be the go-to-guy, especially in the redzone (noticing a theme here? Redzone, redzone, redzone....). No matter who is slinging the ball midway through the season, Jeffery will be catching it.
10. T.Y. Hilton, Indianapolis Colts
Hilton makes the top ten by being the #1 receiver in one of the league's best offenses. He might even be higher an here were it not for the incredibly deep stable of receivers there for the Colts. Future hall of famer Andre Johnson came over from the Texans this offseason, and he'll be the biggest volume detractor of T.Y.'s workload and fantasy value. Donte Moncrief, Phillip Dorsett, and even Duron Carter are going to steal targets as well. But despite these things, Hilton is absolutely explosive and was impossible to cover at teams last year. Luck loves to toss him that deep ball, but Hilton has the ability to run every route on the field. Bet on an increase of touchdowns from his 2014 total of seven.
11. Mike Evans, Tampa Bay Buccaneers
When watching Johnny Manziel throwing ridiculous amounts of yardage for Texas A&M in his Heisman winning season, I was under the impression that those were Manziel's miracles. But upon further review, Mike Evans bailed him out a heck of a lot, out-jumping and out-running those little college defenders. Evans did the same thing to NFL DBs as well, to the tune of 1,051 yards and 12 tds. Rookie QB Jameis Winston should watch some tape and do exactly what Manziel and Josh McCown/Mike Glennon did - just throw it up high for the big guy to go get it.
12. Randall Cobb, Green Bay Packers
As stated previously, Aaron Rodgers is a generous man when it comes to dishing out fantasy points. Randall Cobb has established himself as the league's slot receiver standard, but he also cuts up defenders on the outside. His quickness and versatility get him open often and get fantasy points by the bunches. His upside is not great due to the presences of Jordy Nelson, Eddie Lacy, and third receiver Davante Adams, but his floor is still high because of the role he has in the offense he's in. You know exactly what you are getting in Cobb: a dependable bet for at least 1,000 yards and 7 touchdowns.
13. Kelvin Benjamin, Carolina Panthers
Big Benjamin has got huge potential to go along with his huge body. Last year, he did not look refined at all as a route runner, his quarterback was hurt, the run game stank, and no other Panther receiver was really an NFL player. But with another offseason under his belt, a healthy Cam Newton, and an improved offensive line (Carolina fingers crossed), Benjamin will be able to build upon his rookie success. His 1,008 yards and 9 tds are all the the more impressive in light of his shabby surroundings, and he'll continue to do well again as Cam's favorite receiving weapon. The fear of him being a little bit fat in training camp should not be that big of a deal... just gotta shed that winter coat.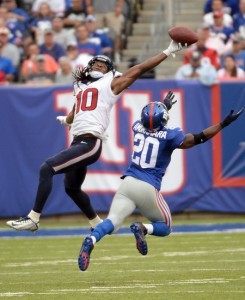 14. DeAndre Hopkins, Houston Texans
"Nuke" might be the best value pick among this second tier of wideouts. he brokeout in his sophomore season last year, showcasing some great leaping ability and fantastically sticky hands. Those are the things that you need when you have a QB that is not so accurate. Hopkins ability to grab 50-50 and hard-to-reach balls are going to be key for his success again as he is forced to play with whatever sub-par quarterback that Houston coughs up. Regardless of who that is, Hopkins is by far the best receiving option for the Texans and will garner a huge amount of targets, including in the redzone. Any ball that isn't force-fed to Arian Foster will most likely be headed Hopkins' way. Elite potential.
15. Keenan Allen, San Diego Chargers
Allen certainly disappointed in 2014. He sophomore slumped big time. In that sad second year, he regressed by 263 and his touchdown total was cut in half - from eight to four. He only had three games over 100 yards. Sold yet? Fear not. This was not the Keenan Allen that we saw in 2013, and this is not the Keenan Allen that will take the field in 2015. The Chargers' offense has undergone major turnover this offseason, and it has the potential to be much more lethal. With a legit run game (go Badgers), Allen will be relieved of some pressure in the secondary. He is getting faster by losing weight, and he is fully recovered from some injuries that nagged him all 2014 long. Those fantasy frowns will turn upside down; the young man is going to bounce back in a big way.
16. Emmanuel Sanders, Denver Broncos
Emmanuel Sanders blew away all expectations last year, finishing as the fifth best wide receiver in fantasy PPR leagues. He took full advantage of his opportunity and put his talents on display Denver. Many thought that Sanders wouldn't be able to replace the departed WR Eric Decker, but many were wrong. He was even an upgrade. He drops from his fifth place finish for the 2015 projections, however, not for any decrease in ability, but only because things in Denver are changing. Gary Kubiak and his run-heavy scheme aren't going to let Peyton Manning 597 times like last year, but Sanders is still going to be productive in the slightly diminished capacity. Manning and Sanders share a nice rapport, and they'll still connect often.
17. Jeremy Maclin, Kanas City Chiefs
18. DeSean Jackson, Washington Redskins
19. Golden Tate, Detroit Lions
20. Jordan Matthews, Philadelphia Eagles
21. Julian Edelman, New England Patriots
22. Andre Johnson, Indianapolis Colts
23. Amari Cooper, Oakland Raiders
24. Sammy Watkins, Buffalo Bills
25. Brandon Marshall, New York Jets
26. Kevin White, Chicago Bears
27. Nelson Agholor, Philadelphia Eagles
28. Charles Johnson, Minnesota Vikings
29a. Allen Robinson, Jacksonville Jaguars
29b. Mike Wallace, Minnesota Vikings
30. Stevie Johnson, San Diego Chargers
31. Vincent Jackson, Tampa Bay Buccaneers
32. Brandin Cooks, New Orleans Saints
33. Brandon LaFell, New England Patriots
34. Pierre Garcon, Washington Redskins
35. DeVante Parker, Miami Dolphins
36. Jarvis Landry, Miami Dolphins
37. Michael Floyd, Arizona Cardinals
38. Devin Funchess, Carolina Panthers
39. Torrey Smith, San Francisco 49ers
40. Martavis Bryant, Pittsburgh Steelers
41. Victor Cruz, New York Giants
42. Eric Decker, New York Jets
43. Andrew Hawkins, Cleveland Browns
44. Kenny Britt, St. Louis Rams
46. Marques Colston, New Orleans Saints
47. Anquan Boldin, San Francisco 49ers
48. Steve Smith, Baltimore Ravens
49. Dorial Green-Beckham, Tennessee Titans
50. Breshad Perriman, Baltimore Ravens
51. Roddy White, Atlanta Falcons
52. Terrance Williams, Dallas Cowboys
53. Doug Baldwin, Seattle Seahawks
54. Marvin Jones, Cincinatti Bengals
55. Jaelen Strong, Houston Texans
56. John Brown, Arizona Cardinals
57. Marqise Lee, Jacksonville Jaguars
58. Robert Woods, Buffalo Bills
59. Michael Crabtree, Oakland Raiders
60. Percy Harvin, Buffalo Bills
61. Larry Fitzgerald, Arizona Cardinals
62. Kendall Wright, Tennessee Titans
63. Cody Latimer, Denver Broncos
64. Steadman Bailey, St. Louis Rams
65. Davante Adams, Green Bay Packers
66. Jermaine Kearse, Seattle Seahawks
67. Kenny Stills, New Orleans Saints
68. Sammie Coates, Pittsburgh Steelers
69. Reuben Randle, New York Giants
70. Cordarrelle Patterson, Minnesota Vikings
71. Marlon Brown, Baltimore Ravens
72. Phillip Dorsett, Indianapolis Colts
73. Tyler Lockett, Seattle Seahawks
74. Josh Huff, Philadelphia Eagles
75. Kenny Bell, Tampa Bay Buccaneers
follow @apm_v on twitter for more fantasy insights.