Have you ever hosted a live draft with a group of friends? I've hosted live drafts with the old school cardboard draft board and stickers with player names you could peel and stick for each selection. It's fun, really it's a blast but you find yourself managing the draft clock, the selected players and finding the stickers (players names) for each selection. Needless to say it's a pain in the ass which takes away from the experience a tad bit. I recommend if you go with the old school draft boards you need to invite a buddy that isn't drafting to "work the board" and keep things in order. It gets even more time consuming when someone isn't physically present but on the phone making picks, yes it's going to be his last year.
Put an end to this madness!
I was able to get my hands on a software program that can be used to simply the entire process while keeping the look and feel of the old school fantasy football draft board. I'm talking about FanDraft, The Ultimate Fantasy Football Draft Experience. No more keeping a clock, no more peeling off stickers and managing available player list, no more remote picks via telephone. FanDraft has really put together a fully comprehensive draft program you can use to manage your draft year in and year out. Let's look at some of the features and what to expect. But don't take my word for it, download the LITE version and give it a test drive for free.
Start With The Ending In Mind
You can share your PC screen to your TV with HDIM, Chromecast, Apple TV or similar applications. You'll have the look of the classic fantasy football draft board without the classic inconveniences.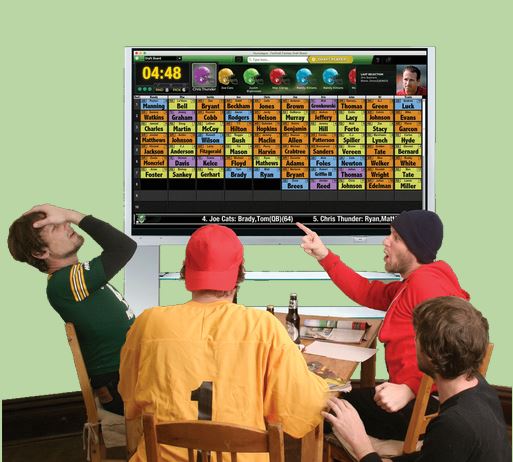 I'll now walk you through what I experienced getting this setup. All in all it took me less than 10 minutes to get my league setup with team and I could have done it much quicker if I wasn't exploring all the features.
Fresh Installation
After installation (MAC or PC) on my Windows 7 box I'm promoted with the option to create a new league or carry over from prior league. Software installation was smooth and the program moves quickly.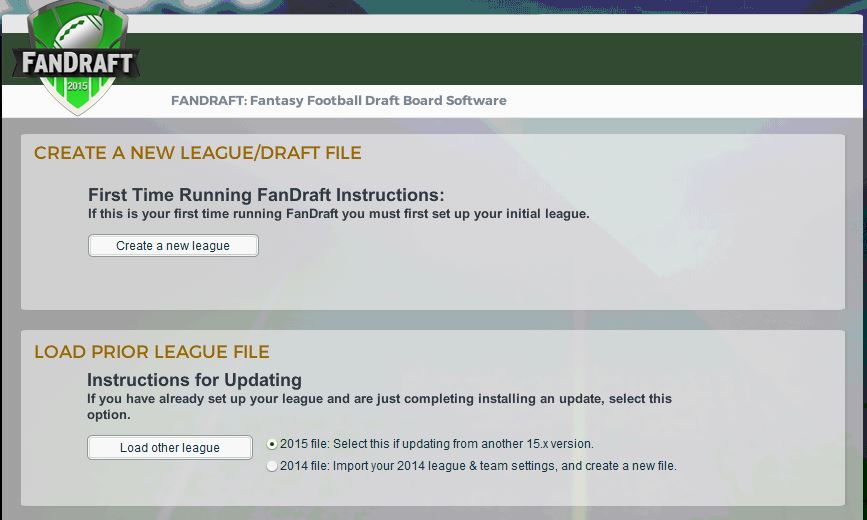 Player Updates
Obviously you'll want to download player updates before you draft. Download took about 2 minutes which seemed a bit longer than expected, guess it's more than a CSV file.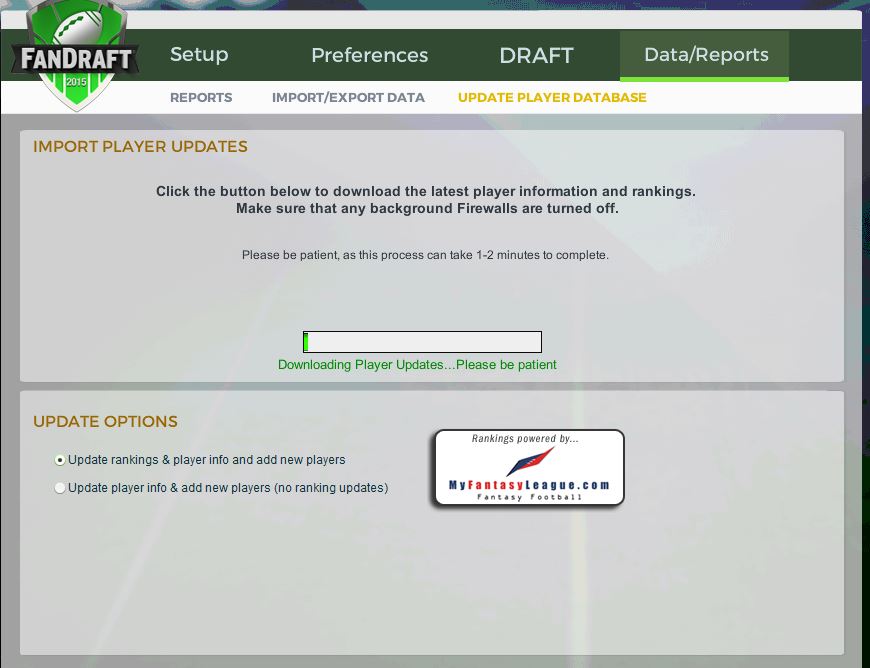 League Creation
Setting up my league was a breeze and I saw all the things you'd look for such as multiple teams, flex position, regular league or auction, roster limits and number of flex positions etc.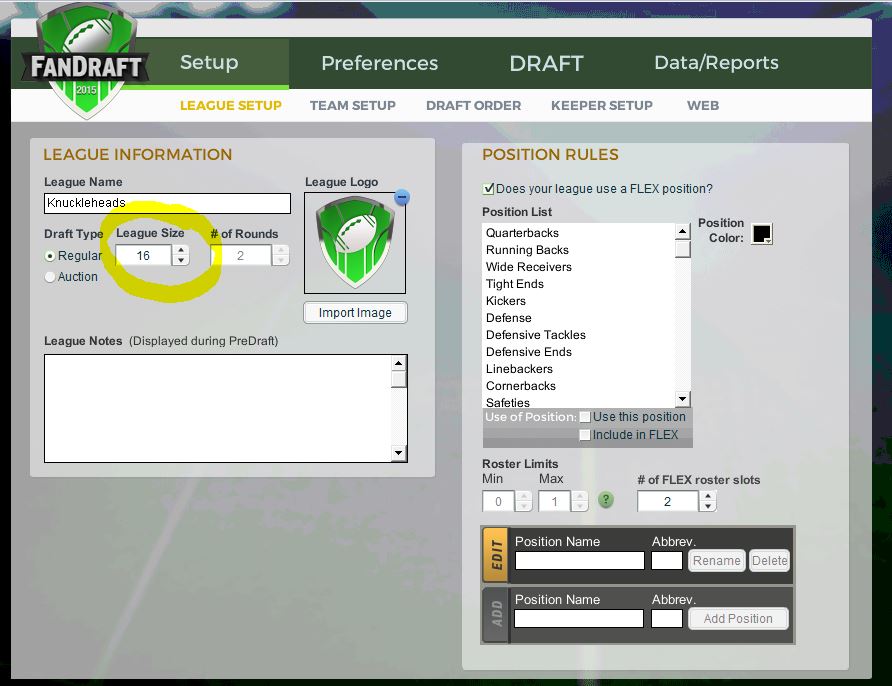 Team Setup and Draft Order
Now all I had to do was add all my team names and draft order, obviously I was lucky enough to get the first pick. What's nice here is you can edit the draft order at anytime as well as manipulate picks that are traded. I'm telling you the Fandraft guys though of everything, after all they've been doing this since 2002.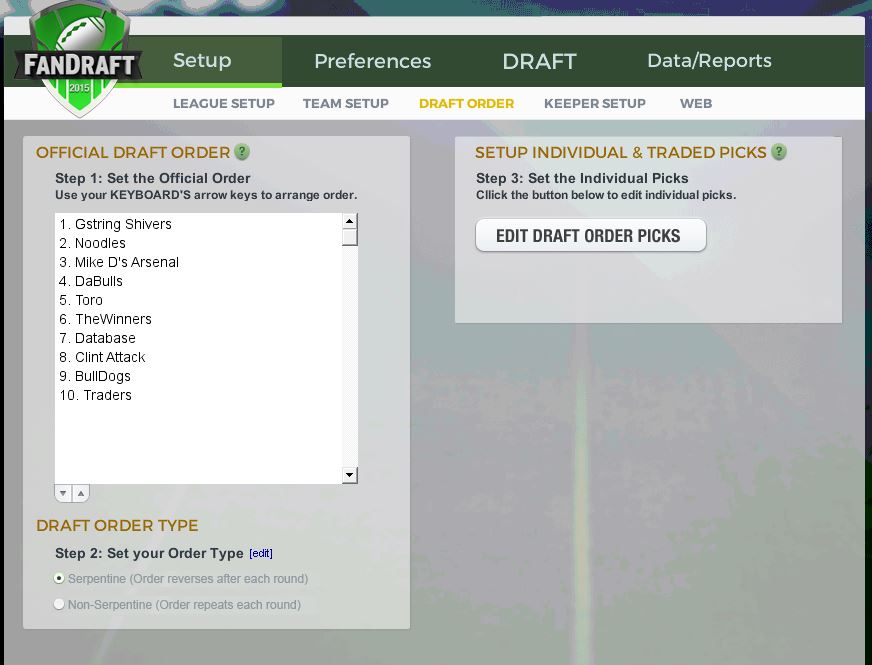 What About Keeper Leagues?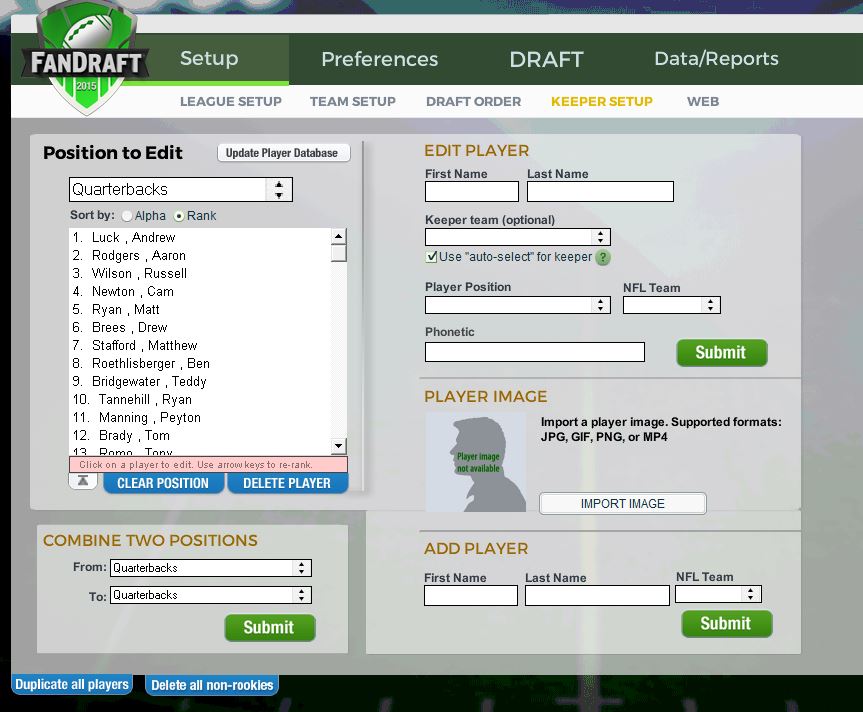 Drafting For Remote Users
So your buddy with five kids that can never make it to the live draft is safe, you don't have to kick him out of the league or deal with his telephoned in picks. FanDraft connects to the web so he'll be in the hot seat just like everyone else without having to man his cellphone for 4 hours.
FanDraft WEB allows owners unable to attend your draft to login to the FanDraft WEB website, and then view the draft as it takes place.
FanDraft WEB allows users to see all the draft results as they take place, and even chat remotely with the FanDraft application you run at your draft, so they can communicate their picks.
This is what it looks like here.
Managed Draft Experience
The picture says it all, and if you've ever managed a draft with online software you'll like how everything you see on this single panel. All you'll need to manage the draft is here, from trades to on the fly changes and editing of selections it's all 1 click away.
After the Pick is Made
After a player is selected there's some feedback options such as boo and cheer and the obvious ability to move on to the next pick or undo.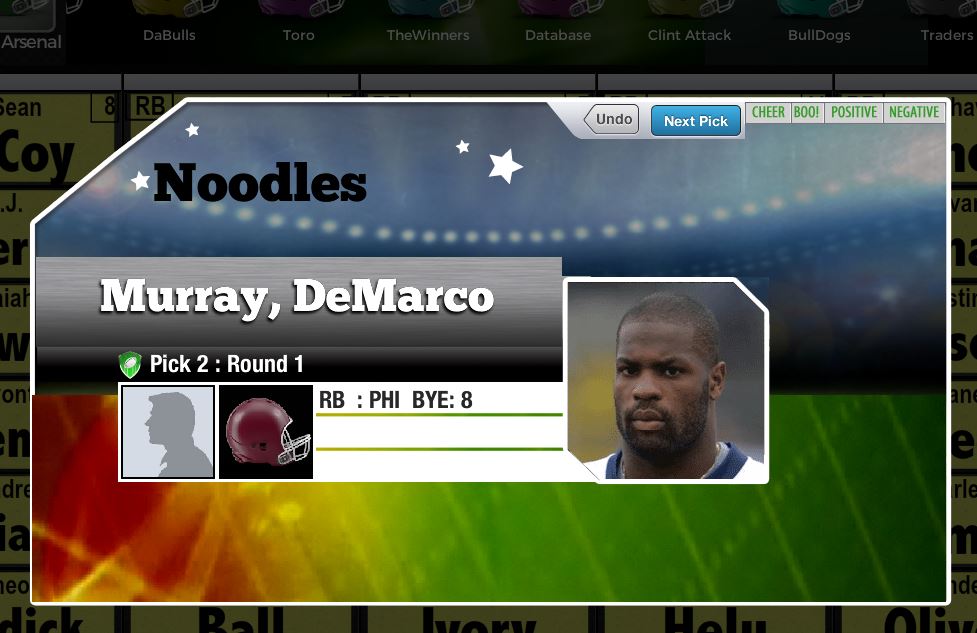 Did The Internet Go Out?
You don't need Internet access to run this software, it's all local. But if you have 12 people all using the web to research picks (rookies) well then you can pause and start your draft at any point in time if your internet goes out... or the dog farted.. wife came home early.. you get the picture.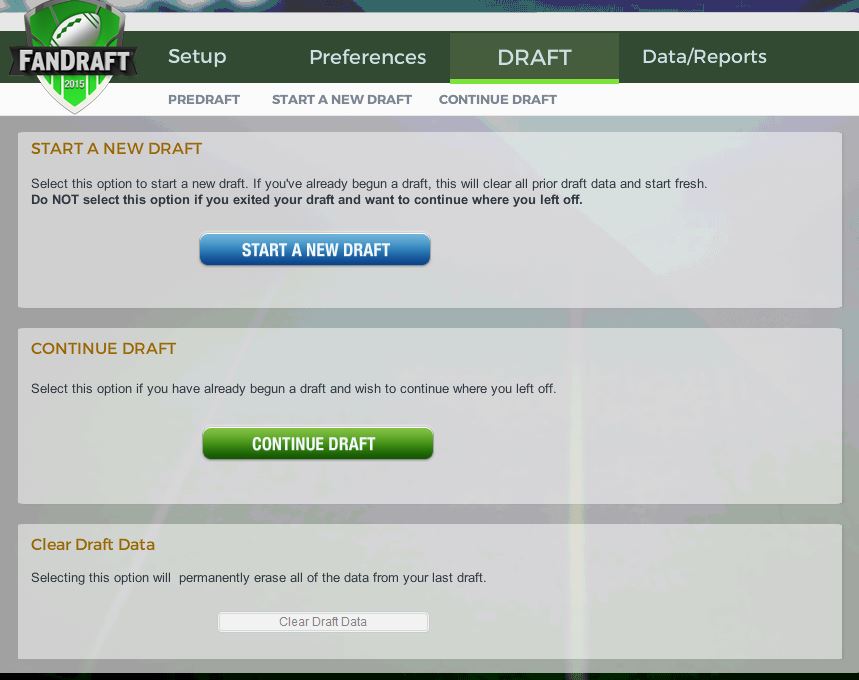 End Of Round 1
At the end of the round there's an end of round break so everyone can get beer. I told you they thought of everything!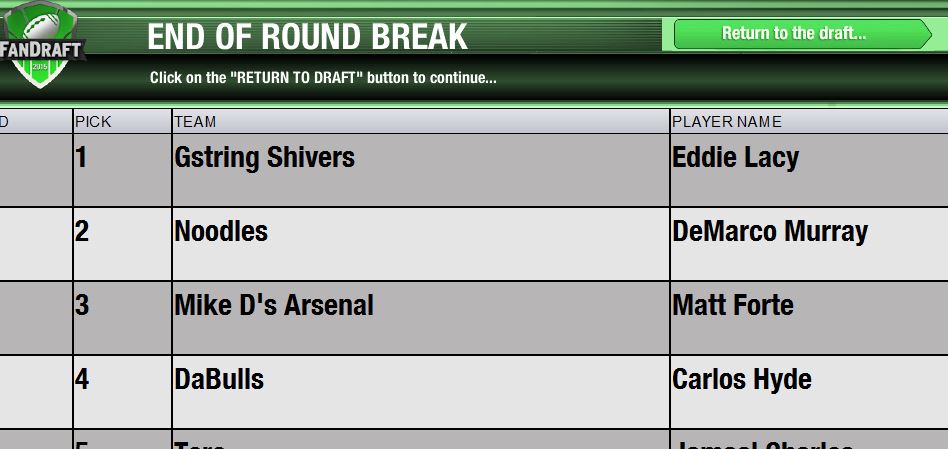 I've used the classic boards with stickers, online programs from RTSports, Yahoo and ESPN, hell we've even held live drafts via Google hangouts. I've got to say that hands down you get what you pay for and FanDraft has you covered. The only piece of this program I can't vouch for is the WEB access for remote users however, based on how well everything went with my draft I'm certain the WEB version works fine. Visit FanDraft Here