It's over. You can relax. The 2017 fantasy football season has come to a close and you now have 9 months until the next go-round. Use this time to rest, reflect, and maybe even catch up with those close family members and friends you've all-but ignored the last few months because you spent way too much time hovering around the waiver wire.
But in the spirit of reflection, before we completely move on from this season, let's take a look at some stats that reinforce just how crazy the game of fantasy football can be.
P.S.  Sorry in advance for the perhaps excessive amount of hate I'm about to spew on kickers. I'm working through some stuff.
1. 32% Of Players Who Finished In the Top 5 Last Year Missed 6 Or More Games This Year
Your odds of picking a first or second-round player who would go on to play the entire season were not so good this year. You were no doubt psyched if you nabbed Aaron Rodgers, David Johnson, Odell Beckham Jr., or Greg Olsen. They're elite players who finished in the Top 5 at their respective positions in 2016, and looked like no-brainer picks heading into the season. But the Great Injury Outbreak of 2017 had different plans for your star players, taking them down at various points in the season and no doubt derailing your team in the process.
Meanwhile, those taking the risk on Zeke were ultimately hit with his worst-case scenario: a 6-game suspension. And maybe some of you took a shot on Andrew Luck in the later rounds. That obviously didn't work out so well. There were also a couple of kickers (Dustin Hopkins, Caleb Sturgis) who missed a bunch of time due to injury, but the less written about them the better.
2. Despite Missing 6 Games, Zeke Finished As RB11
So many people hesitated to draft Zeke this year because no one knew exactly what his suspension would look like, or when it would occur. He made all those people look like fools. Over just 10 games, he still racked up more total TDs than Devonta Freeman, Carlos Hyde, LeSean McCoy, and Marshawn Lynch. He also came just 17 yards shy of rushing for a cool 1k. And this was his worst-case scenario. Can't wait to see what this guy's ADP looks like come next season.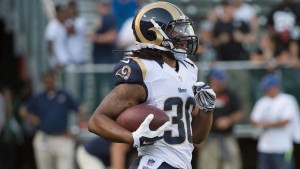 3. If He Hadn't Sat Out Week 17, Todd Gurley Would Be a Quadruple Crown RB
The Rams' RB went into Week 16 leading the position in rushing yards, rushing touchdowns, receiving yards, and receiving touchdowns. But because the Rams had nothing to gain by putting their starters in peril in Week 17, Gurley's regular season stat line stopped there. In the end, he was passed over in rushing yards by Kareem Hunt and receiving yards by Alvin Kamara.
*Special thanks to Ryan McDowell @RyanMc23 for the stat.
4. Cam Newton and Russell Wilson Out-Rushed Their Own Running Backs
Talk about putting the team on their backs. It's not a great year for your backfield when every player in it gains fewer yards than the guy whose main job is to throw the ball. Cam Newton went back to his old escapist ways after last year's precautionary measures, picking up 754 yards and 6 TDs with his feet. The next-highest rusher in Carolina was Jonathan Stewart, clocked in with 680 yards and matched his QB's running TD total.
Over in Seattle, the constant carousel of running backs ensured no one was able to stand out or usurp Russell Wilson as the leading rusher on the team. Wilson had 586 rushing yards on the season, whereas the next-best actual running back was Mike Davis...who picked up just 240 yards. That's less than half of what his quarterback managed. If those stats don't scare you away from Seahawk RBs next season (and give you more confidence in Wilson's floor), you're not fantasy footballing right.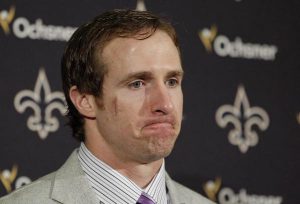 5. Drew Brees Finished Outside The Top 5 QBs For The First Time Since 2005
More than a decade-long streak of Top 5 finishes for the Saints' QB finally ended this year, though he still finished as a Top 10 guy. That's a helluva feat. Despite coming in at QB9 overall, it would be tough to find a fantasy owner who wasn't disappointed in the way Brees finished the season. He was consistent, sure, but lacked those eye-popping games that have made him one of the first quarterbacks off the board in fantasy circles for many moons. Was this year an anomaly, or is Brees no longer an elite fantasy QB?
6. Blake Bortles Was QB1 During the Fantasy Playoffs
If I had told you around Week 6 that Blake Bortles would win you a fantasy championship, you would have tweeted me something I couldn't show my mother. And I would have completely understood. Bortles averaged out as QB19 through the first 11 weeks of the season. If he was rostered, he was nothing more than an insurance policy in case your starting QB went down with an injury and streaming quarterbacks wasn't an option.
Be Sure To Check Out The DFS Projections Updated For Week 18
7. Eric Ebron Was TE1 During the Fantasy Playoffs
When it mattered most, the biggest fantasy football disappointment at the position since he entered the league finally delivered. And because of his sterling performances in those finals weeks (which almost no one benefitted from), he finishes the season as a top-tier tight end for the first time in his career. Expect Ebron's ADP to stay unreasonably high heading into 2018.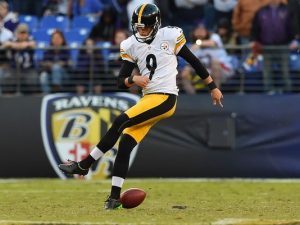 8. Half The Kickers Who Finished In the Top 10 Last Year Finished Outside the Top 25 This Year
Let this be your annual reminder that KICKERS DO NOT MATTER ON DRAFT DAY and you're a lunatic if you draft one before the final two rounds. Dustin Hopkins, Caleb Sturgis, Cairo Santos, Nick Novak, and Dan Bailey failed to reach any semblance of fantasy relevance this year, for varying reasons. So seriously, stop pretending that choosing a kicker should be any more laboring than picking a name out of a shoe.
9. 2 Kickers Scored More Points Than 6 Players Drafted In The 1st Round
Just because I really feel like messing with your head, let's also look at how a couple of top-flight kickers (yeah, that's a thing) compared to the supposed studs that went flying off the board in the first round, according to FantasyPros preseason ADP rankings.
Greg "The Leg" Zuerlein and Stephen "The Ghost" Gostkowski both outscored the likes of Mike Evans, A.J. Green, DeMarco Murray, Jordy Nelson, Jay Ajayi, and of course, David Johnson. Does this mean I take back what I said about drafting a kicker before the last two rounds? OH HELL NAW. It just reinforces that kickers are stupid, unpredictable fantasy assets that should be weened out of the game.
10. Only 3 D/STs Who Placed In The Top 10 Last Year Repeated The Feat This Year
Not to pile onto those people who get cute and try to draft the two most volatile positions (kickers and defenses) far too early...but c'mon, people. Only the Eagles, Chargers, and Panthers (just barely) were able to hold steady at the top of the heap again this season. In fact, most of 2016's Top 10 crew finished in the bottom half of the rankings this time around.
Thanks for using Fantasy Knuckleheads to (hopefully) lead your fantasy team to great success this year! Make sure to keep up with us during the offseason to prep for the 2018 season.