The upside picks highlight players with a good chance of exceeding expectations. Like any other ratings system, they do not always pan out. Those that do hit, will have a good chance to change the outcome of matchups. There are a few high upside picks for week 8 that are likely to hit in a major way. For additional lineup input, check out our weekly rankings page.
Quarterback
Cam Newton CAR
It has been an up and down season for Cam Newton. He is a tough player to trust on an every week basis, but he can still dominate a plus matchup. Tampa Bay has been a sieve against opposing quarterbacks this season. There is a good chance that Newton tops 30 fantasy points in week 8.
Tyrod Taylor BUF
The Bills do not have many elite pieces in their offense. There is still plenty of upside for Taylor, however. He has managed to cobble together some nice games against lower tier defenses. The Raiders are not strong against the pass. In this game they will have to contend with Shady McCoy out of the backfield and Tyrod's rushing ability as well. It is setting up to be two nice showing in a row for the Bills QB.
Running Back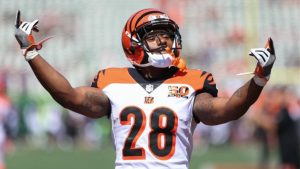 Joe Mixon CIN
The Bengals have held back Joe Mixon more than any defense. It seems like they are loosening the reins slightly in the last couple of games. He is still difficult to trust, though. This is the week that I would bet on Mixon having his breakout performance. He was just quoted as saying that the Bengals should run the ball more. In week 8 they will face a very beatable Indianapolis defense. Things are lining up for a Mixon coming out party.
Christian McCaffrey CAR
The upside pick of Cam Newton will be largely tied to this pick of McCaffrey. One of the keys to Newton having a big performance is frequently connecting with the rookie running back. These passes do not always pan out as big plays, but versus Tampa there should be yardage available. This will likely be McCaffrey's biggest performance to date.
Wide Receiver
Keenan Allen LAC
Allen has the fifth most targets in the league at 63 going into week 8. He has not been particularly valuable in standard leagues though. That will turn around with a cakewalk matchup in New England. The Pats secondary has played better recently, but Rivers and Allen will be too much to handle. The Chargers number one receiver will see the end zone at least once in this game and over 100 yards is in play as well.
Chris Hogan NE
There is one solid cover corner active for the Chargers, his name is Casey Hayward. Heyward will likely be kept busy against Brandin Cooks and that will leave Hogan free to produce. It has been a couple of weeks since Hogan visited the end zone. That drought will come to an end in week 8. Brady should have some easy open looks to Hogan versus the depleted Chargers secondary.
Hype Alert
Josh Doctson WAS
The days of Terrell Pryor starting for the Redskins may already be over. He was not on the field for much of the week 7 matchup with the Eagles. Instead, second year man Josh Doctson took over as the X receiver. The results were not astonishing out of the box, but Coach Gruden says that Doctson is their guy. He has enormous potential if he gets in sync with Cousins. I say that will happen in week 8, but most owners will have Doctson on the bench. Be bold and start the youngster versus the Cowboys suspect pass defense.
Tight End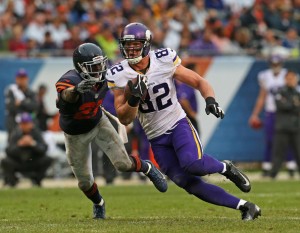 Kyle Rudolph MIN
It has been a difficult year for Rudolph after a big 2016 season. Nothing helps a tight end get right faster than a trip to Cleveland though. (Except maybe playing the Giants, but they're on a bye). There should be plenty of looks for Rudolph in this one and he is very likely to score at least once. My top five tight ends for week 8 include Kyle Rudolph.
George Kittle SF
It has been a pair of unproductive weeks for the young tight end since his big day versus Indy. His top tier stats will be revisited versus Philadelphia in week 8. The Eagles have a nice pass rush and that will cause Beathard to throw the ball early. This should play into more touches for the tight end Kittle. It is very likely that Carson Wentz will have the Eagles up by multiple scores by halftime. That means lots of 49ers passing, and lots of targets for Kittle.
Check back soon for our weekly sleepers and more information heading into the week 8 matchups. Follow us on Twitter as well for more insight and analysis: @_knuckleheads and @brendancole16.