Since their return to the NFL in 1999, Cleveland has endured constant troubles in their attempt to build a successful team. Shiny new pieces are brought in while old pieces are polished. Yet, each season seems to end with fans uttering the ever familiar phrase, "next year will be our year". Early 2014 looked promising for the Browns as they went into week 13 boasting a 7-4 record. They were in the hunt for the playoffs in a brutally tough AFC North when the bottom fell out, leading to a five game losing streak and ending their once promising season with a modest 7-9 record.
The Browns have to be eager to build off of the best season they've had in years. Problem is, better records don't always translate to success in the world of fantasy football.  How much fantasy relevance remains in Cleveland?
Quarterbacks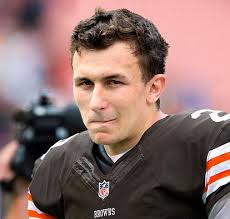 You'd be hard pressed to find a team in NFL history with worse luck at QB position the Cleveland Browns. The team has started 21 different QBs since their return in '99 and look ready to roll out number 22 with the addition of Josh McCown this offseason. There appears to be a battle for the starting role between McCown and former first round pick Johnny Manziel. Neither QB fills you with much confidence though, especially from a fantasy perspective. Take a look at these numbers from last season:
McCown played in 11 of 16 games for Tampa Bay. He completed only 56% of passes and finished the year with 2,206 yards, 11 TDs and 14 INTs.
Manziel played in one full game as starter where he went 10 of 18 for 80 yards, 0 TDs and 2 INTs. In that week against the Bengals he was sacked three times and the Browns lost 30-0.
Early offseason reports have hinted at McCown taking the role to start the season. I would find it hard to believe that McCown plays very many games as the starter before Manziel takes over. The Cleveland franchise simply has too much invested in Manziel to not give him another chance this season. Despite who gets the role, the receiving corp for the Browns is quite possibly the least inspiring receiving group in the league this season. Skip on McCown and Manziel in your drafts unless absolutely necessary, they should be readily available on the waiver wire if one guy emerges.
Running Backs
It's hard to deny that Cleveland has made great strides in building one of the best offensive lines in the league. Last season the run game looked impressive before dropping off a bit with the loss of O-line captain Alex Mack, who had a season ending leg injury in week five. The run game still managed to finish the year with solid numbers behind Isaiah Crowell, Terrance West and Ben Tate (Ben Tate was cut after week eight). The group finished with a combined 1,613 yards and 16 touchdowns.
The addition of rookie Duke Johnson, a third round pick out of Miami, will create another "three headed monster" in the Cleveland backfield. Johnson thrived during his career as a Miami Hurricane and there are high hopes placed on the shoulders of the talented, all-purpose back. The problem for fantasy owners will be trying to determine how much of a role Johnson will have in an offense that has a hard time giving the lead role to one guy then committing to it.
Cleveland's best fantasy RB last season, Crowell, led the team in carries with 171 attempts for 607 yards and 8 touchdowns, yet he only managed to finish 28th among all backs. West wasn't far behind in terms of carries with 148 attempts for 673 yards and 4 touchdowns. West finished a few spots lower at 32nd overall.
It will be interesting to see how the Browns plan to use each of their backs this season. Crowell appears to be the projected starter and he could easily thrive behind a talented offensive line. How big of a role he has though will be troubling for deciding where to draft him. I rank the three in order of Crowell, Johnson and West. Just remember to temper expectations of each guy but I wouldn't let Crowell slip, he's the only one who has showed flashes of RB1 potential along with proving he can succeed at the NFL level.
Wide Receivers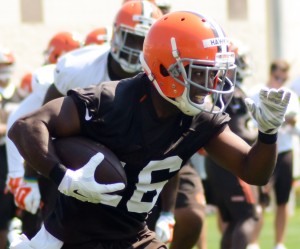 It's been two years since Josh Gordon found his way to fantasy stardom with 1,646 yards and 9 TDs, making him the number one fantasy WR in 2013. The scene is vastly different now two years later. Josh Gordon is gone, facing a one year suspension, unable to return until 2016. Gordon only played 5 games last year after serving a suspension. He didn't do much for the fantasy owners who held him all season hoping for a continuation of 2013 numbers.
The rest of the receivers in Cleveland had a quiet year as well. Andrew Hawkins was the best fantasy option with his 63 receptions for 824 yards and 2 TDs. Even those numbers were only good enough to finish 50th among receivers. A few new names have been brought in this year including Dwayne Bowe and Brian Hartline. Once upon a time in 2010, Bowe was a fantasy stud with 1,162 yards and 15 TDs. Ready for the bad news? Bowe has only notched 13 TDs in the past four seasons. Last year he only managed 754 yards and ZERO TDs as the Chiefs #1 receiver. Hartline doesn't exactly evoke much excitement either. He finished 81st among receivers last season with 474 yards and 2 TDs. Hartline looks to have a bigger role in Cleveland than he did with the Dolphins but nothing to get too excited about as he's never been a big producer ever.
The receiver flying under the radar is 2nd year player Taylor Gabriel. He grabbed 36 receptions last season along with 621 yards and one TD. He will be looking to expand on that role going forward, potentially finding more success than Bowe or Hartline.
Tight End
Jordan Cameron has found a new home in Miami after a very lousy season in 2014. This leaves the Browns without a single fantasy relevant player to fill the spot at TE. One candidate could be Rob Housler, acquired from the Cardinals this offseason. Housler caught only 9 passes last year as he was rarely used in the Cardinal offense. His best season came in 2013 when he caught 39 balls for 454 yards and one TD. It's hard for me to imagine that he produces the numbers early on to be worth a spot on fantasy rosters. Unless you're in a very deep league, Housler should be available on the waiver wire in week one.
D/ST
If you knew that the offense would be able to sustain drives long enough to keep their defense off the field this season then the Browns D/ST could produce some solid fantasy numbers. Last year they finished 11th in fantasy. The secondary was solid, they were 2nd in interceptions and 4th in takeaways. I think they're a top 15 pick with top 10 upside. Could be a nice grab if you're searching for a D/ST late in your draft.
So how much fantasy relevance remains in Cleveland? The answer in short is not much. Most players here don't offer much reward but they can be drafted in spots that don't warrant much risk. Draft smart and who knows, somebody could emerge in Cleveland.