No matter how successful a team is within their division, there is still work to be done inside the fantasy football world.
Here are my thoughts on the division leading teams in the NFC East and West:
Dallas Cowboys (9-1 NFC East; 1st place)
I mentioned to anyone who would listen this past summer that the Dallas Cowboys offensive line would go down in history with the early 2000's Seattle Seahawks o-line, and potentially the 1990's Cowboys dynasty era version as one of the best ever. Big statement to make, but I was confident in that assessment and so far this season the Cowboys vaunted o-line has beared fruit for many fantasy owners.
A huge reason for the division lead has been the rushing categories. The (team) rushing numbers jump off the page:
156.7 rush yards per game (2nd-just trailing Buffalo)
1,567 total rush yards (2nd)
97 1st downs (1st)
29.1% 1st down % (2nd)
The fantasy impact of Dak Prescott and Ezekiel Elliott has been written about over and over this season, but it goes without saying they blend well together along with the offensive line picking up a lot of the slack.
Cole Beasley and Jason Witten at times alternate one good week versus an average one due to Prescott's advanced progression reads. With Beasley, he has alternated touchdown's every other week over the past month (he still holds strong value in PPR formats). Where Witten on the other hand only has 2td's on the season, but owns a respectable 52.0 yards per game just off his career total of 54.1 y/g.
The one downgrade...Terrance Williams numbers
Without Tony Romo at the helm, the second outside wide receiver option has seen regression:
2014 with Romo: 66 targets, 37 receptions, 621 yards, 8 touchdowns
2016 without Romo: 37 targets, 26 receptions, 371 yards, 1 touchdown
The target to reception rate this year has been solid for Williams , but his days of being featured down field or even in the red zone seem to be over in big D.
The Cowboys only have one more possible cold weather game (week 14 @NYG) inside standard fantasy schedules. Keep rolling Cowboys.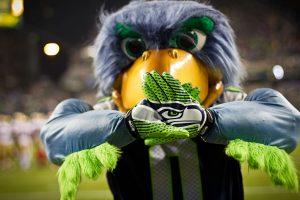 Seattle Seahawks (7-2-1 NFC West; 1st place)
 The Seattle Seahawks are starting to impose their will on every opponent they face as they approach yet another post season appearance.
Russell Wilson rushing numbers have been dramatically down this year due to his nagging ankle/leg injury, but he is averaging around 30 FPPG the past three weeks along with completing 66% of passes on the season.  Those numbers should alleviate Wilson fantasy owners from him being outside the top 15 fantasy quarterbacks.
The Seahawks running back carousel continues with Thomas Rawls reclaiming the lead back spot down the fantasy playoff stretch.  The team rushing numbers have been there all season:
141.8 yards per game (3rd)
31.2 attempts per game (3rd)
4.5 average (7th)
Doug Baldwin's numbers have been directly tied to Wilson's up and down year, while Jimmy Graham's target rate has dipped over the past calendar month.
Seahawks need a LOT more from Tyler Lockett
Pete Carroll " Lockett is flying again". Is he though? I'm not sure I would trust Carroll in must win fantasy match ups.

2015 (rookie) year: 69 targets, 51 receptions, 664 yards, 6 touchdowns, 73.9 catch%
2016 year: 37 targets, 23 receptions, 325 yards, 0 touchdowns, 62.2 catch%
The Seahawks play more difficult defenses down the stretch at home, while getting the easier defenses on the road.