You've seen it happen. There's that one guy in your league that reaches on a particular position.
It can happen on defense when a "sexy" D/ST is hyped up. For instance the Denver Broncos, Seattle Seahawks and Chicago Bears of recent years. This can also unfold when a manager fails to pre-rank which causes a stir in the draft room.
Do not try to rationalize grabbing a top tier D/ST in the middle to later rounds. Sit and wait until the final couple of rounds.
My personal strategy is:
Ride with one D/ST post draft and early on into the season
Follow the trends like you would with any other position
During the first month of the season, consider picking up an additional D/ST if you have the roster space/early bye week
Atlanta Falcons, New York Giants and Philadelphia Eagles D/ST's were prime examples one year ago of being undervalued
Also, pay close attention to new head coaches and defensive coordinators. They could add a nice jolt to a D/ST unit which in turn will be a net positive to your fantasy lineup.
PLEASE NOTE: RANKINGS REFLECT STANDARD SCORING LEAGUES. THIS MEANS 1 PT FOR SACK, 2 PTS FOR TAKEAWAYS, 6 PTS FOR TD'S -INCLUDING SPECIAL TEAMS. SAFTIES, BLOCKED KICKS AND PTS ALLOWED ARE ALSO FACTORED INTO MY RANKINGS. FINALLY , ROSTER MOVEMENT AND D/ST STRENGTH OF SCHEDULES ARE COMPONENTS OF PREDICTING MY PRESEASON RANKINGS.
Check Out All Of The Positional Rankings - Bookmark This Page!
TOP TIER: (In No Particular Order) HOU, NYG, SEA, ARI AND DEN
I really struggled where to make the cut in this tier. I'm really high on the NYG D/ST finishing as the top defense by season's end. The NYG defense spiked upwards by almost 40 fantasy points last year. Most people did not foresee this jump from the middle of the pack. Their secondary should be one of the best in the league along with a (hopefully) improved pass rush (35 sacks last year).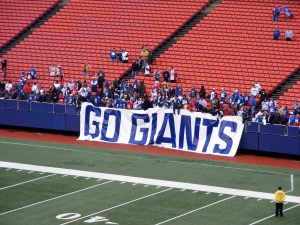 Arizona and Denver are two of three D/ST that have been top five fantasy defenses in both 2015 & 2016. I'll mention the other team in my next tier. The Broncos are a surefire top ten pass rushing team heading into the season (42 sacks t-3rd in 2016). However, I worry about their last ranked D/ST strength of schedule (vs DAL, OAK twice and NE). The Cardinals boast most sacks last season (48) along with being second best team a year ago in yards allowed per game (305.2).
Houston rises from waiver wire fodder last year to potentially top tier with a healthy roster. The Texans notably finished 1st in allowing only 301.3 yards per game in 2016. This year they will have the 7th easiest SOS.
The days of the Seattle Seahawks dominating the top of the charts could be coming to an end, but don't dismiss the numbers. In 2016, the Seahawks were second best in the league allowing 18.2 PPG along with 42 sacks (t-3rd in NFL).
 THE NEXT TIER: KC, MIN, NE, JAC, LAR
The Kansas City Chiefs were the other team mentioned above (a top five fantasy D/ST in both 2015 and 2016). The Chiefs could easily lay claim to the top tier (18 int's which tied for league lead in 2016), along with a full season of Justin Houston to improve the team sack numbers. However, a slight dip in 8 total TD's should be expected.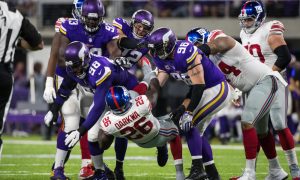 The Minnesota Vikings were second in D/ST total TDs a year ago (7). The Vikings defense really cooled off in the second half of the season. Combine that trend with a nasty schedule ahead this season (@PIT, DET and GB twice, and @ATL)and it screams inconsistency.
The Pats are the Pats. Their offense should dictate time of possession, thus keeping the defensive unit fresh. The Patriots led the NFL allowing only 15.6 PPG last season.
Jacksonville and the Los Angeles Rams D/ST should take huge leaps forward this year with their young cores. Although, both offenses may trip over themselves. The Jags D/ST have the easiest SOS, while the Rams have the 8th easiest SOS.
BUBBLE WAIVER TIER: BAL, CAR, LAC, PIT, PHI
One or two of these teams could rocket up this board by mid-season , or simply fall into line where I have them projected.
Baltimore spent their first four draft picks on the defensive side of the ball.
Even though Carolina recorded 47 sacks last season (2nd in NFL) , their 30th SOS screams overvalued. They will play: @NE, @DET, ATL twice,@NO and GB. Tread carefully.
The Los Angeles Chargers seem to be one of those teams stuck in the middle. Although they were tied for first in interceptions last season with 18.
The Philadelphia Eagles will lean on their special teams to bolster a relatively average defensive squad.
The Pittsburgh Steelers are a "public team" which often means they'll be overvalued when it comes to ADP or daily fantasy lineups. The 10th easiest schedule among D/ST's, but their second half schedule should make you pause for a moment (TEN,GB,@CIN,BAL,NE and @HOU in week 16).
There are always 2-4 teams that seperate themselves from the rest by season's end. It is anyone's guess who those exact teams will be.