Coming down the fantasy playoff stretch, deciding on starting: your bread and butter defense, your 1B option or streaming a particular DST is a key factor. Playing in competitive leagues versus playoff caliber teams, there is little room to gain advantage in match ups. Here are some of my DST picks of the week who could possibly give you a leg up on your opponent.
Seattle (vs. CAR)
The Seahawks are geared up for a big game heading home after a tough loss on the road versus the Buccaneers. I like this spot here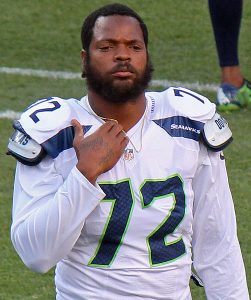 especially with Carolina continuing their west coast swing, plus this being a prime time game for the 12th man. The Seahawks failed to record a sack in a game last week versus the Bucs for only the second time this season.
Pete Carroll " counting on having him back this week " -DE Michael Bennett (knee)
FS Earl Thomas (hamstring) is less likely to return, but would of course help the Seahawks DST just from his presence alone.
VERDICT: SAFE MATCHUP
New England (vs. LA)
Another great team playing at home versus the Rams who rank last in the league with 297.6 yards per game. I also like DST this time of the year who play at their natural time (1 PM ET for the Pats).
Rams have given up the 4th most fantasy points to DST this season
Patriots have recorded at least one sack in their last four games
Patriots should focus on field possession with Rob Gronkowski out for the year, which should equate to ball control along with a swarming defense going after Jared Goff.
VERDICT: MUST START DUE TO OPPONENT/AT HOME
 Other match-ups I like:
BAL (vs. MIA) Ravens over the Dolphins in a battle of two top half DST's.
PHI (@CIN) Look for the Eagles DST to rebound a bit here even though they are coming off a short week and heading out on the road. The Bengals will be without AJ Green and Gio Beonard, huge pieces to their team which keeps defenses honest. Defensive Coordinator Jim Schwartz has to go back to the drawing board where the Eagles DST were scoring double digit fantasy points in their first five of six games.
CHI (vs. SF) Check the weather impact over the weekend. If the forecast continues to worsen, the Bears are a streaming DST option at home.
NYJ (vs. IND) Take a flyer on the Jets DST this week if you are a true streamer to the position. The numbers might not represent an add (second fewest takeaways) but with the likely return of Andrew Luck (concussion) to the Colts offense count on a turnover or two.