New York Giants defense were a top five start last week along with Atlanta, Buffalo and Green Bay being worthy starts. With championship week upon us in most leagues, here are my week 16 picks:
Seattle (vs. ARI)
Bring who got you here. Seahawks D/ST recorded double digit fantasy points in the Week 7 tie game against the Cardinals. Arizona has given up the 5th most FPPG to Team Defenses this season. Seattle wants to attempt to lock up the second bye spot in the NFC, so expect their defense to go all out this game as they stroll into San Francisco to close out the season on New Years Day. Seahawks have a top ten rush defense this year plus don't expect Carson Palmer to reinvent the wheel this week.
VERDICT: OBVIOUS MUST START/STRONG DFS CONSIDERATION

 Green Bay (vs. MIN)
A stronger play this week than last week (playing in natural elements at home versus a struggling dome team). The Packers want to continue their four game winning streak as the Vikings are folding like a cheap boxing week clearance sale tent. Green Bay's recent defensive surge (8 int's past two weeks) has correlated nicely with the winning streak. The Pack need this win before heading out on the road in a crucial divisional matchup against the Lions.
VERDICT: SAFE MATCHUP

Oakland (vs. IND)
My dark horse D/ST pick to finish top three this week. It's all about the pressure the Raiders can cause up front to the Colts offensive line: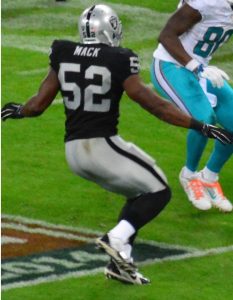 Raiders force the most fumbles (18) in the NFL -Khalil Mack and Bruce Irvin "bookend" edge rush effect
Andrew Luck has not been sacked this much (37 times) since his rookie year (41 times)
The Colts have been better of late protecting Luck, but the Raiders pressure to opposing quarterbacks is at an elite level
Six straight weeks with at least an interception plus fumble recovery does not bode well for the Colts offense
VERDICT: POTENTIAL HIGH CEILING START VERSUS THIS OPPONENT AT HOME

Other match-ups I like:
NE (vs. NYJ) In the "no brainer" category of must start, the Patriots D has really shown up the past month (4 int's in the last three games). Rookie Jets QB Bryce Petty has seven turnovers in his past four games with the offense giving up the most FPPG to Team Defenses this season.
TEN (@ JAX) The Jaguars are in turbulence mode with the latest coach firing, but the new staff has at least settled on a solution at the QB position:
Jags Coach Doug Marrone says he is "sticking with" Blake Bortles
Bortles is tied for 2nd in the NFL with 16 interceptions. Aaaaaalllllll righty then. Titans are in a three way battle for the division crown, so they should be fired up for this juicy road contest. Titans have recorded at least one interception in four of their last five games.
BUF (vs. MIA ) I like the Bills at home in this match up (this is Buffalo's third straight game at home followed up by a date @ NYJ to wrap up the year). The Bills rush defense will have to be spot on along with the special teams contributing towards a big win. Five sacks last week as well three interceptions two weeks ago need to transfer over again this week.
I wanted to offer up the Browns D/ST this week versus an average warm weather team traveling north in December... but the "weather suckage" level did not offset the "team suckage" level (sorry Browns, well... not really).
Good luck to those lucky enough who are still playing for something in your fantasy leagues.