Time flies when you're having fun, unless you are the Cleveland Browns or Rex Ryan. But hey, even Rex got a resounding win last week versus the Arizona Cardinals.
Here are some of my thoughts three weeks into the NFL season:
Matt Ryan (ATL-QB)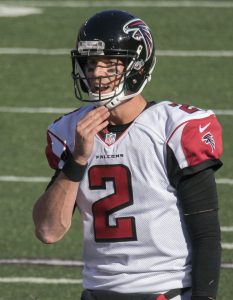 Hovering around 83 percent ownership barely places him inside the top 15 owned quarterbacks. Matt Ryan has a sparkling 7 TD's to 1 INT ratio. Puzzling why his ownership numbers don't correlate with his current production level? It could be because we've all been here before with Ryan, or it could be his next three starts are not favorable (Carolina, Denver and Seattle). Further proof, an owner in one of my leagues just dropped Ryan likely after looking at his upcoming schedule. You can't knock his numbers so far through week 3 with career bests in completion percentage (70.9%), yards per game (323.3) and yards per attempt (9.4). Week 4 will be a huge determining factor in which direction Ryan is trending towards.
Marvin Jones Jr. & Golden Tate (DET-WR's)
 Only seven teams passed for more yards and threw for more touchdowns last year than the Detroit Lions. With those numbers from last year along with Matthew Stafford currently ranked as a top three quarterback, you'd think the entire Lions receiving corps would be well fed. That's not the case as the deep threat option in Jones is winning out on the PPR guy (Tate). Jones has also out targeted Tate 29 to 22. The Lions next three of four games are at home in the dome combined with favorable matchups at QB/WR throughout the entire season. Jones being a little dinged up this week in conjunction with the Chicago Bears giving up a lot of PPR expect Tate to close the gap.
LeGarrette Blount (NE-RB)
Fantasy pundits in the preseason were throwing out daggers at the New England Patriots backfield like "running back by committee... no impact running back on the roster". Money is rarely found betting versus anyone associated with the Patriots. Blount was projected by many of those same pundits as a RB outside the top 25 (he currently ranks inside the top five in standard leagues). He's doubling his career average output in rush yards per game(99.3). However, you'd have to be silly to not think the eventual return of Tom Brady will effect Blount's current numbers to some degree. Nothing is better in fantasy football than: touches, yardage and TD production from one of your starting RB's. I can tell you I'm a happy Blount owner.
Tight End Position...Yuck!
Who can you trust? No, I'm not talking about the recent season of Narcos (a great Netflix series) I'm talking about the TE position. Not even Rob Gronkowski can be trusted so far this year. Gronk tops the long list of TE's who are playing through injuries or not even strapping up. Outside of the odd Greg Olsen or Travis Kelce owner, the position has been dicey at best even if you are using the waiver wire/later rounds draft strategy.
The Eagles Defense - Elite Status Once Again?
 The evolution, or should I say the re-introduction of the late Jim Johnson's once feared Philadelphia Eagles Defense. A top three worthy fantasy defense (currently around 50% ownership). They've brought back memories of the Johnson era with blitz packages, swarming defenders and shrinking pockets for opposing QB's. The Eagles have played a couple cupcake offenses in the Browns and Bears, but they looked legit versus a Superbowl caliber Steelers offense shorthanded or not. After their bye week they face Detroit, Washington and Minnesota.