This is a list composed of players currently projected to go in the last handful of rounds in your draft, if at all. The casual fantasy football fan may not know that the season is not won in the first few rounds, but in the lottery of the last. Hitting on one or two of your sleeper picks can make a world of difference for your team. Just ask the guys (or girls) who drafted Kareem Hunt last season. I am going to attempt to give you a leg up and put you on the fast track to a 2018 fantasy title. Premium members have access to just over 100 sleepers/undervalued players in our draft guide.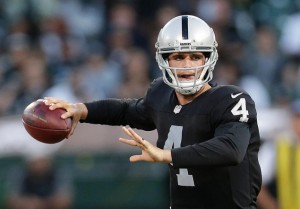 Late Round Undervalued at Quarterback
Alex Smith: The number 4 quarterback from last season is currently lasting into the late rounds of drafts. Smith threw for over 4,000 yards, 26 touchdowns and only 5 interceptions last year. Many think Smith will not be able to repeat this outside of Kansas City, I think they are wrong and so does Jacob. While Washington may not have the same high profile weapons, there is more beneath the surface. A healthy Jordan Reed totaled 87 catches for 952 yards and 11 touchdowns in 2015, numbers comparable to other top tight ends. Josh Doctson is unproven but had an insane 17% touchdown rate last season and is a former first round pick. Then there is Chris Thompson, who broke out last season with 804 all purpose yards in 10 games before breaking his leg. Gruden runs a west coast offense similar to Reids in Kansas City so the transition should be relatively smooth. While I do not think Smith will finish in the top 5, a top 12 finish feels within reach.
Jameis Winston: At the beginning of this season, Winston was again a popular break out candidate, but a suspension put an end to that. After it was announced that the QB would miss 3 games, his value took a nosedive. Last season was the best of his young career, but a few skewed numbers covers that up. If you remove the 2 games that Winston did not complete, his average yards per game reaches over 306. The next highest mark would have been Tom Brady's 286 yards per game. Winston showed last year what he is capable of between weeks 13-17 when he led the league with 1,584 passing yards. With Chris Godwin and OJ Howard gaining another year of experience, and Ronald Jones III joining an already loaded supporting cast of Mike Evans, Desean Jackson and Cameron Brate, the sky's the limit for Winston this year.
Derek Carr: I know, it sounds like I'm a year too late. The Carr hype was LAST year. But that's just what we want your league mates to think. Carr has never been in a better position to succeed than right now. You are going to start seeing a pattern here with these late round QBs. This is the best group of receivers that Carr has ever had. Amari Cooper had a bad year, I think he bounces back with the rest of the offense. Jordy Nelson who still had 6 touchdowns even in his worst season ever. Martavis Bryant who if he avoids suspension, gives Carr a legitimate deep threat. The perennially under-achieving Jared Cook and a fully healthy Offensive line, bolstered by a first round tackle. Oh and don't forget Beastmode! Still a legitimate threat at age 32. Carr isn't too shabby himself. He has thrown at least 20 touchdowns every season of his career so far. Last years down year could be credited to bad play calling or a back issue that plagued him from week 4 on. Gruden is known for getting the best out of his QBs, and Carr might just be the most talented one he has worked with.
Late Round Undervalued at Running Back
Corey Clement: Who had the most rushing touchdowns for the Philadelphia Eagles last season? Ajayi? Blount? Corey Clement. He scored 4 rushing touchdowns and 6 total touchdowns last year as an undrafted free agent. With Blount playing for Detroit, there is 173 carries from last year that need to be redistributed. Clement may be able to roll his 100 receiving yards in the Super Bowl over for a strong start to this season. Running behind one of the best offensive lines in the league has certainly never hurt a player. With Jason Peters and Carson Wentz back to full health, this offense has a chance to be even more dangerous than what we saw to end the season. Clement has all the tools to make the most out of his additional touches in 2018.
Matt Brieda: With everyone going crazy over Jerrick Mckinnon, I am just patiently sitting back and letting Brieda fall into my lap. If you expect McKinnon to be Shanahan's Freeman, then Breida must be his Tevin Coleman. In the two seasons Shanahan called plays for the Atlanta Falcons, Coleman averaged 131.5 touches a year. Last season, Matt Brieda averaged 4.4 yards per carry and 8.6 yards a catch to go along with 3 total touchdowns behind Carlos Hyde. If you want a piece of San Francisco's offense without paying a premium price tag, Breida is your man.
D'Onta Foreman: Lamar Miller is being drafted as a top 20 RB this season. While there is a chance he plays well enough to earn that draft slot, I think it's more likely that Foreman takes his job if he returns to health. Last year he averaged 4.2 yards per carry and 13.8 yards per reception. Given, he only had 8 receptions, but he showed he will make the most of them. Lamar Miller has been a league average back since entering the league with a career YPC of 3.7. If you can afford to wait until Foreman is healthy, this year might be a changing of the guard.
Late Round Undervalued at Wide Receiver
Chris Godwin: In the second half of the season last year, Godwin had 26 catches on 44 targets for 442 yards as the third receiver. Reports out of training camp so far, have him as the number 2 wide receiver with Desean Jackson moving into the slot. With Mike Evans drawing consistent double teams, that's a valuable spot to have in this offense. Coming out of Penn. State, Godwin ran a 4.42 40 yard dash and a 4.00 20 yard shuttle. With more opportunities coming from rising star, Jameis Winston, Godwin has the chance to lock up the No. 2 receiver spot on this team for years to come. If his numbers look anything like they did at the end of last season, Godwin is a steal.
Ryan Grant: Behind TY Hilton, there is no proven receiver for the Colts. Ryan Grant, Chester Rodgers and Deon Cain will battle it out for the remaining starting positions. If you remember correctly, Grant was given a pretty big contract by the Ravens as an up and coming impact player before having it shadily revoked with an injury designation. Last year in Washington as the #3 wideout, Grant managed 45 catches for 573 yards and 4 touchdowns. As a true number 2 with a hopefully healthy Andrew Luck(so far so good) we could be looking at a true breakout. Grant compares favorably to Nelson Agholor, who with the help of Colts new head coach, Frank Reich erased his bust status last year. If Grant can resemble anything close to Agholor last season, he could be an outstanding WR3.
Brice Butler: With career bests of 21 receptions and 317 yards, it is possible that you don't even know who this is or where he plays. I wouldn't blame you. But in fantasy football, opportunity is key. The Arizona Cardinals have Larry Fitzgerald and 2nd round rookie Christian Kirk. After that, the roster is filled with players like Butler and J.J. Nelson. With over 200 vacated targets from last season, someone is going to emerge. Coming out of college Brice Butler ran a 4.36 second 40 yard dash, and had a 39 inch vertical, at 6 foot 3 inches tall. Still only 28 years old, with an abundance of opportunity, Butler is worth a late round flier as someone who could make a few starts for your team.
Late Round Undervalued at Tight End
Hayden Hurst: The Ravens offense features tight ends heavily. In the past 2 seasons, they have given 285 targets, 214 receptions, 1,740 yards and 10 touchdowns to the position. While i do not usually advise to rely on rookie tight ends, Hurst is an exception. He is 25 years old, and the Ravens should not waste his prime waiting for him to develop. He scored in his first preseason opportunity and I look for him to build on that this season.
Gerald Everett: While Everett does not have a lot of production to his name through his first NFL season, he does have insane measurables, and a head coach who heavily featured a similar tight end in his last stop. At the 2016 combine, Everett measured in at 6 foot 3 with a 4.6 forty and 37.5 inch vertical. While those aren't quite wide receiver numbers, they are quite impressive for a man his size. While Tyler Higbee is still on the roster, Everett compares more favorably to Jordan Reed, Mcvay's joker tight end in Washington. If you miss on tight ends early in your draft, and you are looking for upside, Everett should be your man. Pairing him with a safer late round option, such as Charles Clay would be optimal.
Tyler Eifert: It has probably been a long time since you have heard the name "Tyler Eifert" in a sentence that did not also include the phrase "Injured Reserve" but yet here we are. He is supposedly 100% healthy after having last year to fully recuperate and get over his numerous back surgeries. His last full season was in 2015 when he caught 13 touchdowns as the number 2 option behind AJ Green. On a team that still only has Green as a proven threat, the Bengals need someone to step up. If Eifert is as healthy as he claims to be, he could reclaim his spot as the number 2 option in this Bengals passing attack. Another double digit touchdown campaign could be a possibility is he plays an entire season.