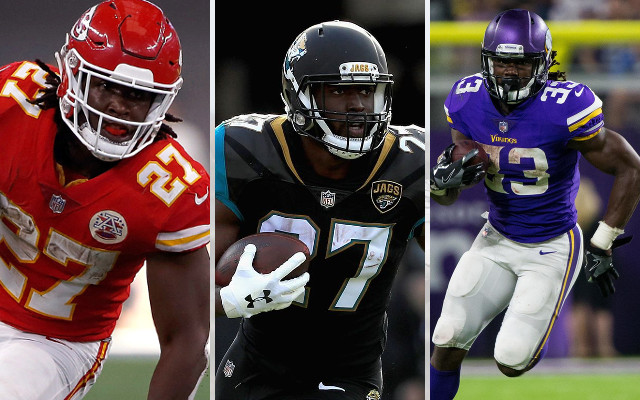 One of the toughest parts of any fantasy draft is when you're on the clock and there are a handful of very similar players on the board you can't decide between. They're all going around the same ADP, you have them all ranked closely, and there's a slim chance any one of them will make it back to you in the next round. So what do you do? How do you choose between these similarly-priced players?
Based on their current ADP, these are some popular bunches you'll have to pick between. Let me help you choose.
Sophomore Running Backs
Kareem Hunt, Leonard Fournette, Dalvin Cook
Where They're Being Drafted: Late 1st-Early 2nd
All three of these backs broke onto the scene with pizazz, like WWE wrestlers making their in-ring debuts. While all of them should improve in their second year, each come with their own warning signs.
Hunt is no longer the only game in town when it comes to Kansas City's backfield, as former stud Spencer Ware returns after a torn MCL and PCL ended his 2017 season before it began. Andy Reid isn't shy about featuring multiple backs, and he's unlikely to forget that Ware looked fantastic on his way to a 1,300-scrimmage yard season in 2016. It wouldn't be inconceivable for the duo to see a 60-40 split of the Chiefs' carries.
Fournette's ankles are still a concern, as the LSU running back's durability was one of his biggest question marks coming into the NFL. If he can stay on the field, Fournette's an easy Top 10 back, but his constant "Questionable" status on game day was more frustrating than a Ross and Rachel will they/won't they storyline.
Cook falls somewhere in between, as that ACL injury is certainly no joke, and there's also the distinct possibility Latavius Murray cuts into Cook's workload, especially if he looks at all ginger in those first couple of games. Murray's quickly become the forgotten man in Minnesota's backfield, despite finishing last year just outside the RB2 range.
My Choice: Leonard Fournette. It's a coin flip between Cook and Fournette, so I'll lean the side with less competition in the backfield.
Nearly Elite Wide Receivers
Davante Adams, A.J. Green, Mike Evans
Where They're Being Drafted: Late 2nd
You don't want to whiff on your 2nd round pick, especially if this is where you intend to nab your first receiver. All of these players are locks to lead their teams in targets and overall fantasy production, though none of them qualify as a "must-have" receiver like Antonio Brown or Deandre Hopkins.
With the departure of Jordy Nelson, Davante Adams is now officially Green Bay's top dog. Though he posted the fewest yards of this group last season, the fact that he grabbed 10 TDs and nearly reached 900 yards with Brett Hundley as his quarterback should quell any hesitations about his future production. Aaron Rodgers is back, and he's going to be firing it to Adams often.
Even though Green showed more inconsistency than usual last season, he was still hyper-targeted by Andy Dalton. Their connection is as strong as ever, and with no clear-cut No 2 on the Bengals' offense, Green should remain the focal point of Cincinnati's attack.
Evans is perhaps the iffiest of the bunch due to his current quarterback situation. Ryan Fitzpatrick will start at least the first 3 games for Tampa Bay while Jameis Winston is serving his suspension. Last season, Evans' production took a hit while Fitzpatrick was under center, with both his target share and catch percentage dropping significantly. His upside is still massive, but if Winston sits more than 3 games, Evans will be a risky proposition at his current ADP.
My Choice: Davante Adams. The No 1 pass-catcher in an Aaron Rodgers-led offense is a no-brainer.
Late Round Quarterbacks
Marcus Mariota, Derek Carr, Alex Smith
Where They're Being Drafted: Early-to-Mid 12th
If you're one of those fantasy drafters who loves to wait on a QB, you might find yourself staring at this group in the 12th round. It's not necessarily the sexiest looking bunch on paper, but there's a wealth of upside here.
I've said before how much I believe in drafting Marcus Mariota this year. He got an upgrade at offensive coordinator in Matt LaFleur, his pass-catching weapons should be back to full health, and his mobility gives him the safest floors of the bunch.
I've also said how fond I am of Derek Carr's primary pass catcher. If Amari Cooper can finally maximize his potential, Carr's receiving weapons will be the deadliest group he's ever had. Veteran Jordy Nelson has evidently been working wonders with the young guys, at least attitude-wise, while Martavis Bryant has the physical tools to make this offense really hum. Former Cowboy Ryan Switzer is also sneaky addition who gives Carr his versatile slot man to date.
But the more I've thought about him, the more I've quietly sneaked aboard the Alex Smith hype train. (It's not visible to the naked eye. It's like one of those Hogwarts trains.) Smith posted some of the best stats of his career in Kansas City last year, and Jay Gruden paid a nice price to get those numbers in Washington. Smith should be able to really open it up again this year and put his "game manager" tag behind him once and for all.
My Choice: Marcus Mariota. I like the safety his rushing abilities provide, and his situation has the fewest question marks surrounding it.
Way Late Tight Ends
Vance McDonald, OJ Howard, Austin Seferian-Jenkins
Where They're Being Drafted: 13th Round and beyond
You didn't want to waste the draft capital on Gronk. You felt like it was reaching to nab Delanie Walker. And you just missed on Trey Burton. So now you're left to sift through the wreckage of tight ends in the back half of the draft. These are the guys you're likely going to be choosing from, and while none of them are very exciting prospects, there's enough upside in each player to keep the TE slot on your roster from becoming a full blown, four alarm disaster.
McDonald is creeping up draft boards with the news that Pittsburgh is listing him atop their depth chart, which should have been a given anyways. He proved his merit to the Steelers during the playoffs last year, posting a ridiculous 10 catches for 112 yards. With McDonald, Pittsburgh finally has their Heath Miller replacement.
OJ Howard may not have had the breakout season that fellow rookie Evan Engram did, but the Bucs' tight end still impressed in the 13 games he played last year. Most tight ends don't make a big impact until their second year, which could be the case with Howard, even with Cameron Brate still in tow. Luckily, Tampa Bay uses a lot of two TE sets, so both Howard and Brate should see plenty of opportunities in 2018.
ASJ is the most intriguing option here, as he joins an already jumbled Jaguars offense that could distribute the ball any number of ways. We saw Mercedes Lewis put up some monster games in Jacksonville last year, but he also faded away entirely at times. ASJ is quicker and niftier in open space than Lewis, and is already making waves at practices.
My Choice: Vance McDonald. I listed him as a late round sleeper that could win your league, and I refuse to back down from that take.