This MFL10 strategy guide was updated to reflect the available players for the 2016 NFL season and covers the strategy that will net you the most points in "best ball formats", the format used in MFL10 leagues. If you're not familiar with MFL10's they are ran by myfantasyleague.com and a $10 entry gets you into a draft only best ball league, winner takes all. I'm not an affiliate so I'm not promoting MFL10's for my benefit, they are just an awesome way to get the draft experience without the headache of weekly league management. MFL10's are "best ball" leagues where your top scoring players are the one's that are recorded for the allowed number of starters at each position.
Lineup Configuration
1 QB
2 RB
3 WR
1 TE
1 Flex RB, WR or TE
1 Team Defense
20 overall roster spots
High-level Overview of Scoring (always double check before drafting)
20 Roster Spots
PPR
4 points per pass TD with 1 point per 20 passing yards.
6 points per rushing or receiving touchdown with 1 point per 10 rushing/receiving yards.
Winner Take All
All About The Best Ball Format
Best ball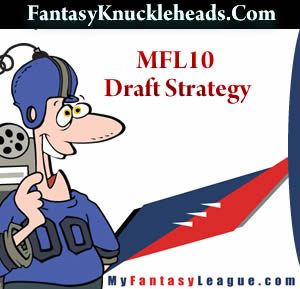 leagues are all the rage, which is why we're seeing more and more fantasy football players swarming to MFL10 leagues. The concept is simple, your best scoring players will be counted as the final score when the week has concluded. For instance, there is 1 QB slot and you have 3 quarterbacks on your team, the one that scores the most will count as your quarterback this week. Simple enough, right? Well not so fast, while you don't need to worry about setting your roster you do need to pay particular attention to the draft as it's the only element of concern in MFL10 leagues. Your strategy needs to be centered around drafting players with a higher weekly ceiling rather than those with high weekly floors. The "ceiling" is the most points you can expect out of a player where the "floor" is the lowest you can expect. In simpler terms, you'll want some players that have the propensity to "go off" on any given week and score about 30 to 40 fantasy points. While in standard leagues your strategy is centered around consistent reliable fantasy production (high weekly floors). Rankings for MFL10 leagues will be similar to redraft PPR rankings but you need to target those feast or famine players in the later rounds where as in my typical full season leagues targeting sleepers in the later rounds.
Average Draft Position
As with any draft strategy you must play close attention to ADP. My Fantasy League shows us 2016 ADP based on MFL10's here. The most glaring observation is the drop in quarterback ADP, but it's not terribly different than your standard league ADP. In my opinion, this is because a lot of people are saving their 1st, 2nd, 3rd, 4th and 5th picks for running backs and wide receivers. A two quarterback strategy works exceptionally well in best ball leagues like MFL10's.
Now I'm going to walk you through each position and rank the guys I like the most in the rounds they're available based on ADP. For up-to-date projections please check out our premium draft guide and cheat sheets.
MFL10 Quarterback Strategy
I'm recommending a quarterback by committee strategy for best ball formats of any type. Target 2 or 3 quarterbacks and avoid the quarterback position in the first 5 rounds unless a beast drops to you in the fifth. Here's who I'm picking and when I'm picking them:
Round 6 thru 8: Ben Rothlisberger, Drew Brees, Tom Brady (Brady if he drops to 8)
Round 8 thru 10: Eli Manning, Phillip Rivers, Blake Bortles, Derek Carr (Bortles and Carr are going pretty high, if they drop here I'm jumping)
Round 12 and down: Matt Ryan, Ryan Tannehill, Jay Cutler
If I draft QB in the rounds 6, 7, or 8 I'm waiting till after round 12 for my next QB pick or two. Positions run will obviously force you to adjust accordingly. I'm perfectly happy drafting my quarterbacks after the 8th round.
MFL10 Running Back Strategy
You'll want 5 or 6 running backs on your team. Since MFL10's are PPR scoring you'll find a ton of value in the 3rd-4th round and then there's plenty of high upside guys around 6-8. Heck, DeAngelo Williams can be had around the 12th round and he has RB1 value for the first 4 weeks with upside thereafter. For those of you lucky enough to snag a top 5 pick, I recommend Gurley if Brown is off the board, otherwise I'm looking for Lamar Miller in round 2. Besides those two running backs I'm looking for value in round 3 through 8. Don't forget to target PPR backs projected for at least 40+ receptions and get at least three starting quality running backs before the 8th round. Here's who I'm picking and when I'd be most comfortable drafting them based on ADP:
Todd Gurley - Anytime after Antonio Brown
Lamar Miller - Late 1st
Adrian Peterson - Late 2nd
Ezekiel Elliott - 3rd (I'm not as high as most people due to his rookie status)
J. Charles - 3rd
C.J. Anderson - 4th round with 1st round value (probably)
Giovani Bernard - high ceiling pick here - 6th and down
Matt Jones - 7th
Jay Ajayi - 7th
Danny Woodhead - 7th
Theo Riddick - 8th
Frank Gore - 9th/10th
Shane Vereen - 13th
DeAngelo Williams - 13th
14 round and later - James Starks, Darren Sproles, C.J. Spiller, Ka'Deem Carey, Christine Michael (with picks like these pay attention to how many people have 5 or 6 running backs - if most people have filled up then you'll probably be fine waiting as late as round 15 and 16 for your 5th/6th running back)
MFL10 Wide Receiver Strategy
You're going to need about 7 or 8 wide receivers to really lay the smack down. I want at least one stud on my roster: Antonio Brown, Odell Beckham Jr, Julio Jones, DeAndre Hopkins and A.J. Green come to mind in round #1. Even if you get a WR in round #1 there's no issue with going WR in round 2 for someone like Jordy Nelson, Alshon Jeffery, Brandin Cooks or Mike Evans. But listen, WR points are cheap and with 7 or 8 wide receivers on your team all you really need is a bunch of high ceiling guys. Wide receiver is a position I'm looking at in every round, those high value guys that fit our mold of high ceiling. Ideally, you've wrapped up 5 or 6 WR picks by round 10. Here's who I'm drafting and when based on ADP.
Round #1: Antonio Brown, Odell Beckham Jr, Julio Jones, DeAndre Hopkins, A.J. Green
Round #2: Jordy Nelson, Alshon Jeffery, Brandin Cooks, Mike Evans
Round #3: T.Y. Hilton, Javaris Landry, Randall Cobb
Round #4: Jeremy Maclin, Golden Tate, Julian Edelman, Donte Moncrief
Round #5: Larry Fitzgerald, John Brown, Kelvin Benjamin
Round #6: Doug Baldwin, Michael Floyd, Allen Hurns, Kevin White
Round #7: Marvin Jones, Crabtree, Sterling Shepard
Round #8/9: Tavon Austin
Round #10/11: Josh Gordon, Travis Benjamin
Round #12-15: (in this order) Michael Thomas, Vincent Jackson, Sammie Coat, Josh Doctson, Steve Smith, Jermaine Kearse, Mike Wallace
MFL10 Tight End Strategy
I like to roll with 3 tight ends with my third pick being a late pick (sub 15th) like Ben Watson or Jordan Cameron. Pass on the early TE picks because the three you draft should balance out those high scoring games the studs will produce. Beware of the TE run, if 6 or 7 TE are off the board you need to jump on the train! Here's who I like and when I'm drafting them based on ADP.
Round 6/7/8: (in this order) Kelce, Fleener, Walker, Eifert
Round 9/10: (in this order) Green, Thomas, Allen
Round 11/12/13: (in this order) Ebron, Gates, Bennett
Late round polish: (in this order, sub 15th) Cameron Jordan, Austin Seferian-Jenkins, Ben Watson, Jarad Cook
MFL10 Team Defense Strategy
You'll want 3 team defenses to ensure you don't drop some negative points at the team defense slot. I'd only stray from this if you snag two top tier defenses. Every draft is different but I expect you'll be able to draft the following team defenses in or after the 15th round.
Round 15: Arizona, Denver, Seattle
Round 16: Panthers
Round 17: Chiefs
Round 18: Rams and Vikings
Round 19/20: Raiders (sneaky good late pick here worth adding as your third team defense if you miss out on Arizona, Denver or Seattle)