There are many players in fantasy football that are being overpaid for in drafts. The most overrated players are those that are most likely to bust or not perform to their ADP. Each round has one or two players that are above their pay grade and I will point out who they are, in my opinion.
Round One
A.J. Green WR CIN
Green is one of the best wide receivers in the NFL and he should be high up in the draft. He is also coming off a torn hamstring and that bears watching. He seems to be healed up from the injury, but there may be some rust and hesitation.
I would personally be more comfortable with Green somewhere in the second round. This is kind of nitpicky but the first round picks are all solid.
Round Two
Ezekiel Elliott RB DAL
There are three major contenders for best running back in the NFL; Elliott is one. If and when he returns to the field in week 8 I fully expect him to shred the competition. There are other factors to consider though.
Elliott will have to apply for reinstatement after his suspension is over. That means that he will need to be on his best behavior and that is not a given. There was the whole incident at the parade and a bar fight when the domestic violence accusations had already been levied against him.
Odds are he will be back on the field in a timely manner, but I will not mortgage my whole season on it. If Elliott falls to the fourth or fifth round I would consider him, but that will not happen.
Round Three
Dalvin Cook RB MIN
The Vikings have managed to draft another very talented running back in Dalvin Cook. There is reason for excitement when it comes to this explosive rookie rusher. On the other hand, the Vikings still have one of the worst offensive lines in the league. They also face one of the tougher defensive schedules in the NFL. The Vikings have multiple talented runners in their backfield and will likely mix them in as well.
Cook's skill level is one of the only factors working in his favor this year. With Sam Bradford at quarterback, opposing defenses can crowd the line. This means stacked boxes rushing through a porous O-line. By all means draft Cook this year, but his mid third round ADP might be a stretch for the Vikes rookie.
Round Four
Allen Robinson WR JAC
The word is out and that word is ugly when it comes to Blake Bortles. Allen Robinson should be one of the best receivers in the league, but Bortles cannot get him the ball. Several times a game it seems like Robinson beats a defender only to watch an uncatchable ball sail away.
Hoping for a bounceback year could be a bit far fetched with Bortles at the helm. Next year free agency could change this whole outlook, though.
Round Five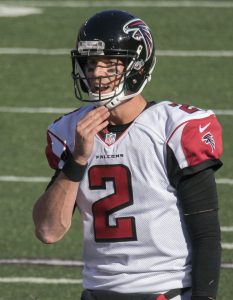 Matt Ryan QB ATL
It may seem like a stretch to call the reigning MVP overrated in the fifth round. On the other hand, it seems like a stretch to me to deny that last season was an outlier. Matt Ryan is a good quarterback, but he has been consistently in the twenties for touchdown passes; last year he had 38. Before last season, Ryan also averaged over 13 interceptions per year; last season he threw only 7.
If he has an average year, Ryan will produce 4189 yards 26 touchdowns and 13 interceptions. These are very good numbers, but you can probably get the same from Kirk Cousins, Derek Carr or Matthew Stafford. All of them can be drafted later.
Check back soon for rounds 5-10 of the most overrated players. Also check us out on Twitter for more fantasy:
@_knuckleheads
@brendancole16