NFL teams are carrying a lot of running backs on their roster these days. That means there will inevitably be undervalued running backs to be drafted. These guys are a few that I consistently see going lower in drafts than they should be.
Potential RB1 Value
Isaiah Crowell CLE  ADP – 34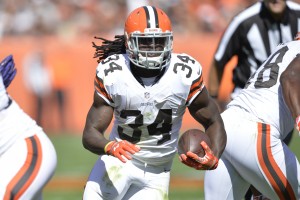 The fact that Crowell is not yet a household name is no surprise. He is young, yet to fully break out and plays for the Cleveland Browns. After this season, everyone is going to be familiar with Crowell. Carries and yards have increased in each of Crowell's three seasons. Last year, however, he got involved in the passing game to the tune of 40 receptions for 319 yards. That was more than double his catches from the season before. The Browns are trotting out an improved offensive line and may look to do some ground and pound in 2017. That should mean a lot of Crowell and a borderline first round fantasy return for investors.
Joe Mixon CIN ADP – 52
Mixon has certainly had his share of off the field issues. On the other hand, he is going to see a lion's share of carries in the dynamic Bengals running game. Jeremy Hill and Giovani Bernard have both proven that they are not suited to be the true workhorse back in Cincy. That leaves the ultra-talented rookie to take control of the situation. Mixon is another back with upper tier upside, his ADP is probably depressed a bit due to the household names of Bernard and Hill waiting in the wings.
Potential RB2 Value
LeGarrette Blount PHI ADP – 109
Moving on to a more proven commodity, Blount is what he is at this point in his career. The upside there is that he IS a battering ram and a red zone monster. The Eagles still have the speedy Darren Sproles, but Blount is the Eagle to own outside PPR. There is reason to believe that Blount could see the most touches in the majority of Eagles games this season. Ryan Mathews appears to be on his way out and Sproles is on the tail end of his career. I would take Blount for double digit touchdowns and 700-800 yards on the ground.
RB2/Flex Appeal
Terrance West BAL ADP – 118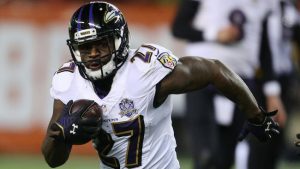 I expect this ADP to rise with the news that Kenneth Dixon will miss the entire season. There is still a good chance to grab West at a bargain rate, however. The Ravens are going to split the backfield between West and Danny Woodhead, but West will still have more value than many people believe. Last season the results for West tailed off toward the final weeks, but he was still a steal for much of the year. The Ravens may bring in another back to compete for snaps, but West is the best bet to take early down rushes to start the season. By virtue of having guaranteed snaps, West warrants a draft pick. If he can be grabbed at a discount, then of course that is even better.
Ameer Abdullah DET ADP – 139
The hype train for Abdullah picked up a bit too much steam earlier in the offseason, but there is still cause for optimism. Abdullah has always possessed elite skills and this season it looks like the Lions will give him more opportunities to carry the ball. Theo Riddick is still going to take a decent amount of touches as the receiving back, but Abdullah should be the man on the ground. While he is not going to see the carries of an elite back, he should still provide a nice return on investment for savvy owners.