To say that the New Orleans Saints' 2014 season failed to meet expectations would be the understatement of all centuries. Frankly, the Saints were a disappointment all the way across the board, stumbling out of the gate and failing to ever grasp control of an equally dismal NFC South division. Defensive issues and offensive miscues with key injuries sprinkled in combined to form a flavorless gumbo when Who Dat nation expected a roux comprised of progress, wins and playoff games to whet their palates.
Like most fans, the Saints are ready to turn the page- or better yet, close the book- on last season for good. The team has begun to move down its offseason checklist, with a few personnel moves and coaching changes already situated. The Saints made waves last spring during the free agency period when most expected a relatively quiet March in New Orleans. The team followed up that action with a sturdy haul of draft picks and a promising group of undrafted prospects in tow ahead of the offseason program.
All signs pointed to New Orleans building off of its successful 2013 campaign, which saw the team bounce back from its bountygate-stricken 2012 season, winning a playoff game and seemingly repositioning the train back on the tracks. Unfortunately, things didn't go quite as planned, and the 2014 season and its shortcomings would rain on any parade, even this week's carnival atmosphere on Mardi Gras.
However, the Saints now have a chance to take advantage of their clean slate and some instability within their division. As was the case last spring, New Orleans won't have much cap space to work with, but general manager Mickey Loomis and his team have shown the ability to make things work in the past. The draft will present the franchise with another stellar opportunity to build from within, and the Saints own this year's 13th overall pick- their highest since 2008- in addition to at least six other picks as of now with compensatory picks still yet to be determined. The Saints lost former director of player personnel Ryan Pace to the Chicago bears, and fired longtime director of college scouting Rick Reiprish last month,but have brought in former Cowboys and Dolphins personnel man Jeff Ireland to help provide a fresh approach towards the fine art of identifying talent.
The 2015 offseason will likely be more about upkeep and grooming in New Orleans as opposed to a free agent frenzy reminiscent of 2014. Words like 'restructure,' 'extension,' and 'bonus' will be bandied about as Loomis and company look to put coach Sean Payton and his players in position to right the ship.
Here are the Saints' top 5 offseason needs with regards to the draft and free agency, which begins on March 10:
5. Another perimeter weapon for Drew Brees
Marques Colston is still an effective cog in Sean Payton's system, and a reliable target for Brees. However, his numbers have dropped over the last two years, and the former Hofstra man will be 32 by the start of next season. Expect Colston to be one of the players earmarked for a pay cut, as the team would like to bring him back, but at a reduced rate. The Saints often struggled while Jimmy Graham nursed his nagging shoulder injury, while promising rookie wideout Brandin Cooks had to be shut down late in the year with a finger injury that required an operation. Kenny Stills came on late in the year, picking up where he left off from his own upside-dripping rookie campaign in 2013 after battling leg injuries throughout training camp. The Saints could use another playmaker on the perimeter to complement the likes of Colston, Graham, Stills and Cooks. Expect the team to address this need via the draft. New Orleans has often subscribed to the 'best player available' approach, and they aren't afraid to make a move to get their guy, as they showed when they traded up to select Cooks last year. A second or third-round pick could be used here, and the incoming crop of talent at the receiver position seems conducive to finding good value in the middle and later rounds.
4. Stabilize the offensive line
The Saints were inconsistent at best up front, leaving Drew Brees under duress and continuing to limit the team's ability to establish the run for four quarters. Brees was hit a total of 81 times, far too much and quite the hindrance to a passing attack that thrives off of precision. Injuries played their part as well, and the club's depth in the trenches was tested throughout 2014, with players such as Terron Armstead, Ben Grubbs and Jonathan Goodwin hampered by injuries. Like Grubbs, Jahri Evans could be a player headed for a restructured deal. There is also the likelihood that the Saints could choose to move on from their former Pro Bowl tandem of guards in an effort to maximize cap space and get younger, but at least one of the pair should return for 2015. Tim Lelito did not gain control of the center position the way the Saints had hoped, and Jonathan Goodwin is not getting any younger, meaning center could be another key need this spring. Lelito is still young, and should be better poised to make a run at the starting job provided New Orleans does not find a way to upgrade the position. Tackle depth is another area that should be addressed, as Bryce Harris struggled in relief of an injured Armstead last year.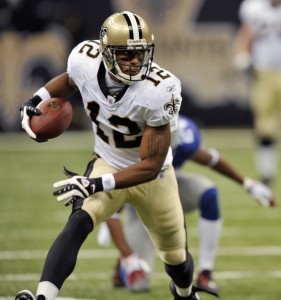 3.Upgrade secondary talent
An influx of talent at the offensive skill positions may be more of a luxury than a necessity, but there is no disputing that the Saints must address their secondary this offseason. New Orleans was aerially victimized throughout 2014, with defensive backs not named Keenan Lewis often exposed in coverage. The moves defensive coordinator Rob Ryan made in 2013 all seemed to work, but it was a different story in 2014. Kenny Vacarro had a sophomore slump of sorts, and the entire unit as a whole failed to take the next step as the Saints sunk towards the bottom of the league's defensive rankings, finishing 31st in total defense and 25th against the pass. New Orleans was also -13 in the turnover ratio department- bad enough for 31st out of 32 teams- and an emphasis on takeaways must be enforced and, more importantly, executed. Jairus Byrd was the Saints' prized free agent signing last year, but New Orleans will likely look to the draft to address this need with the salary cap purse strings at an all-time state of tightness. Corner is the most pressing need in the secondary, and the Saints will be hoping that last year's second rounder Stanley Jean-Baptiste will develop into a player they can rely on. Another high pick should be used to add depth behind Lewis as New Orleans looks to shore up their pass defense deficiencies.
2.Add an impact 'backer
The 2015 NFL Draft will be an excellent chance for New Orleans to add an impact player to the front seven, whether it be a pass rusher or a linebacker that can both set the edge against the run and cover down field. As mentioned, New Orleans almost religiously chooses the BPA on their draft board, and sometimes the best player and the team's biggest needs become kindred spirits. Prospects such as Shaq Thompson, Alvin Dupree, and Vic Beasley could fit the bill of the versatile piece of the puzzle New Orleans will be in search of. The Saints have not had a true impact player in their linebacking corps since the early days of the Jonathan Vilma era which began in 2008. Linebackers can shine in Ryan's scheme, and if the right player is there at 13, the Saints could choose to use their first-round pick on a prospect of this ilk.
1. Trim the fat
Use it to enhance the gravy, add some liquid to the stock, flavor up that deer sausage, anything, just trim it! The Saints' cap constraints are well-documented, and the outright "kick the can" approach will only result in a cap capitulation of sorts down the road. Look for Loomis and his crew to be efficient and smart with certain cap figures. Roster bonuses (such as those due to Byrd, Graham and Curtis Lofton) can be converted into signing bonuses. For instance, converting Lofton's $4.5 million roster bonus into a signing bonus can save up to $2.25 million in cap room. Meanwhile, the likes of Brodrick Bunkley, David Hawthorne and perhaps another high-earner such as Grubbs and/or Evans could be sacrificed outright to maximize cap space. The team could also look to use contract extensions in an attempt to create some immediate relief on the cap coffers. Base salaries, such as those due to Brees, can be lowered with money kicked around to the back-end of the deal which, in turn, provides some short-term breathing room. It's imperative that the Saints jump this hurdle before getting to the rest of their plans, and those efforts have already begun in earnest.
In conclusion, the lingering underwhelming vibes of 2014 ought to be put to bed with a diligent offseason by the New Orleans Saints. The needs are glaring, as are the issues and potential roadblocks that could complicate those needs from being addressed. The Saints may not make much of a splash this offseason, but a simple dive or two may be enough to sort things out, while an all-out cannonball into the free agency pool may only complicate things even further.