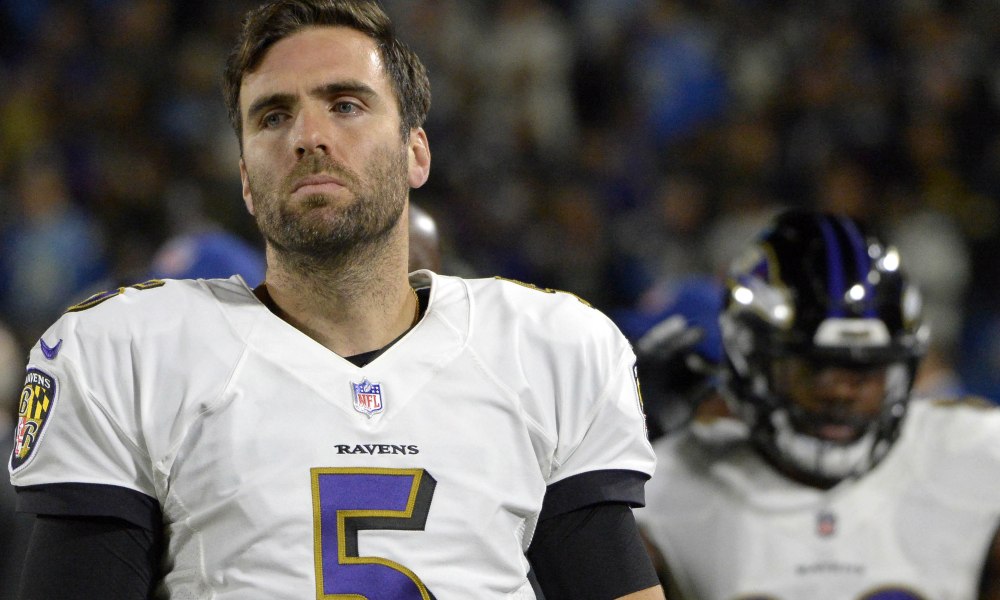 The NFL draft: that time of year when dreams are realized for rookies looking to make a name for themselves. It's also that time of year when veteran players start fearing for their paychecks. This is the circle of life in the NFL. For every fresh-faced Simba being anointed on draft day, there is a Mufasa getting trampled by the incoming pack of wildebeests.
Unfortunately, the following players have been put in some highly compromising positions thanks to this year's rookie selects. We'll just have to see if they can outrun the antelopes.
Note: If you're looking for the happy stories, check out the veteran winners here.
Quarterbacks
Colt McCoy, WAS
A couple of short months ago, Washington brass was saying they had "total confidence " in Colt McCoy and that they'd feel "very good about Colt" as the starter. But they were also sandwiching little things like "competition is good, especially at the quarterback position." So it probably shouldn't come as a surprise that Washington added consummate wanderer Case Keenum via free agency and Ohio State quarterback Dwayne Haskins in the 1st round of the draft.
Short of Haskins completely faceplanting in OTAs and Keenum putting on 50 pounds in the offseason, McCoy is all but assured to establish a very intimate relationship with the clipboard this year.
Joe Flacco, DEN
Poor Joe. The guy obviously believes he's still in his prime. Unfortunately, he's one of maybe 5 people in the world who still believe that, and none of the other 4 are staffing in the National Football League. Just like last year, when Baltimore added Lamar Jackson to the QB room, Flacco once again had the rug pulled from under him by the draft.
To be fair, John Elway didn't hide his affections for Drew Lock during the offseason. The Broncos GM simply put his draft pick where his mouth is. Flacco could very well remain the starter for the duration of the 2019 season, if Elway's mandate to bring Lock along slowly holds any water. But if the howls of fans start raining down on a floundering Broncos team for too long, it's hard to believe Lock wouldn't be jammed into action a la Jared Goff in 2016.
Other Downgrades: Josh Rosen, Ryan Fitzpatrick
Want Personalized Draft Advice? Schedule A Live Consultation With A Fantasy Expert!
Running Backs
Mike Davis, CHI
Well that was short-lived. It was easy to envision 2019's Mike Davis as a fantasy upgrade to 2018's Jordan Howard. Davis showed a versatility in Seattle that easily outmatched Howard's, giving Matt Nagy a much-needed 3 down back. But Chicago using their first draft pick on one of the best running back prospects in the draft class shut down that idea fast.
David Montgomery will figure to play a major role in the offense straightaway. The best Davis can hope for is that Nagy decides to cast his backfield like a buddy cop movie. Perhaps Davis can be the Murtaugh to Montgomery's Riggs? By default, though, this would relegate Tarik Cohen to the Joe Pesci role. So it's not a perfect analogy.
Jordan Howard, PHI
Speaking of short-lived fantasy hype, the Howard believers out there certainly piped down after Philadelphia invested one of just five total draft picks in a running back. And let's be clear, Miles Sanders is not just any running back. The Penn State product is arguably the most physically dominating back of this draft class.
This doesn't mean Howard will fade away altogether. This is, after all, a team that loves backfield committees so much it would carry 8 RBs on its active roster if it was feasible. But Howard's share of the Eagles' pie just got a massive chunk eaten out of it by a superior talent.
T.J. Yeldon, BUF
Noticing a trend yet? Basically any free agent running back signed to a quality landing spot over the last two months has been doomed by the 2019 draft. It looked like Yeldon might finally inherit the kind of big time role his draft capital implied 5 years ago...until the Bills drafted Devin Singletary four days later.
While it's no doubt LeSean McCoy and Frank Gore will ride their Rascal scooters out of Buffalo next year, Yeldon's future became a little murkier with this 3rd round draft addition. I'm staying away from Yeldon in redraft, but he may still be worth a stash in your dynasty league if the bench is deep enough.
Other Downgrades: Rex Burkhead, Chris Thompson, Giovani Bernard
Get a head start on next season with a Fantasy Knuckleheads membership!
Wide Receivers
Nelson Agholor, PHI
Agholor was already having trouble finding a consistent role in the offense for much of the 2018 season, and now he has to contend with 2nd Round pick JJ Arcega-Whiteside. Then again, JJAW's style is more comparable to Alshon Jeffrey than Agholor, but either way, you don't draft a receiver that high to leave him on the bench.
The best-case scenario for Agholor might be a trade to a team more in need of his skills. If Detroit comes a-callin', sign me up. Otherwise, Agholor will be continue to be a very frustrating fantasy asset.
Deon Cain, IND
Cain was already facing an uphill battle. The sophomore receiver missed all of his rookie season due to a torn ACL incurred in the preseason. Now he has to fight for targets in a crowded passing attack behind T.Y. Hilton, Devin Funchess, Eric Ebron, Jack Doyle, and Nyheim Hines. Oh, and Paris Campbell, a 2nd round addition with all the tools to immediately step into a complimentary role.
Even if he were somehow able to win the No. 2 receiver gig, there's also the fact that Andrew Luck has never had a No. 2 finish higher than WR50 on the season. Yikes.
Arizona Cardinals Receivers Not Named Larry Fitzgerald
It truly is a new regime under Kliff Kingsbury. Arizona added 3 quality receivers in the draft, thoroughly complicating the wide receiving corp. And they'll all have a rookie quarterback throwing to them behind a frequently banged-up offensive line that wasn't bolstered in the draft.
If Kingsbury's air raid offense is able to get off the ground right away, things could be all right. And we know Fitzgerald is going to get his in what will likely be his farewell season. There will certainly be fantasy points to be had from one of Andy Isabella, Hakeem Butler, Keesean Johnson, and Kirk, but good luck figuring out who that will be to start the season.
Other Downgrades: James Washington, Willie Snead, Marquise Goodwin
Tight Ends
Jesse James, DET
Even if Detroit hadn't drafted arguably the most talented tight end draft prospect with a 1st round pick, Jesse James was unlikely to be a consistent fantasy contributor. Matthew Stafford's track record with tight ends is spotty, to say the least. In 2018, the Lions collective tight end unit accounted for just 12 percent of Stafford's intended throws. (Detroit had the second-fewest targets to tight ends, ahead of only Miami.)
James isn't the type of talent that could make up for that historical trend, and he certainly isn't transcendent enough to hold off T.J. Hockenson.
Kyle Rudolph, MIN
Maybe you were just warming up to the idea of Kyle Rudolph as your starting fantasy tight end. You were fine walking away with his 8 points each and every week. Maybe you thought that could be enough for you. Your relationship wasn't perfect but...it was comfortable.
Well, Minnesota scooped up big play threat Irv Smith in the 2nd round, officially murdering that comfortable relationship of yours with their bare hands. Rudolph will be a free agent next offseason, and I can't imagine the Vikings waste any time in transitioning to their new model.
Other Downgrades: Jeff Heuerman, Tyler Eifert, Ryan Griffin
Check out Jake Trowbridge's new podcast, Drinking & Talking Fantasy Football!