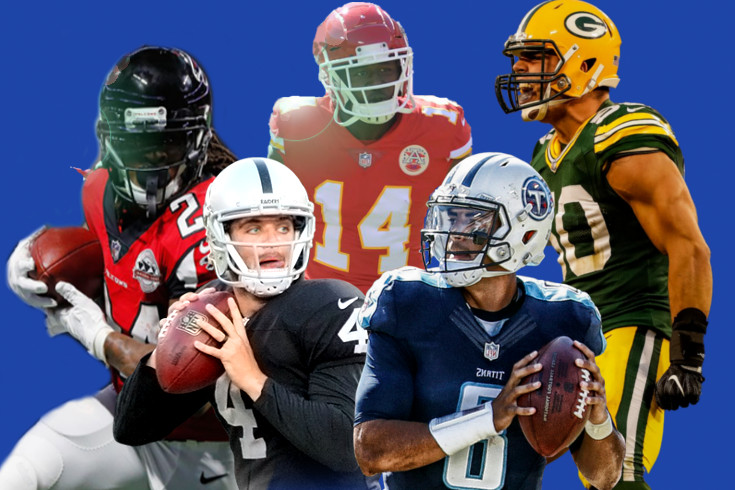 The NFL draft has come and gone, and for many, the elation of relevant football happenings won't wear off for quite awhile. Many analysts immediately started to dissect the winners and "losers" from this rookie draft class. But rookie landing spots and draft capital don't just affect the rookies, they also affect veterans.
For many of the players listed below, it's as much about what teams DIDN'T do during the draft as it is about what they did. Established players who were considered to be "on the bubble" of their team's offense can rest a little easier -- as can their fantasy investors -- if their name is found below.
Quarterbacks
Derek Carr, OAK
Fantasy football pundits were rabid in their beliefs that Oakland would use an early pick on a quarterback in this year's draft. Yeah, well, the Raiders spit on your beliefs.
Carr is now the firm leader of the Oakland offense, and has a bevy of new colleagues in the locker room that should make his job easier, including 1st round running back Josh Jacobs. Add in Antonio Brown, Tyrell Williams, and Ryan Grant, and Carr might have the best group of receivers he's ever played with. Hopefully they'll make up for a disastrous offensive line.
Andy Dalton, CIN
The Red Rifle bought himself another year as a starting quarterback. Despite all the nice things new head coach Zac Taylor said about Dalton earlier this offseason, there was a purveying sense that Cincinnati might be looking to add some competition to their QB room. And they did. Sort of.
4th round pick Ryan Finley could eventually usurp Dalton, but I wouldn't bank on that happening before 2020 at the earliest.
Marcus Mariota, TEN
If Ryan Tannehill is your contingency plan, you don't really have a contingency plan. Therefore, Tennessee is putting all their marbles in the Marcus Mariota basket. Mariota is in a make-or-break season, and the powers that be gave him arguably the best all-around receiver in the draft in A.J. Brown to play with.
Also important to note, the Titans drafted one of the top guards in the class, Nate Davis, who could replace Josh Kline, one of the worst passing guards in the league last year. So maybe -- just maybe -- Mariota will have more than 0.2 seconds to make a throw.
Other Winners: Carson Wentz, Jameis Winston
Want Personalized Draft Advice? Schedule A Live Consultation With A Fantasy Expert!
Running Backs
Peyton Barber/Ronald Jones, TB
Tampa Bay didn't draft a top tier running back, so Bruce Arians and company have substantially more trust in Barber and RoJo than the fantasy football community did pre-draft. Despite finishing 9th in total rushing attempts in 2018, Barber ended up as the RB44 on a points per game basis. That's not what you want.
On the plus side, Jacquizz Rodgers left behind 45 receiving targets, and Arians should unlock even more passing opportunities for his backs. Whoever lands the starting gig is almost guaranteed to have a better 2019 than Barber did in 2018. Granted, that's a pretty low bar
Lamar Miller/D'onta Foreman, HOU
The Texans evidently feel comfortable heading into the 2019 season with their 28-year-old plodder and a man with one-and-a-half Achilles. Which is...interesting. Then again, Houston spent a good amount of draft capital to rebuild their garbage O-line, and that could be enough to mitigate the perceived mediocrity of their backfield.
While I don't think another free agent addition is out of the question (hi, Spencer Ware!), Miller should continue his workmanlike RB2 production. As for Foreman, supposing he can break the mold for players returning from an Achilles' injury and play at even 70% of what he was hyped to be last year, he could be a late round steal.
Devonta Freeman, ATL
Durability issues have always been a concern for the Falcons' running back, and so many analysts thought the 2019 draft would produce a top tier insurance policy in Atlanta's backfield. Nope. Instead, Atlanta waited until Round 5 to nab Qadree Ollison, who looks to be more of a threat to Ito Smith than Freeman.
Freeman should also have an easier time staying healthy with the additions of Chris Lindstrom and Kaleb McGary, two of the best run-blockers in the draft. The team already beefed up their O-line in free agency, and adding a couple of 1st rounders to the mix ensures Freeman will have plenty of space to work with.
Kenyan Drake, MIA
Not only did Miami cut Frank Gore's bloated carcass (who somehow amassed 156 carries last year despite being alive during The Cold War), but they didn't draft a running back until the 7th round. Drake should get a fresh start with the new coaching staff to prove he can handle a bigger workload. If they have any sense, the 4th-year running back will get every chance to set career highs in rushing attempts and touchdowns.
Other Winners: Marlon Mack, Damien Williams
Get a head start on next season with a Fantasy Knuckleheads membership!
Wide Receivers
Sterling Shepard, NYG
Can Shepard become a legitimate No.1 receiver in Odell Beckham's absence? The Giants certainly paid him to be. Shepard's $41 million contract -- containing a $10 million signing bonus -- coupled with a shortage of non-slot receivers in New York, gives him a strong edge to become the team's leading pass-catcher.
Luckily, his ADP should remain fairly stagnant, making him a nice mid-to-late round sleeper.
Sammy Watkins, KC
Sure, Watkins' place in the win column has more to do with Tyreek Hill's off-field improprieties, but this was also reflected in the draft. Kansas City spent their first pick on Mecole Hardman, a wide receiver who just so happens to fit the exact same mold as Hill. Except...he'll probably be substantially worse. At least in his rookie season.
It's pretty clear the Chiefs are preparing to move forward without Hill, which should make Watkins the team's de facto No. 1 wideout.
Green Bay's Young Receivers
One of these up-and-coming Green Bay wideouts is due for some frequent looks from Aaron Rodgers. The Packers stayed put at the position, despite being in prime position to scoop up the likes of A.J. Brown and DK Metcalf. GM Brian Gutekunst and his staff clearly liked the flashes they've seen from their relatively inexperienced receivers.
Two of Geronimo Allison, Marquez Valdes-Scantling, Equanimeous St. Brown, Jake Kumerow, and J'Mon Moore will have solid value in 2019 and beyond.
Other Winners: Tre'Quan Smith, Tyler Boyd
Tight Ends
Jimmy Graham, GB
Speaking of Packers' pass catchers, there were two names that struck fear into Graham owners going into draft night: T.J. Hockenson and Noah Fant. But Green Bay missed out on the Iowa tight end raffle, instead taking Jace Sternberger in the 3rd round. Sternberger certainly has the tools to become "a thing" eventually, but I can't see him leeching too much volume in his first season.
Matt LaCosse, NE
The Gronk Era is done. Probably. Unless he decides to un-retire, which seems like a very Gronk thing to do. But for now, let's assume he's actually out of the NFL for real. One would think with such a highly-touted tight end draft class, ol' Billy Belichick would walk out of the draft with an heir to the Gronk throne. But like always, the Patriots' coach zigged when everyone suspected he'd zag.
That leaves a gaggle of uninspiring looking names on New England's depth chart. Free agent acquisition Austin Seferian-Jenkins got some buzz, but it's Matt LaCosse who has the biggest contract -- and is making the most guaranteed money -- from that group. Don't expect Gronk 2.0, by any means, but LaCosse is now a fantasy relevant player.
Other Winners: Trey Burton, Jordan Reed