It's official, the NFL has release the new NFL Uniform Design Changes. Only thing is, everyone's uniform looks the same EXCEPT the Seahawks.
Honestly, I think the Seahawks uniform is P.I.M.P. and I wish the rest of the NFL teams accepted the new Nike uniform designs. As you can see from the links below, the original "leak" was false, would have been cool though!
Here is the new and improved Seattle Seahawks Nike Uniform for 2012.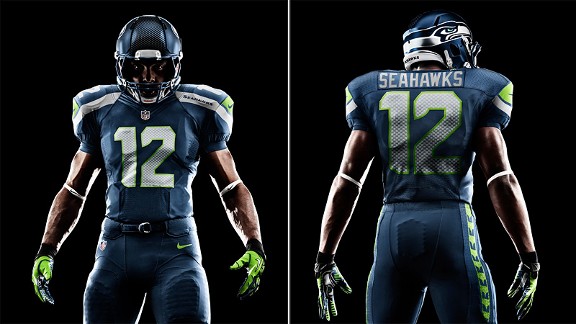 My source was wrong about the links below, these were not the proposed Nike Pro Combat Uniform Designs. But still, in my opinion they look to much like arena league uniforms, but apparently these are the designs for the 2012 season. These are not official. I know that owners, GMs etc play a roll in helmet design so I'm almost positive changes will be made there. Regardless, Nike coming into the scene is sure to shake up the design of the 2012 NFL Uniforms.
49ers:
http://lulzimg.com/i8/ae2fe998.png
Colts:
http://lulzimg.com/i8/20659623.jpg
http://lulzimg.com/i8/59bd0668.png
Chargers:
http://lulzimg.com/i8/20659623.jpg
Cardinals:
http://lulzimg.com/i8/63afdb10.png
Bills:
http://lulzimg.com/i8/f8b49b80.png
Chiefs:
http://lulzimg.com/i8/e69f624e.png
http://lulzimg.com/i8/208d60bb.png
Bears:
http://lulzimg.com/i8/e69f624e.png
Bengals:
http://lulzimg.com/i8/a3d843ef.png
http://lulzimg.com/i8/861b2e2b.png
Cowboys:
http://lulzimg.com/i8/8b357de2.png
Jaguars:
http://lulzimg.com/i8/86095f56.png
http://lulzimg.com/i8/078e1d0b.png
Eagles:
http://lulzimg.com/i8/7e6f5624.png
Giants:
http://lulzimg.com/i8/f5cf3dcb.png
Steelers:
http://lulzimg.com/i8/e6c2a1a4.png
Falcons:
http://lulzimg.com/i8/96afff74.png
Titans:
http://lulzimg.com/i8/5c697ece.png
Seahawks:
http://lulzimg.com/i8/c2648fed.png
Vikings:
http://lulzimg.com/i8/d357f26f.png
Raiders:
http://lulzimg.com/i8/51345424.png
Saints:
http://lulzimg.com/i8/c73a9191.png
Redskins:
http://lulzimg.com/i8/5fe01ed3.png
Jets:
http://lulzimg.com/i8/21a48adf.jpg
Patriots:
http://lulzimg.com/i8/853f84c4.png
Lions:
http://lulzimg.com/i8/7fda19a3.png
Rams:
http://lulzimg.com/i8/1b0b44ca.png
Bucs:
http://lulzimg.com/i8/035bc730.png
Cribbs:
http://lulzimg.com/i8/40590b6f.jpg
Dolphins:
http://lulzimg.com/i8/e26967d0.png
Panthers:
http://lulzimg.com/i8/5a6aa230.png
Ravens:
http://lulzimg.com/i8/739c5943.png
Texans:
http://lulzimg.com/i8/ef4e5256.png
Broncos:
http://lulzimg.com/i8/b2de96fd.png