Man that title is a mouthful! Last weeks projections panned out much better than expected. Therefore, I'm going to keep this painfully boring calculation going. Why? Because it put me in the top 3% of many GPP tournaments on FanDuel and DraftKings. If you're streaming defenses in your full season league then this applies to you too.
One caveat to last weeks numbers. This chart projects defensive efforts (namely QB pressure) a lot better than QB success. Just because the offensive line rates high it doesn't mean the QB will have success. However, if the defensive line is projected to do well then chances are it will.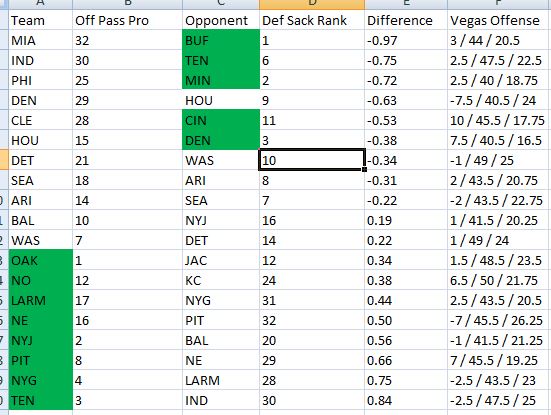 Week 7 Defenses to Target Based on Defensive Line Matchup
BUF vs MIA
MIN vs PHI - bonus for vegas total
CIN vs CLE - bonus for vegas total
TEN vs IND
DEN vs HOU - bonus for vegas total
Week 7 Quarterbacks With The Least Pressure
TEN vs IND - Mariota could catch fire.
NYG vs LA - Eli Manning has a chance here but I'll pass.
PIT vs NE - I'll pass on this backup level QB.
NYJ vs BAL (Suggs is out too. Still, who trust the Jets?)
NE vs PIT - Obviously Brady is a must play.
LA vs NYG - This game has "let down" written all over it.
NO vs KC - Brees with time to pass, please.
OAK vs JAC - Carr hasn't been consistent but this one lines up right.
Complete Offensive and Defensive Line Rankings for Week 7
| | | | | |
| --- | --- | --- | --- | --- |
| Team | Off Pass Pro | Opponent | Def Sack Rank | Difference |
| MIA | 32 | BUF | 1 | -0.97 |
| IND | 30 | TEN | 6 | -0.75 |
| PHI | 25 | MIN | 2 | -0.72 |
| DEN | 29 | HOU | 9 | -0.63 |
| CLE | 28 | CIN | 11 | -0.53 |
| HOU | 15 | DEN | 3 | -0.38 |
| DET | 21 | WAS | 10 | -0.34 |
| SEA | 18 | ARI | 8 | -0.31 |
| ARI | 14 | SEA | 7 | -0.22 |
| BUF | 27 | MIA | 21 | -0.19 |
| CIN | 31 | CLE | 27 | -0.13 |
| CHI | 6 | GB | 4 | -0.06 |
| MIN | 5 | PHI | 5 | -0.03 |
| SF | 19 | TB | 19 | -0.03 |
| ATL | 23 | SD | 22 | -0.03 |
| KC | 26 | NO | 25 | -0.03 |
| SD | 22 | ATL | 23 | 0.03 |
| GB | 11 | CHI | 13 | 0.06 |
| JAC | 24 | OAK | 26 | 0.06 |
| TB | 13 | SF | 18 | 0.16 |
| BAL | 10 | NYJ | 16 | 0.19 |
| WAS | 7 | DET | 14 | 0.22 |
| OAK | 1 | JAC | 12 | 0.34 |
| NO | 12 | KC | 24 | 0.38 |
| LARM | 17 | NYG | 31 | 0.44 |
| NE | 16 | PIT | 32 | 0.50 |
| NYJ | 2 | BAL | 20 | 0.56 |
| PIT | 8 | NE | 29 | 0.66 |
| NYG | 4 | LARM | 28 | 0.75 |
| TEN | 3 | IND | 30 | 0.84 |