One game of the NFL season is in the books and there were some big storylines. If you own any of the players that made news, then you are probably wondering what is real and sustainable. It is just 6.25% of the season, but quick decisions lead to fantasy victories down the road.
Quarterbacks
Alex Smith KC
The Chiefs quarterback had one of the most impressive games of his career on Thursday night. Smith was 28 for 35, amassing 368 yards and 4 touchdowns. Throws down the field were plentiful in this uncharacteristically aggressive version of the Chiefs offense. It is a bit early to make Smith an every week starter, but this offense has shown that they have explosive playmakers. Tyreek Hill and Kareem Hunt add an extra dimension to the Chiefs game.
Tom Brady NE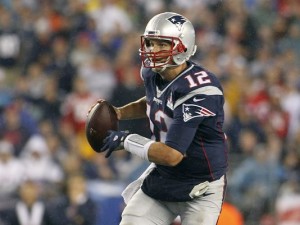 The Patriots and Tom Brady looked out of sync and confused in week 1. Brady went 16 for 36, throwing for 267 yards and no scores. His stat line looks like something out of the Tim Tebow era of Denver. Before owners panic, remember that Brady has had struggles in the past. In fact, there was a game in Kansas City in 2014 where his career was basically declared over by pundits. He threw for less than 250 yards and just 1 touchdown in each of the first four games that year. By the end of the year his stat line was 4,109 passing yards 33 touchdowns and 9 picks. Everyone gets old and Brady is no exception, but give him a couple of games to click with the Pats new personnel.
Running Backs
Kareem Hunt KC
The Chiefs appear to have a star at running back, which is nothing new for them. It is nothing new for Andy Reid either for that matter. Hunt was decisive in his cuts and explosive through the line last night. He made it to the outside of formations in a flash and showed off his soft hands. Hunt is a true three down back and teams will need to gameplan for him. The problem for those teams is that they also have to account for Tyreek Hill's explosiveness in the passing game. Hunt could threaten for top-5 running back status this season.
Patriots Omni-Backs
Mike Gillislee handled the most carries last night. He turned 15 touches into 45 yards and three touchdowns for a huge fantasy day. Gillislee is locked in as the goal line back, but if the Pats don't get in close he could disappoint. James White saw a lot of action as well with 10 carries for 38 yards and 3 receptions for 30 yards. It was clear that the coaching staff has a great deal of trust in White. Rex Burkhead and Dion Lewis were both used sparingly in this contest. The biggest takeaway is that Gillislee is definitely the goal line back. Other than that, things are as clear as mud in the New England backfield.
Wide Receiver
Tyreek Hill KC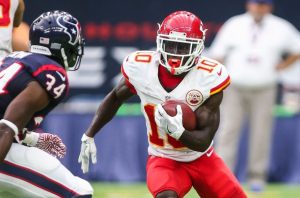 The Chiefs let Jeremy Maclin walk before the season and there were some questions about their receiving corps. For one game at least, those questions were answered. Youngster Tyreek Hill looked unstoppable, blazing his way to 7 catches for 133 yards and a score. His big play of the night was a 75 yard touchdown pass from Alex Smith. If Hill continues to see a lot of targets from Smith, he is going to have a huge year.
Brandin Cooks NE
It was a bit of a disappointing opener for Cooks. Fans have high hopes that he will ignite the Patriots passing game, but the Chiefs largely kept him in check. Cooks ended up with a line of 3 catches for 88 yards. He did draw multiple pass interference calls, which means that the defensive backs are struggling to keep him contained. Better things are coming for Cooks.
Danny Amendola NE
Despite some predictions to he contrary, Amendola looks like the first choice to replace Edelman. There was some thought that Chris Hogan might fill this position, but the oft-injured Amendola caught 6 balls for 100 yards in week 1. If he stays healthy, Amendola could be ppr gold.
Chris Hogan NE
Hogan is more of a boom or bust receiver than many experts made him out to be. He thrives on the outside as a deep ball threat. While Hogan can work in the slot, that is not where he will make most of his plays. As such, it is going to be tough to predict when Hogan will have a big week. He is a dangerous start in all formats at the moment.
Running Backs That Will Start Fast In 2017
Tight End
Travis Kelce KC
The amazing thing about the Chiefs dominating win last night is that Kelce was barely involved. Kansas City's dynamic tight end posted a modest line of 5 catches for 40 yards. Don't panic, there will be games where Kelce goes off for big numbers. This shows how diverse the Chiefs offensive assets are at this point. In past seasons if Kelce had posted that stat line, the Chiefs would likely have been blown out.
Rob Gronkowski NE
Gronk did not look like himself last night. He looked a bit slow and very much like he could be defended. He did have a vintage Gronkowski touchdown catch ruled incomplete, but that is not the story. It may not be a huge season for Gronk, although he does remain an elite weapon in the red zone.
All of these observations are from just one game, so take them for what you will. The biggest movement for me was the Kansas City offense way up and Gronkowski down. I would field trade offers for Mike Gillislee if anyone is interested as well, although most owners are savvy when it comes to buying low and selling high. Check back soon for more news and insight. As always, follow us on Twitter for more content: @_knuckleheads and @brendancole16.