The perfect PPR draft is not an easy thing to pull off, so having a PPR draft strategy is imperative. Going into the draft with no game plan is almost guaranteed to have you leaving with a major weak spot. No one strategy is going to be successful in every league either; sometimes it just comes down to the best available player. While there will be some exceptions, following this general structure should have you in good shape when week 1 rolls around. I will cover 12 draft rounds here. If your draft is longer, you should be able to extrapolate the basic structure.
Round 1
Without exception you should be taking either a wide receiver or a running back in the first round. I would lean heavily toward one of the elite 3 down running backs if you have one of the first four or five picks. If you are more toward the bottom of the first round, read the room and take the best running back or wide receiver available. I know that there are some people that like taking Gronk in the first round. Position scarcity still exists, but there are enough good tight ends that you should wait. Just go with relatively safe picks; anyone can wash out but you want your first rounder to look good on paper.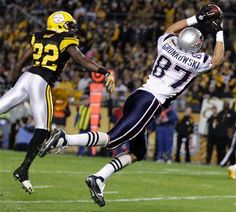 Round 2
While there is a bit more ambiguity here, you should still be targeting a wide receiver or running back in almost all scenarios. If you want to give me Gronk here then I could start to wrap my head around that. A couple of times I have seen one of the top quarterbacks go in round two and to that I say, stop it. There are so many productive quarterbacks available that wasting a high pick is unconscionable.
Round 3
Most of round three will still belong to the skill position players. If you want to draft a top tier quarterback or maybe a top tier tight end then that argument could be made as well. But here's the deal, if you have 2 running backs already I'm looking for WR in the 3rd. Take a look at how many running backs have been taken compared to WR so far, use this to make your decision on where you need to draft.
Round 4
If you want a top end quarterback this is probably the time to start thinking about that. It is a bit early to have a run on tight ends unless you are looking at Gronkowski, Kelce or Jordan Reed. Keep an eye on some of the backs who may not have the hype but can catch passes out of the backfield. Isaiah Crowell and Tevin Coleman always seems to carve out a bigger piece of the offense than people expect and can produce RB2 numbers in the 4th round.
Round 5
This round should still present a lot of opportunities with wide receivers and running backs. But it's a soft spot that you can skip over as the drop off between RB and WR from the fifth round to the sixth round isn't that wide. With that in mind, if you haven't taken a TE or QB yet, and a very solid prospect as fell to you, then pounce.
Round 6
In general you should be looking to grab yet another running back or receiver, but if you do not have your TE1 this may be the time to look. If you don't like the players left at tight end, wait longer and grab the best available player. Outside of the top tier tight ends, you can wait quite a while and the values are pretty similar.
Round 7
Stack up those running backs and wide receivers. At this point it will begin to be permissible to look at someone with high upside. But if you're thin at a position, say WR, then look no further than Golden Tate who is a PPR goldmine in the seventh round.
Round 8
Some bargains should be available from round 8 on, depending on what you are looking for. Every year there are players who break out that nobody had heard of before the season. Start looking for players with ability and opportunity. Maybe Hunter Henry breaks out or Marshawn Lynch has one last productive season. Grab as many wideouts and running backs as you can, but be sure that you have a backup to your tight end before the end of the draft. This is particularly useful if your league allows tight ends at the flex position.
Round 9
It is going to seem like things are really thinning out toward the end of the draft, because they are. Just be sure that the players that you are grabbing now have some upside. Chris Ivory is a talented back, but he is in a serious committee in Jacksonville which limits his appeal. Take someone with some potential instead. In my mock I was able to get Thomas Rawls in this round. He may not beat out Eddie Lacy, but there is limitless potential there.
Round 10
If you need a backup tight end still that is a possibility. Otherwise just go with the best available player. I don't like handcuffs but if you do then have at it now.
Round 11
I hope that you have not taken a kicker or defense yet. In my opinion there is so little continuity among defenses or kickers that you should just wait until the last two rounds to grab one. Streaming is the name of the game. Grab whichever you value more now.
Round 12
If you took a defense, take a kicker now. Otherwise you should reverse that.
There you have it, my general strategy for a perfect PPR draft. Skill positions are the name of the game, quarterbacks and tight ends are plentiful. Be sure to stack those wide receivers and running backs all day and you should be happy with the results.