It may sound silly, but the hardest thing for some fantasy players to do is separate fantasy from reality. Just because a player is a valuable asset to his real life team -- or is a key player in a productive offense -- that doesn't mean he's going to help you win that league championship. Conversely, there are plenty of guys on lousy teams that could still help your fantasy team pile on the points every week.
Don't let the fact that these guys play on downright depressing offenses get you down. Leave those worries for the (real life) coaches.
Rookies Who Will Make An Immediate Impact
Dalvin Cook RB MIN
There's plenty of hope for the Vikings this year. Sam Bradford has had a full year to get used to the offense, Stefon Diggs is healthy again, and the O-line got a nice little facelift. All of this means we could be calling the Vikings a top tier offense by the end of 2017. Right now, that's all conjecture. All we know for sure is that Minnesota looked hopelessly lost last year. Now it looks like Dalvin Cook just might be their compass.
You should never get sucked into a player's hype vacuum after a couple of meaningless preseason games, but...have you seen Cook in action? He sure looked like the real deal against Seattle's nasty front seven. At this point 250 touches on the season looks pretty reasonable. He should also spin plenty of short passes into gold. There's always concern that Latavius Murray could vulture some of the goal-line work -- and Jerrick McKinnon isn't going anywhere. Cook is too talented to keep on the sidelines though. Odds are Minnesota didn't draft him in the 2nd round to be a complimentary back either.
Zay Jones WR BUF
Sammy Watkins and now Anquan Boldin are out of the picture, and newly-acquired Jordan Matthews on the shelf for the moment. The Bills offense now has a gigantic question mark hovering over it. LeSean McCoy is only one man, after all. Buffalo led the league in rushing yards last season, but they now have next to zero weapons for Tyrod Taylor to throw to. Enter 2nd round pick Zay Jones, who is likely to fill Watkins' role as the de facto deep threat. When he returns, Matthews will likely slide into the slot, leaving Jones as the big play benefactor.
Buffalo ranked 30th in passing yards and 27th in passing TDs last season. Even if Jones owns a third of that production -- a real likelihood given the dearth of weapons -- that would amount to 1,012 yards and 6 TDs). That makes him an absolute steal at his bottom-shelf ADP.
Veterans That Will Be Leaned On Heavily
Pierre Garcon WR SF
Quick, name literally any receiver on the 49ers that isn't Pierre Garcon. (You might want to make yourself a snack first. This could take a while.) Jeremy freaking Kerley was their leading receiver last year, so that should help you assess Garcon's position on the depth chart. He is the depth chart. Terrell Pryor and Kenny Britt proved that being the No 1 receiver on a fourth-rate offense isn't a death sentence in fantasy football.
Garcon is reuniting with Kyle Shanahan, who was the offensive coordinator for Washington during Garcon's best statistical season. Expect the targets to flow like boxed wine at a Sorority house party. New San Fran quarterback Brian Hoyer may not be an elite passer, but as long as he can get the ball near his 30-year-old receiver, he should be fine. Garcon's only had 3 drops in the last 3 seasons and owned a 71 percent catch rate in 2016. He's a no-brainer in PPR. It is insane that he's currently falling past the 8th round in mock drafts.
Bilal Powell RB NYJ
Bold Prediction Alert: The Jets will be bad this year. That's right, you heard it here first. The team cut or traded away just about everyone who had a proven track record. I think looks like the team is really sinking their teeth into their rebuild. The good news for fantasy owners it that the Jets will once again run the ball plenty because, let's face it, they just don't have any other option.
Although Matt Forte (somehow) stuck around, he's got a lot of wear and tear on those bones. Forte's durability concerns should allow Powell to take over as the starter much earlier this season than last. In his 4 games as a starter last year, Powell averaged 23.7 points in PPR, which was better than David Johnson during the same stretch. At whatever point he takes the reigns, he'll be an RB1.
Centerpieces That Aren't Getting Any Love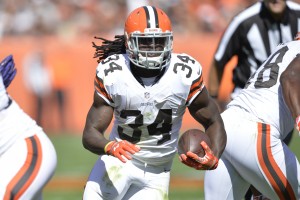 Isaiah Crowell RB CLE 
"The guy had almost 1,000 yards a year ago when I didn't hand him the ball. What can he do if I do hand him the ball?" That's Coach Hue Jackson admitting he made a grave mistake by not giving Isaiah Crowell more opportunities last season. It won't happen again. The Browns offense has finished in the bottom third in overall yards and points 3 years running, and their running stats were decidedly average last season. But none of that matters.
Crowell is living proof that any player, if they're good enough, can still make a significant fantasy impact even when they're surrounded by a ragtag group that makes the Bad News Bears look like the 1973 Dolphins. (Not the '72 Dolphins. Let's not be hyperbolic.) Crowell finished last season with 1,271 yards from scrimmage, despite carrying the ball fewer than 200 times, and given the upgrades made to the offensive line over the offseason, he's practically a lock for at least 1,400 total yards. Crowell is the one constant in an uncertain offense, and you'd be a fool not to take him in the 3rd round.
Todd Gurley RB LAR
Going into 2017, the Rams needed to upgrade their offensive line -- which they did by signing Andrew Whitworth -- but more importantly, they had to put someone else on the field that could rival Todd Gurley as a weapon, so the third-year running back wouldn't have to face a stacked box on every down. Well, they certainly did that. Not only did the Rams trade for field-stretching savant Sammy Watkins, but Cooper Kupp just might prove to be the most exciting noob in the game.
Don't overthink this, people. It was just a year ago that Gurley was flying off the boards as a Top 5 pick. The team around him has gotten substantially better in the meantime. Oh, and who exactly is behind Gurley on the depth chart. Yeah, like I said, don't overthink it.