Most people just recently finished up drafting their fantasy teams for the year, so a waiver wire column may seem counterintuitive. If we're being honest though, most of us made a mistake or two in the draft process. There is no better time to fix that, than before the season starts. Right now there are bargains to be had and future stud players still lurking on the waiver wire. Here are a few of my favorites to make an impact during the season.
Quarterback
Jacoby Brissett IND Rostered-13%
The Colts will not be the same team without Andrew Luck, but Jacoby Brissett isn't a bad player. The last time he started he was brand new to a team with a bad offensive line and few playmakers. In 2019 he has been preparing with the first team, the offensive line is revamped and the Colts have some guys on offense. I don't think that the Colts will be a very good team, but Brissett has the support and skill set to surprise some people with decent quarterback numbers.
Check Out Our Weekly Positional Rankings
Running Back
Dare Ogunbowale TB Rostered-5%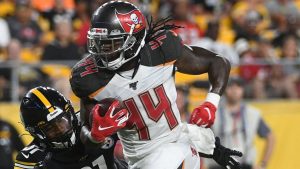 The running back depth chart in Tampa Bay is a nightmare. Annual disappointment, Peyton Barber is starting over the more freshly disappointing Ronald Jones. Things are wide open waiting for someone to take control of the situation. Right now Ogunbowale is the third down/passing play back. There is every reason to believe that he could work his way into a more significant role if he shows even a modicum of ability. Barring a trade or pickup, I could see Ogunbowale as Tampa's lead back a couple of weeks in.
T.J. Yeldon BUF Rostered-3%
The Shady McCoy era is over in Buffalo and there are lots of touches up for grabs. It looks like Devin Singletary is the odds on favorite for the lead back job, although the ghost of Frank Gore is still lurking. Meanwhile, people seem to be forgetting about Yeldon. He is a solid back and a very good pass-catcher. You could do much worse with a last roster spot, totally free player.
Damien Harris NE Rostered-12%
There was a lot of hype surrounding Harris in the preseason due to worries about Sony Michel's health. A couple of dominating runs by Michel put most of this talk to rest, but Harris is still valuable. Despite looking fresh as a daisy, Michel has still had quite the injury history. The Patriots love to mix up their running backs and it stands to reason that Harris will at worst be a part of their rotation. If the rookie performs or the injury bug strikes, Harris could be in a very valuable position at some point in the season.
Wide Receivers
Nelson Agholor PHI Rostered-6%
It can be difficult to tell where the Eagles are going to turn on offense. There is a history of Carson Wentz having success with Nelson Agholor though. Once the snaps count and Wentz starts going through his progressions, I think that he will turn to Agholor often to keep the chains moving. Grab him for free as he is coming off a down year and enjoy the profits as those catches start stacking up.
Terry McLaurin WAS Rostered-7%
By no means am I advocating starting McLaurin at this point in the season. He does have a starting job, though, and that is worth something. The Redskins may have a historically bad offense this season, but they are going to score occasionally. There should be a lot of targets for the rookie receiver, grab and stash him on your bench until we see how things unfold.
Marquise Goodwin SF Rostered-5%
There are few receivers in the NFL with the game-breaking speed of Goodwin. He has been plagued by injuries (both his own and his quarterback's). Now he is fully healthy, as is Jimmy G. That could mean good things for the track star-turned receiver. If he can get things turned around in 2019, Goodwin would be an amazing value off of the waiver wire.
Tight End
Dallas Goedert PHI Rostered-7%
It will be a bit of a boom or bust proposition with Goedert because of the glut of receiving talent in Philly. This is particularly true at the tight end position, as Zach Ertz is on the same team. There is no lack of talent on the part of Goedert, however. If he can see a decent number of snaps, there will be production. You cannot ask for much more than that from a waiver wire tight end.
Darren Waller OAK Rostered-20%
For the most part, I stay away from buzzy names, especially when they come from Hard Knocks. There is no denying the physical gifts of Darren Waller though. He is a freak athlete that is a matchup nightmare at the tight end position. He is set up perfectly to have a major impact offensively if the Raiders choose to get him the ball. There should not be any league 12 teams or deeper where Waller is left on the waiver wire.
Thanks for checking out my pre week 1 waiver wire picks. Be sure to check back every week to keep you team in peak condition. Follow me on Twitter for some extras: @brendancole16.