Training camps are about to go into full swing and there's several camp battles you'll need to keep an eye on before your fantasy football draft. There's a ton of speculation out there but for the most part there's only a handful of high impact running back camp battles of major concern. Particularly we're going to look at the RB camp battles in Tampa, Atlanta, Cleveland, Dallas, Detroit and New England. Knowledge is power and the key to solid early drafting. Paying attention to camp battles will enable you to determine if you should pick WR or RB prior to your draft.
Running Back Training Camp Battles
Doug Martin vs. Charles Sims – Tampa Bay Buccaneers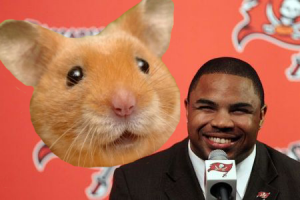 We all know about Doug Martins rookie season but he's done nothing since then, why is it going to be different this year? Can Charles Sims win the starting job and live up to the hype? Sims was outplayed by Doug Martin last season, but keep in mind he opened the season on PUP due to ankle surgery. Nevertheless, he forced just six missed tackles on 66 rushes and averaged 1.36 yards after contact per attempt, that's horrible. I think the current regime is talking up Sims to push Martin, period. Martin has lowered his weight by 15 pounds which should help him with his conditioning. Martin is also in a contract year, expect big things from Martin with a super low average draft position of round 8.
Winner = Martin
Devonta Freeman vs. Tevin Coleman – Atlanta Falcons
I'll be short and sweet with this one. Freeman has already shown he isn't going to cut the mustard. Coleman has a much higher ceiling and he was hand-picked by Kyle Shanahan. I'll roll the dice on Coleman for the right price but I'm certainly not drafting him as a RB1, RB2 or flex.
Winner = Coleman
Isaiah Crowell vs. Terrance West vs. Duke Johnson - Cleveland Browns
Crowell and West both averaged around 4 yards per carry last season totaling about 1280 yards rushing with 12 touchdowns, Crowell had 8 of those 12 TD. Enter 3rd round pick Duke Johnson into the equation and we've got what appears to be another running back by committee in the making, not what fantasy footballer's want to here. Browns RBs coach Wilbert Montgomery said they would like to use Johnson in a Giovani Bernard-type role and he's been getting lots of reps with the wide-outs so maybe he's not leading us astray. Nevertheless, I personally am avoiding Crowell and West as they can't be trusted any given week (at the moment). We already know the hot hand approach will be used and adding Johnson to the mix only complicates things. In a PPR league a take a late round flyer on Johnson.
Winner = Johnson
Joseph Randle vs. Darren McFadden - Dallas Cowboys
Many consider the starting RB role Joseph Randle's to lose. Whomever pulls this one out is obviously worth consideration because of Dallas' elite offensive line. So far Randle led most individual drills this spring and consistently ran with the first-team offense but that's partly due to McFadden's mild hamstring injury during OTAs. Notwithstanding, both backs have given us enough data from previous seasons to predict the outcome here. McFadden started of his career solid but was often injured and really slowed down in Oakland in recent years. Randle showed up last year with a solid 6.7 yards per carry and I think that's a good indicator of his future in Dallas.
Winner = Randle
Joique Bell VS. Ameer Abdullah - Detroit Lions
I want to say good things about Bell but let's be honest, he hasn't broken 1,000 yards rushing in the NFL (or even come close) and he's only averaged over 4 yards once in his NFL career. Making matters worse he's had some serious injuries (Achilles', knee) in the past and working on 29 years of age. Rookie Ameer Abdullah isn't your prototypical RB1 size, standing at 5 foot 9, 205 pounds, but has far more potential than Bell. Pulling out my tarot cards I predict that Abdullah out touches Bell 60/40.
Winner = Abdullah
James White vs. Travaris Cadet vs. Brandon Bolden - New England Patriots
I'll make this one easy for you, LeGarrette Blount is the only back worth owning and even then I'd think long and hard about spending a pick on him in a standard scoring 10 team league. 12 team and up all systems are go drafting LeGarrette Blount at the right price. But here's the deal, the Patriots will mix it up a lot based on the defense and game time situations. We really don't know which back will produce consistently and consistency wins fantasy leagues.
Winner = None, recommend avoid.