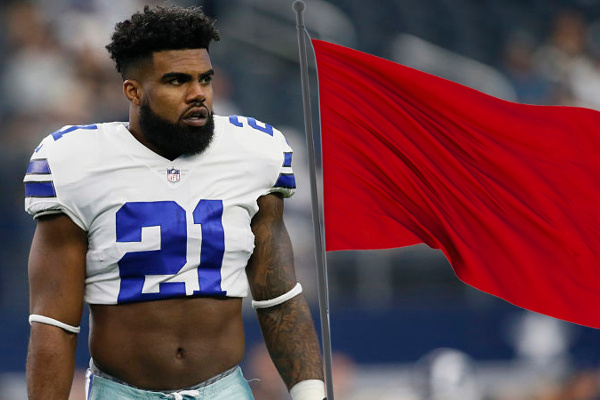 Red Flags is a series that identifies the warning signs in some of fantasy football's most popular players heading into the 2019 season. These articles aren't meant to dissuade you from rostering these players entirely, only to provide reasons you may want to temper your expectations. 
Since entering the league in 2016, Ezekiel Elliot has been a fantasy football wrecking machine. In his two full seasons, Zeke led the league in rushing yards, while also accruing the most yards per game in each of his three seasons to date. He is, to put it simply, a beast in the Dallas backfield.
And that's why you should be excited if Elliott is currently on your dynasty team or if you're able to acquire him in redraft leagues in 2019. But there's also reason to worry about Zeke heading into his fourth year. And it all starts with his workload.
The Wrong Side Of 300 Carries
The main reason Ezekiel Elliot has been so dominant for fantasy owners over the last 3 years is also the biggest reason to be wary of his production moving forward. Here's the double-edged sword: Zeke was able to lead the league in rushing yards in 2016 and 2018 because he also led the league in rushing attempts in both of those years. (322 and 304 attempts, respectively.)
Even in 2017, when Zeke was suspended for 6 games, he still finished Top 10 in rushing attempts with 242. (He was on pace for 387.) That's a lot of wear and tear to rack up on the ol' walking sticks in such a short amount of time.
And as history has shown time and time again, not many running backs are able to withstand that much grinding and come back the same person the following year. The record books are littered with players who took a big step backward immediately after a 300 carry season.
Want More Personalized Advice? Schedule A Live Consultation With A Fantasy Expert!
Recent Examples Of The 300+ Carry Curse
Since 2011, only one running back increased his total rushing yardage the next year after toting the rock 300 times in a single season. That man was Marshawn Lynch. Not including that Beast Mode outlier (while also disregarding Zeke's suspension year and Le'Veon Bell's holdout), all other running backs saw their total rushing marks dip, on average, by 762 yards the following year.
Let me say again: 762 yards. Poof. Vanished overnight.
Granted, some of that was certainly due to injury (i.e. Arian Foster in 2013, Doug Martin in 2013, Adrian Peterson in 2016), but that's part of the point, isn't it? Durability concerns are very real when you're talking about running backs who've accrued such high mileage over the course of a season.
Here's how that group of running backs fared, individually, on a Yards Per Carry basis during their 300 carry season, as well as the year after:
| | 300+ Carry Season | Following Season |
| --- | --- | --- |
| Michael Turner | 4.5 | 3.6 |
| Maurice Jones-Drew | 4.7 | 4.8 |
| Doug Martin | 4.6 | 3.6 |
| Alfred Morris | 4.8 | 4.6 |
| Arian Foster | 4.1 | 4.5 |
| Adrian Peterson | 6.0 | 4.5 |
| Marshawn Lynch | 5.0 | 4.2 |
| LeSean McCoy | 5.1 | 4.2 |
| LeSean McCoy | 4.2 | 4.4 |
| Demarco Murray | 4.7 | 3.6 |
| Adrian Peterson | 4.5 | 1.9 |
| AVERAGE | 4.75 | 3.99 |
On average, their yards per carry dipped by roughly 0.8. You'll also notice that a few of those listed above saw a slight increase in their YPC the following year (MJD, Foster, and LeSean McCoy the second time), though again, those three also saw a substantial dip in their carry totals and total yardage.
It's also worth noting this group's touchdown numbers dropped by 5.7 the next year. Add that to the aforementioned yard decrease, and you're looking at about a 110 fantasy point swing from one year to the next.
Deeper Into History
Focusing exclusively on players since 2011 may qualify as recency bias for some of you, so let's dig a little deeper into the archives. Joe Fortenbaugh did an excellent study of running backs from 2002 to 2011 who fit this context, so I'll defer to his numbers from here on out.
In that decade-long span, 75 running backs hit the 300 carry mark and came back to play the following season. Of those, 55 (or nearly 75%) scored fewer fantasy points the following year.
And sure, some of those examples regressed by just a handful of points. That's not going to significantly impact your fantasy lineups. But 40 of them (more than 50%) decreased their output by at least 50 fewer fantasy points the year after. And that number will have an impact.
From that same 55 players whose fantasy points decreased the following year, 35 of them also played in fewer games. 19 of them missed at least 3 games that next season, usually due to injury.
Can Zeke Break The Curse?
The most recent running back not named Ezekiel Elliott to notch 300 carries in a season was Le'Veon Bell, who totaled 321 in 2017. The former Steelers running back knew his risk of injury was getting higher, and so he sat out the 2018 season hoping to refreshen his legs and find a team that would better compensate him.
The fact that Pittsburgh wasn't willing to pay top dollar -- and that Bell would rather forfeit $14.5 million = than risk injury -- suggests both parties were aware of how rundown his body was.
So now, enter Zeke. There's no indication he'll sit out this year like Bell did (he has no reason to), but will he be able to break the 300 carry curse?
We nearly saw this exact situation play out in 2017, after Elliott had rushed 322 times in his rookie season. But his 6-game suspension kept him from proving (or disproving) the theory.
But here's what we did see that year: Zeke's YPC dropped a full yard from 5.1 to 4.1. So did his yards per reception (from 11.3 to 10.3) His yards per game dipped by 10, as well. His rushing TDs per game dipped from 1 per game to 0.7 per game. It certainly appears he was on track to join that long list of stud running backs who got hit with the 300 carry hangover.
Get a head start on next season with a Fantasy Knuckleheads membership!
The Silver Linings
Even though I strongly suspect Zeke's production will hit a speed bump in 2019 due to his previous workload, there are plenty of other factors to take into consideration. Such as...
Youth. For starters, he'll be just 24-years-old when the season starts. Young players are much better equipped to absorb this type of punishment.
Amari Cooper. In the 7 games before Amari came to town, Zeke was the RB8 in PPR formats. Not too shabby. But from Week 9 on, with Amari in play, he was the RB2, behind only Christian McCaffrey.
Zero Competition. So long as he's healthy, you never have to worry about Zeke's workload getting vultured by another member of his backfield. He is the backfield.
Pass-Catching Ability. Zeke saw 95 targets last year, meaning he's no longer a liability in the receiving department. His 77 catches were 5th-most among running backs. Granted, the return of Jason Witten could cut into that number a little, but he should still fare much better in the receiving department than he did in his first two seasons.