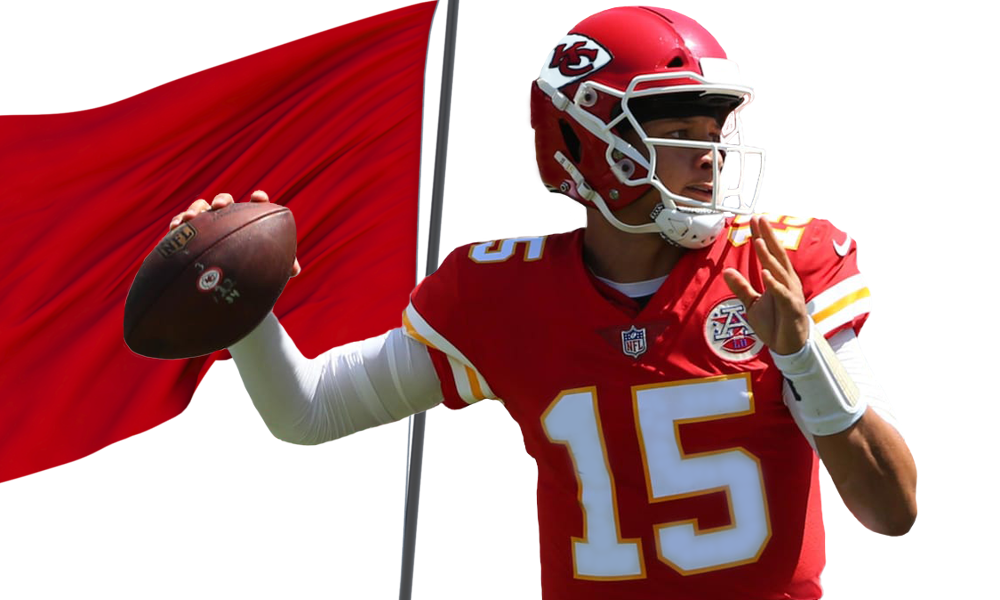 Red Flags is a series that tries to identify the warning signs in some of fantasy football's most popular players heading into the 2019 season. Please understand, these articles aren't trying to dissuade you from having these players on your team. But you may want to temper your expectations a little.
There's no getting around it. Patrick Mahomes was the quarterback to watch in 2018. Kansas City's sophomore QB decimated defenses all year long with an astuteness, creativity, and unstoppable energy that made Mahomes look like the heir apparent to Aaron Rodgers.
And while it's easy to appreciate the no-look, sidearm, and parkour-style passes Mahomes completed on a regular basis, we mustn't get so caught up in the theatrics that we fail to see the danger signs for a potential down season. Because believe me, there are danger signs.
Patrick Mahomes deserved every bit of praise he received from real and fantasy football pundits alike. But let's not pretend he didn't have an incredible group of talent to work with. And unfortunately, not all of that talent is guaranteed to be around next year.
Want More Personalized Advice? Schedule A Live Consultation With A Fantasy Expert!
What Will Mahomes Do Without Kareem Hunt?
Let's start with an easy one. We know that Kareem Hunt will not be suited up for the Chiefs in 2019. We also know that, because Andy Reid's offense typically yields fantastic results regardless of the body in his backfield, Damien Williams was able to fill the role admirably once Hunt was cut.
Although the running game continued on without a hitch, there was slight regression in the passing stats when Williams came onto the field.
| | With Hunt | Without |
| --- | --- | --- |
| Avg Passing TDs | 3.4 | 2.6 |
| Avg Passing Yards | 330 | 294 |
| Completion % | 67.8 | 62.6 |
| Passer Rating | 116.4 | 107 |
| Passing Y/A | 9.4 | 8.1 |
| Rushing Y/A | 4.45 | 3.45 |
In weeks 1-11, Mahomes averaged 27.2 fantasy points per game. In weeks 13-17, after the team's bye week with Hunt gone, Mahomes averaged 23.5 fantasy points per game. I know, I know. That's like a bartender telling you they're out of Grey Goose and you'll have to settle for Ketel One. But there is a slight -- if barely noticeable -- difference, and points to some small cracks forming.
And if we were to factor in the real world playoffs, those numbers would dip even more. His TDs average would dip to 1.5, his passing yards to 286.5, his completion percentage down to 59.7, his passer rating to 98.9, and his passing yards per attempt down to 7.96. Again, these are small declines, but they're not nothing.
Many suspect Williams will get first crack at leading the Chiefs' backfield in 2019, though it's possible Carlos Hyde or an incoming rookie is able to steal the job.
Get a head start on next season with a Fantasy Knuckleheads membership!
What Would Mahomes Do Without Tyreek Hill?
Now the trickier part. It's a bit premature to assume Tyreek Hill will miss any time in 2019, but given the league's recent history of suspending players even if they're not convicted of a crime -- that possibility certainly exists.
Hill didn't miss a single game in 2018, so we have no way of knowing how exactly Mahomes' play would have been affected. But considering he was by far the most productive pass-catcher on the team, we can take an educated guess.
Hill led Chiefs' pass-catchers in YPR with an astounding 17.0, while the next closest player (with at least double digit receptions) was Demetrius Harris, with 13.7. More importantly, Hill also led the team in receiving yards with 1,479, amounting to 29% of the Chiefs' receiving yardage. The next closest wide receiver was Sammy Watkins, who put up just 519. (Though to be fair, Watkins only played in 10 games. Though to be EXTRA fair, Watkins hasn't played a full 16 games since 2014.)
Hill also led the league in plays over 20 yards (27) and over 40 yards (8). Four of Hill's 12 touchdowns came on plays of over 50 yards. His ability to gain a ludicrous number of yards after the catch makes him Mahomes' most valuable weapon. Watkins has never been a YAC monster, and Travis Kelce can only do so much if he's being double covered.
What's The Worst That Could Happen?
Remember in 2017 when Alex Smith finished as the QB4 on a per game basis? That was the year Tyreek Hill broke out and Kareem Hunt led the league in rushing yards. Those were good times.
Now flash back to 2016. Alex Smith finished as the QB25 on a per game basis, putting up 540 fewer yards and 9 fewer TDs. His rushing yardage also dipped by 221 yards. Travis Kelce still put up monster numbers (he was the fantasy TE1), and KC had a more-than-serviceable running back in Spencer Ware.
Maybe the offensive scheming took a nose dive that year under Brad Childress? Doubtful, considering Smith finished as the QB27 on a per game the year prior under Doug mothaflippin' Peterson.
Now obviously hadn't been considered an elite talent in many, many years by that point. Mahomes, by all accounts, appears to be a generational talent. Then again, NFL's history books are littered with QBs who exploded for a season but eventually became "one-hit wonders." Rick Mirer, Steve Beuerlein, Derek Anderson, and to an extent, RGIII.
Mahomes has enough pure talent as a passer to avoid being added to that list, but let's stop pretending there's not room for regression.
What To Do With Him
If you have Mahomes on your dynasty roster, even thinking about trading him probably fills yours face with rage veins. But his value may never be higher than it is right now. Name a format, Mahomes is the QB1 in that format. Now put type his name into your Twitter search bar and watch the monstrous hauls people have been netting for him.
Fact is, Mahomes' perceived value is so high it would practically be irresponsible not to trade him away. There's a gaggle of QBs who have just as much upside but aren't as "sexy" to the fantasy football public. And some of them have fewer red flags attached to them.
In redraft leagues, Mahomes' ADP is near the top of the 2nd round, around folks like Julio Jones, Michael Thomas, Joe Mixon, David Johnson, and Antonio Brown. The next QB isn't going until late in the 4th round, and his name is Andrew Luck.
Either of them -- along with Aaron Rodgers (ADP 5.04) -- have the ability to finish as the QB1 in 2019, but the disparity in their perceived values is downright silly.
Is it possible I'm overreacting, and that Mahomes easily nets a Top 5 fantasy finish? Sure. But it's just as likely he falls outside the Top 5 and leaves a lot of drafters disappointed. I'm not drafting him in redraft or best ball, and I'm certainly not trading for him in dynasty.