Man I've been in a lot of leagues. Making sure you pick the right guys can make or break a fantasy football league. I've seen some friendships go down, crazy stuff. How the league commissioner runs the league can make or break the league. I'm here to help you setup your fantasy football league and run it the right way.
A 10,000 Foot View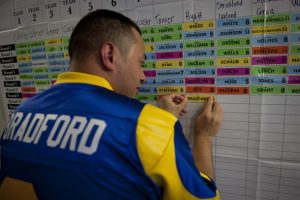 As your leagues commissioner you have countless choices when setting up a fantasy league. Luckily for you countless pioneers have honed this process over time. Through trial and error particular setups have proven to be the most effective. Here's the basics:
How big to make your league.
League dues and payouts.
League settings such as league type, scoring, waiver wire, and trades.
Setting up your fantasy football league draft.
League hosting platforms.
Choosing Your League Size
I've competed in 10 team fantasy football leagues, 12 team leagues and a massive 16 team league format. 10 team leagues are great when most of the people involved are novice. This is because you'll have more players available on the waiver wire which allows for everyone to maintain a competitive team. 12 team leagues are slightly more difficult and require more fantasy football prowess in comparison to the 10 team format. If you're just starting out I recommend a 10 team league which you can grow into a 12 team league the following season. My 16 team league was one of my first leagues. The guys stuck together for several years and it was a very competitive league. In a league this size the person with the best waiver wire skills is going to dominate. If you choose a league size greater than 12 you'll need to setup strict waiver wire parameters which we will talk about later.
League Dues and Payouts
Collecting league dues is a pain in the rear for you and your team managers. Trust me, you need to automate the collection of dues and payout for the winners. Most of all, you'll want to ensure everyone pays before the draft. If they don't pay they can't play. This is why you need to use a company like TeamStake. Because they've built a platform specifically for fantasy football league fees and payouts. The prize pot needs to be big because you want the squeeze to be worth the juice. If you have 10 people in your league and everyone chips $10 into the pot that only leaves $60 for 1st place and $40 for second. Wow, thanks. I recommend no less than $40 per person to play. This way you can setup a 1st, 2nd and 3rd place prize pool that gets everyone hungry for the win. The bigger the pot, the more active your league will be. Which in turn will increase the likelihood that people will be back the following season.
League Settings
What's the best fantasy football scoring format? How should you do your waiver wires? Which week is the best to start the playoffs? PPR scoring or standard? Here's where you don't want to screw up the league by adding your own personal flair, especially if this is a new league. Stick with the defaults of the league hosting site.
Scoring: simply choose PPR or standard format. I prefer PPR as it makes player consistency a much more important factor. In standard leagues you're only focused on yardage and touchdowns.
Waiver wire: after the draft and into the season you have the ability to add to and drop from your team, AKA the waiver wire. There are many waiver wire formats but the two most common are priority based and budget based. Priority keeps it fair and everyone gets a chance to "go first" but it can really hurt a team that loses a player to injury. For this reason I prefer the budget/bidding system known as FAAB. Each manager is given a budget for the season which they can use to bid on unclaimed players.
Trading players: when two team managers want to trade players it's going to cause a stink. You can either let the group vote the trade up or down. Alternatively you as the commissioner can make the call. I prefer the later to ensure there isn't collusion.
Playoff schedule: the championship game needs to be in week 16, not week 17. This is because in week 17 some NFL teams start benching starters and that sucks for team managers. If you have a 10-team league, use a four-team playoff with no byes. If you went with a 12-team league, use a six-team format with the top two teams getting the first week of the playoff as a bye week. Again, most of this will be the default settings of your league hosting website.
Where to Host Your Fantasy Football League Draft
You have a wide assortment of options when it comes to league hosting sites. The most costly yet configurable option is MyFantasyLeague. Most of my keeper leagues and dynasty leagues are through MFL. It's a great option when you plan on customizing a wide array of league settings, point settings and customized homepage options. But for a beginner fantasy football league that is going to be a redraft (new team each year) league I recommend ESPN or Yahoo.Yahoo and ESPN will allow you to host your league for free and make minor adjustments to your league settings.
The Fantasy Football League Draft
The day your entire league has been waiting for, the fantasy football draft. So what day should you host your fantasy football draft? I like to draft a month before the preseason to stay fresh and keep my research up-to-date. Most leagues where guys have money on the line will draft after the 3rd week of preseason football. This helps to mitigate the risk of drafting a player that could end up getting hurt in a preseason game.
Draft Format - KISS
Auction drafts are better suited for experienced fantasy football GM's but you could easily start your new league as an auction league. But for the sake of simplicity and fun I highly recommend a snake draft. This is a fair and balanced approach and most of the information online is tailored to this format.