As the 2015 NFL Draft drew to a close on Saturday afternoon, the New Orleans Saints got to work on assembling a new crop of undrafted free agents.
With 31 other franchises all scrambling to skim the cream of the crop of undrafted players, the Saints can look at recent history as a beacon of optimism with regards to plucking the next diamond in the rough, or two. Over the last several years, New Orleans has unearthed the likes of Pierre Thomas, Khiry Robinson, Junior Galette, Josh Hill and Tim Lelito; all who have gone on to play major roles on the roster across multiple seasons. Last season's undrafted free agent class produced the trio of CB Brian Dixon, S Pierre Warren and LB Kasim Edebali. All three of those players spent time on the Saints' active roster last year, while other UDFAs such as wideouts Brandon Coleman and Seantavius Jones were assigned to the practice squad.
As of now, the 2015 crop of New Orleans bound undrafted free agents is a mixture of bona fide signings, rookie camp invites and tryouts, but we'll do our best to keep you updated on how things play out. The wheels are still in motion with plenty of moving parts, but in the meantime, the Saints have assembled a nice core of players who went undrafted over the weekend.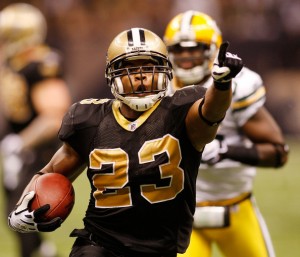 New Orleans Saints 2015 Undrafted Free Agents/Camp Invites
Tavaris Barnes - DL - Clemson
Stephon Sanders - LB - SMU
Markus Pierce-Brewster - LB - West Texas A&M
Doniel Gambrell - OL - Notre Dame College (Ohio)
Cyril Lemon - OL - North Texas
R.J. Harris - WR - New Hampshire
Sean Hickey - OL - Syracuse
Kaleb Eulls - DT - Mississippi State
Jack Tabb - TE - North Carolina
Ashaad Mabry - DE - UTSA
Harold Spears - TE - New Hampshire
Bobby Richardson - DL - Indiana
Adam Keller - K - North Dakota State
Chris Highland - LS- Illinois State
Malcome Kennedy - WR - Texas A&M
More to come?
The moves may not be done yet. As things stand, the Saints are just over the 90-man roster limit, so at least three of the above players may be designated as camp invitees, while others have signed undrafted free agent contracts. There could be more signings or invites on the way, so we'll keep you posted throughout the rest of the weekend as news continues to leak out.