With a pair of first-round picks at their disposal, the New Orleans Saints entered day one of the 2015 NFL Draft with a chance to instantly bolster their roster with some fresh, young talent at positions of need.
The Saints put those two picks to good use, selecting Stanford OL Andrus Peat and Clemson LB Stephone Anthony as the first-round of the draft kicked off last night in Chicago.
Both offensive line and inside linebacker were seen as need areas entering the draft, but New Orleans managed to rock the boat somewhat when they selected Peat at 13 overall with their first pick. While most analysts expected the Saints to target a guard in the early rounds, Peat is a natural tackle. The 21-year-old started 27 games in David Shaw's pro-style scheme, and chose to declare for the draft after his junior season. He earned first-team All-Pac 12 and second-team AP All-american honors in 2014. A 6-7 313 behemoth, Peat comes from good bloodlines; his father Todd played six seasons in the NFL and his brother played collegiately at Nebraska.
The Saints seemingly have their left tackle of the future in Terron Armstead, a 2013 third-rounder, and veteran Zach Strief has been one of the league's better right tackles over the last few years. However, Saints brass felt they could not pass up the opportunity to select a player of Peat's caliber, at a position where depth is always valuable. Strief has played inside before, and could conceivably bump down and take the spot of Ben Grubbs, who was traded to Kansas City in March. This would allow Peat to play right tackle and grow into Armstead's bookend.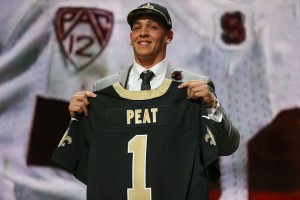 At the same time, Tim Lelito, a former undrafted free agent, has emerged as another option to replace Grubbs inside. If the trio of Armstead, Strief and Peat are all truly seen as tackles, the rookie would need to beat out one of the two veterans in camp to get onto the field at his preferred spot. Strief has recently graded out better than Armstead, though the latter had to battle through nagging injuries for stretches of 2014.
An athletic freak like Peat, Armstead is still developing in his own right, and could team with the ex-Cardinal standout to give the Saints one of the league's most athletic tackle tandems. It's highly unlikely that New Orleans would use such a high pick on a player solely for depth purposes, so however things play out, it stands to reason that Peat's path to the field could come quick.
Coach Sean Payton stated after the completion of the first round that Peat will, indeed, play outside along the team's front.
"I don't see (Peat playing guard)," Payton said. "He's a tackle. Offensive tackle, we viewed as a position that wasn't a high priority in the draft but was certainly a need position. Maybe not a must, but a need. Terron and Zach, shoot, one's a veteran, experienced, tremendous leader for us at right tackle. The other one is a real sharp and talented left tackle. Andrus will come in and I'm sure we'll give him reps at both positions."
Seen as a dominant run blocker with terrific athleticism and technique, Peat does need work as a pass protector. The Saints have been attempting to become a more physical team up front, and have been longing to place more of an emphasis on establishing the run game to help take the pressure off of quarterback Drew Brees and their defense late in games. Peat's skills fit that mold, though his development in pass protection will be vital if Brees is to avoid the kind of pressure he saw throughout last season.
While Peat's selection may have been construed as surprising, if not confusing to some, the intentions are good and clear, and the Saints have one of this draft's most intriguing offensive linemen on board as a potential contributor for years to come.
The element of surprise was a lot less visible with the selection of Stephone Anthony at 31 overall. It was no secret that the Saints were looking to address the inside linebacker position, a key spot in defensive coordinator Rob Ryan's 3-4 scheme.
Anthony, 22, is a plus-athlete who fits Ryan's defense perfectly. At 6-3 243, Anthony has the size and exceptional athleticism (4.56 forty-yard dash, 37-inch vertical, 10-ft-2 broad jump) to thrive as a plug-and-play option inside next to veteran David Hawthorne. The Saints did their due diligence on other ILBs, and were said to be enamored with UCLA's Eric Kendricks, but Anthony is their man.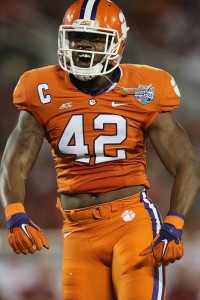 The Saints have lacked a playmaking presence inside since Jonathan Vilma's glory years, and parted ways with Curtis Lofton in March. This left a void which a player of Anthony's ilk can fill from the drop of a hat. The 2014 first-team All-ACC and Butkus Award semifinalist can play sideline-to-sideline and has thrived in both man and zone coverages. He is still developing against the run, but excels as a blitzer, and the Saints entered the draft with the hopes of adding players capable of getting to the opposing quarterback.
"We like the makeup, his size, his flexibility, position flexibility, I think he can play either inside position," Payton said. "I think he is probably most suited to play Mike, so he has that body type."
Anthony's athleticism, open-field tackling ability and experience going against skilled athletes in the ACC with Clemson help make him a strong favorite to develop into a potential three-down linebacker who should start from week 1. The North Carolina native led the Tigers in tackles on a unit that was ranked first overall in total defense in the NCAA FBS. He and Hawthorne should form a solid tandem inside, with Anthony's blitzing and cover skills putting him in position to stay on the field on passing downs.
Where to go from here?
Heading into Friday night's second and third-round action in Chicago, the Saints hold the 44th, 75th and 88th overall selections in addition to four more picks between rounds 4 and 7, which will be completed on Saturday. We've discussed the team's draft needs and even put together a 7 round mock draft which further examines some of the directions in which the Saints could turn over the next two days. If Thursday was any indicator, it appears the 'best player available' strategy that Payton and general manager Mickey Loomis have employed in their tenure will continue to be the rule of thumb.

The Saints managed to address both need and best player available with the Stephone Anthony selection, and while the Andrus Peat pick may be seen as a curveball of sorts, it's hard to argue with drafting a prospect who may well go on to play a huge role in the trenches for the next decade-plus.

New Orleans has some flexibility to be creative with their remaining picks through the weekend, with enough ammo in their arsenal to either move up for a coveted target, stand pat, or move down in an attempt to stockpile even more picks. Whatever they do, the 2015 NFL Draft cupboard is certainly full of prospects who can help a team like the Saints erase memories of a poor 2014 season and get the ball rolling on a new year with new goals.

New Orleans Saints 2015 NFL Draft picks as of 5/1/15:

2nd Round: #44
3rd Round: #75 & #78
5th Round: #148 & #154
6th Round: #186
7th Round: #230