The New Orleans Saints will enter the 2015 NFL Draft armed (for now) with nine picks and a good chance to add a fresh injection of talent at several spots across their roster.
Like all NFL teams, the Saints are honing in on the final stages of their draft preparation, poring over all types of data, conducting visits, attending pro days and getting their board in order ahead of the big event which begins April 30 in Chicago. Following the trade which sent All Pro TE Jimmy Graham to the Seahawks last month, the Saints have two first-round picks at their disposal for the first time since 2011, when they selected DE Cameron Jordan and RB Mark Ingram.
New Orleans Saints 2015 NFL Draft picks as of 4/12/15:
1st Round: #13 & #31
2nd Round: #44
3rd Round: #75 & #78
5th Round: #148 & #154
6th Round: #186
7th Round: #230
Historically, the Saints have been firm subscribers to the 'best player available' (or BPA) strategy, overlooking specific team needs in preference of the best available prospect on their board at the time of their pick. Nevertheless, the Saints do have plenty of needs to address even after a flurry of free agency moves with further maneuvering still a possibility. Whether it's in the trenches, the secondary, or the skill spots, the New Orleans Saints will hope to get the best of both worlds and find a way to select the best players available to fill those needs.
Here's our take on the Saints' top 5 draft needs in 2015:
1. Pass Rusher
The Saints have a bevy of talent in the pass rush department, and recently added a former first-rounder in the form of Anthony Spencer to go along with the likes of Cameron Jordan, Junior Galette, Parys Haralson and Akiem Hicks. Last season, however, they struggled to generate a consistent pass rush from their front seven, which left their undermanned secondary exposed in the back-end. Defensive coordinator Rob Ryan will welcome another chess piece to add to his already talented arsenal of rush specialists who he can mix and match within his multiple looks. General manager Mickey Loomis is a big proponent of the BPA strategy, though it is fair to wonder how much input recently-hired Jeff Ireland, a former executive with the Cowboys and Dolphins, will have in the war room. Ireland, a Bill Parcells disciple, has a history in his days of a draft day shot-caller of targeting players in the trenches, especially on the defensive front. While in Dallas, Ireland was part of a setup that selected the likes of DE/LB DeMarcus Ware, DE Marcus Spears, LB Kevin Burnett, DE Chris Canty, LB Bobby Carpenter, DT Jason Hatcher and the aforementioned Spencer in the first four rounds of the draft. In Miami, he oversaw the selections of OL Jake Long, DE Phillip Merling, DE Jared Odrick, LB Koa Misi, T John Jerry, OL Mike Pouncey, OL Jonathan Martin, DE Olivier Vernon, DE Dion Jordan and OL Dallas Thomas. Should the Saints' braintrust ultimately decide to focus on the best available pass rusher, Clemson's Vic Beasley would be an ideal fit as an explosive athlete tailor-made for a 3-4 scheme. If Beasley is off the board, Nebraska's Randy Gregory or Kentucky's Bud Dupree could be potential fits, though neither cuts the figure of a pure sack man like Beasley. Missouri's Shane Ray is another ideal fit, though like Beasley, could easily be off the board by the time the Saints make their scheduled first-round pick at 13.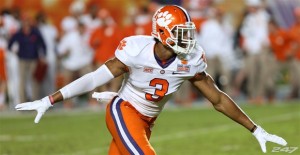 2. Receiver
The Saints made Oregon State's Brandin Cooks their 2014 first-round selection, trading up to select the young speedster in hopes of adding some juice and versatility to the offense. Cooks put together a respectable rookie campaign before being shut down with a season-ending thumb injury late in the year. New Orleans has been beating the bushes with regards to potential wideout targets over the last few weeks, and could use the 31st overall pick on a receiver in a draft class that is well-stocked with playmakers at that position. The team is said to be high on former Missouri and Oklahoma wideout Dorial Green-Beckham, a top-ten talent whose stock has taken a hit due to off-field issues and a subsequent sabbatical from football. UCF's Breshad Perriman is another wideout making waves in the draft buildup, and the Saints will be eager to poach one of this year's premium talents on the perimeter, with Louisville's DeVante Parker another name to monitor. Marques Colston is the wrong side of 30, Kenny Stills is a goner, and Cooks projects best as a versatile satellite type. Furthermore, the Saints must account for the vacant hole in their receiving production now that Jimmy Graham is a Seahawk. Minnesota tight end Maxx Williams could be a plug-and-play option at 31, but it would be hard for the Saints to pass up the chance to grab DGB at that point. A physical, athletic specimen with sure hands and a truly unique catch radius and skill set, Green-Beckham is a risk worth taking for a team that can surround him with high-character teammates such as Colston, Drew Brees and Jahri Evans.
3. Cornerback
To say the Saints struggled defensively last season, particularly in the back-end, would be quite the understatement. Injuries played their part, but a lack of pass rush and run-stopping ability led to a subpar unit exposed through the air. Keenan Lewis returns to lock down the opponent's best wideout, but the depth chart behind himself and free agent signing Brandon Browner is murky at best. The team brought in former first-rounder Kyle Wilson to compete for a spot alongside the likes of Brian Dixon, Terrence Frederick, and 2014 second-round draft choice Stanley Jean-Baptiste. Local boy Jalen Collins, who played corner at LSU in a pro-style man-to-man scheme, could be an option in round 2 at 44, while Wake Forest's Kevin Johnson and Louisville's Charles Gaines could also garner looks from the Saints. Collins fits the mold of an athletic cover man with an impressive 6'1 203 build and continued development as a playmaker in space. He spent most of his time playing outside in the SEC, and would give the Saints another option on the perimeter if Ryan chooses to move Browner around within the defense.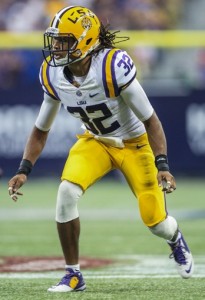 4. Offensive Line
While we like the Saints' chances of going pass rush/front seven at 13, offensive line is another spot that the team could look to address in round one with either of their two picks. Another local kid out of LSU, La'el Collins, is said to be high on the team's board. Collins has experience playing at both guard and left tackle in LSU's pro style attack under Cam Cameron. He best projects inside as a guard or potential right tackle option, and the Saints could use some help there having dealt former Pro Bowler Ben Grubbs to Kansas City in a cost-cutting move last month. Collins loves to be physical and is always ready to mash it up inside with opposing defensive linemen. Those traits jive with the Saints' never-ending desire to evolve their running game into a more reliable outlet. South Carolina's A.J. Cann and Florida State's Tre' Jackson are two more names to watch if the Saints decide to use one of their first three picks on an interior offensive lineman.
5.Quarterback
This will be a mix of need and luxury, as the Saints are already armed with perennial Pro Bowler Drew Brees under center in Sean Payton's system. However, Brees is 36, and had his share of ups and downs (with plenty of downs) in 2014. Some wild draft rumors have the Saints trying to move up to grab Oregon's Heisman-winner Marcus Mariota, but we can't see them choosing to go that route with so many other needs to address. Using one of their two fifth round picks, or even a third-rounder to select a potential developmental prospect to sit behind Brees for a couple of years seems much more logical and plausible. UCLA's Brett Hundley, once thought of as a surefire first-round pick, could be available between rounds 3 and 5, while Georgia's Hutson Mason and another local product, Southeastern Louisiana's Bryan Bennett (Mariota's former understudy at Oregon before transferring to Southeastern) could be had later on. Hundley and Bennett are athletic types who possess great leadership qualities and skill sets that an offensive mastermind like Payton can groom to fit his system. Mason played in a pro-style attack under Mark Richt in Athens, and has terrific accuracy with a quick release.
Trying to predict what happens in the draft is, as they say, a crapshoot. However, one can not deny the excitement that goes into draft weekend, and the resulting positive or negative fallout as the prospects evolve is just as fun to watch. The Saints have been hit-or-miss in recent draft day memory, but with 9 picks in their name, the chances of them hitting, particularly in the early rounds, should be maximized by the outstanding prospects at the areas of their specific needs.