The New Orleans Saints wasted no time making waves as the NFL's free agency period got underway Tuesday, agreeing to ship TE Jimmy Graham and a fourth-round draft pick to Seattle in exchange for C Max Unger and the Seahawks' 2015 first-round draft pick.
Graham was the subject of a protracted franchise tag saga last offseason before putting pen to paper on a four-year $40 million contract with the Saints. The 28-year-old was set to count $11 million against the cap for New Orleans in 2015, a figure which includes a $5 million roster bonus .
The move clears only about $2 million in extra cap space for New Orleans in 2015, with the Saints also releasing LB Curtis Lofton earlier Tuesday. Last week they moved on from veteran RB Pierre Thomas and have been reworking deals with multiple veterans. General manager Mickey Loomis has taken a "kick the can" approach to the salary cap over the last few offseasons by moving money around in the form of roster and signing bonuses, but the purse strings have reached an all-time level of tightness in New Orleans, owners of one of the league's most dire cap situations. As of Tuesday morning, New Orleans was sitting at around $16 million over the cap.
While sending one of the league's most dynamic weapons to a conference rival provides an initial sense of shock, the Saints do well to come away with Unger, also 28. In addition, the Saints will be armed with two first-round choices at the 2015 NFL Draft as they look to upgrade the talent at several positions-particularly on the defensive side of the ball- after a disappointing 2014 season, one in which Graham was hampered by a shoulder injury.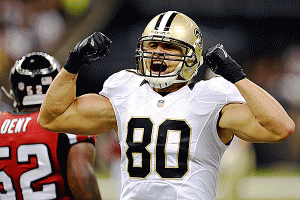 Unger has been to a pair of Pro Bowls, and will step in to the starting center position previously manned by Jonathan Goodwin and Tim Lelito. The Saints had been hoping to upgrade at the position this spring, and the six-year veteran out of Oregon provides New Orleans with a major boost in talent in the middle of the offensive line. According to Pro Football Focus, Unger graded out as the fourth-best center in the league, with a +12.4 score last season. Unger's addition should help the Saints in their quest to enhance their running game, while simultaneously increasing protection for QB Drew Brees.
Jimmy Graham's departure will strip the Saints' offense of one of its and the league's most dynamic weapons. Graham, owner of 51 career touchdown receptions, including a league-high 16 in 2013, will slot in nicely in Seattle, though his numbers may dip as the Seahawks employ more of a power running attack in contrast to the Saints' aerial approach. Graham, ironically, may be asked to perform more in-line duties, just a year after contesting that he be compensated as a wide receiver via the franchise tag due to the majority of his 2013 snaps coming out of the slot or from a wide alignment. Nevertheless, Graham provides a huge boost to Russell Wilson and the back-to-back defending NFC champion Seahawks' offense.
New Orleans will surely look to bring in an able replacement for Graham, with the likes of Jordan Cameron, Jermaine Gresham and Lance Kendricks hitting the open market today. Cameron could present a value option if the former Browns standout is willing to accept a "prove it" deal in an attempt to maximize his market next spring. At present, veteran Benjamin Watson, potential fantasy football sleeper Josh Hill and Orson Charles are the only tight ends on the Saints' roster.
Jimmy Graham's tenure as a New Orleans Saint may have just come to a shocking end, but a new beginning in Seattle may be just what the Seahawks need to flush the remaining bitterness of their Super Bowl defeat from their mouths. As for the Saints, it's another cruel reminder that the business side of the game is most certainly not for the faint of heart. Coach Sean Payton's offense did just fine before Graham came to town, but 6-7 265 matchup nightmares don't grow on trees.
All in all, both parties come away with reasonable dividends in this deal, but while the Saints have suddenly solidified the middle of their offensive line, they now have giant shoes to fill in the passing game.