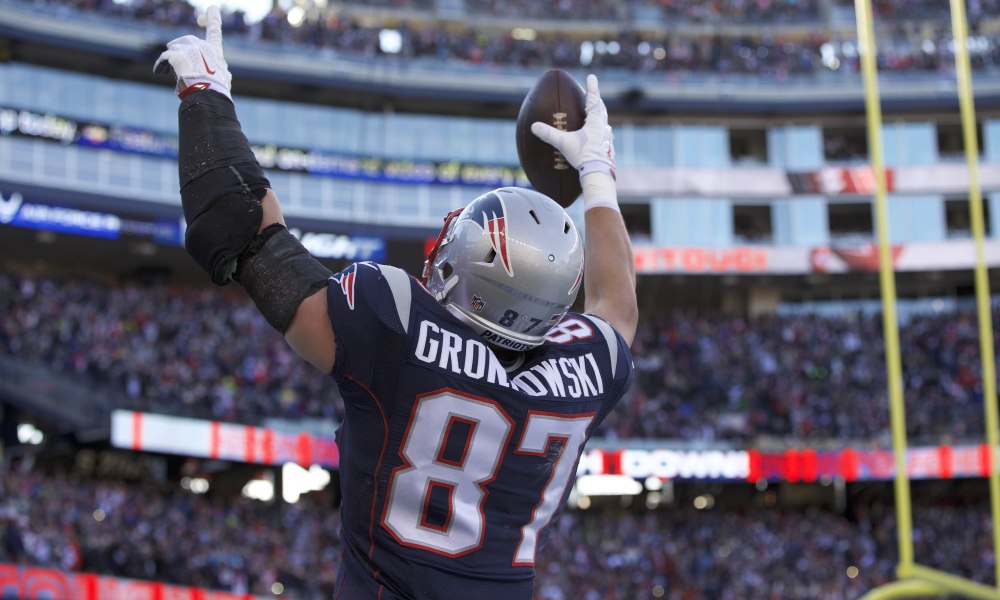 Consider this a Public Service Announcement for the fantasy football community. It's something we all need to hear. So please, please take what I'm about to say to heart. For our collective mental health, we have to stop tripping over ourselves to anoint each and every tight end that joins the New England Patriots "the next Gronk."
What Sets Gronk Apart
Rob Gronkowski was an athletic freakshow drafted in the 2nd round who looked truly special in college. In his freshman year at Arizona, he put up 37 receptions for 700 yards and 8 touchdowns. Those are impressive numbers for a freshman. His sophomore year, he racked up an unbelievable 75 receptions for 1,075 yards and 16 touchdowns. After that, he said "Yeah, I'm good here. I think I'll move onto the NFL."
His athletic measurables were outrageous. This was not some random prospect that New England plucked from obscurity and transformed into an unsuspectingly great role player. He was born to pummel NFL defenses.
Historical Tight End Production In New England
And by the way, when the Patriots drafted Gronk, no one thought, "Well this is the perfect spot for him to land for fantasy purposes." Because New England was not considered a hot spot for tight ends. The only reason it's considered that now is because Gronk performed like an absolute beast. Now folks think Bill Belichick is some sort of tight end whisperer. But he's not.
Excluding Gronk, since 2001 (the beginning of the Brady-Belichick era), no starting tight end for New England has finished better than TE10 on the season. The average finish for all non-Gronk starting tight ends was TE18. And yes, I can feel some of you hyperventilating as you scream Aaron Hernandez's name, but he wasn't the team's starting tight end at the time. And he was only good for one year. Please consider him the exception that proves the rule.
Here's a look at some of the stats for tight ends who were forced to fill in for Gronk when he was sidelined with an injury:
In 2013, Gronk missed 9 games. Michael Hoomanawanui, his "replacement," finished 9 games with 16 targets, 10 receptions, 117 yards and 1 touchdown.
In 2016, Gronk missed 8 games. Martellus Bennett, considered New England's 3rd best tight end over the last two decades, stepped in. In those 8 games, Bennett averaged 4 targets, 2.75 receptions, 38 yards, and 0.5 touchdowns per game.
In 2018, Gronk missed 3 games, and never looked even close to being healthy when he was playing. The team's No. 2 tight end, Dwayne Allen, finished the entire season with 4 targets, 3 receptions, 27 yards, and 0 touchdowns.
Want Personalized Draft Advice? Schedule A Live Consultation With A Fantasy Expert!
The Supposed "Future Gronks"
Right now the fantasy community is struggling to figure out which tight end currently on the Patriots roster will step into Gronk's shoes. In case you haven't figured out the point of this article yet, let me say it plainly: None of them will become what Gronk was for fantasy or real life football. Let's do a quick roll call.
Ben Watson is 38-years-old and never finished better than TE 12 when he played for New England the first time. You know, when he was still young and athletic. Ben Watson will not be Gronk.
Matt LaCosse has spent 5 years in the league and has played for 5 different teams, and his career year was 24 receptions for 250 yards and 1 touchdown. Matt LaCosse will not be Gronk.
Ryan Izzo was a 7th round draft pick with meek measurables and college production that closely resembles my own. (I did not play college football.) Ryan Izzo will not be Gronk.
Stephen Anderson is a receiver who transitioned into tight end coming out of college, so I can see where you think maybe he could fit that mold. Anderson also went undrafted, and couldn't beat out mediocre competition in his time with the Texans. Stephen Anderson will not be Gronk.
Scott Chandler wasn't Gronk. Dwayne Allen wasn't Gronk. Jacob Hollister wasn't Gronk. Austin Seferian-Jenkins was never going to be Gronk, even before he got unceremoniously booted off the team.
Get a head start on next season with a Fantasy Knuckleheads membership!
The Belichick Conundrum
None of the guys listed above will become Gronk-like because Bill Belichick isn't looking for any of them to be Gronk-like. Belichick has designed New England's offense to be completely amorphous, able to bend and flow and be shaped around his roster's best attributes. The Patriots utilize players, not positions.
When Randy Moss left the Patriots in 2011, they didn't just keep funneling the offense through the next tall, speedy, field-stretching wide receiver on the depth chart. Because they didn't have another Randy Moss on their depth chart. No one in the NFL did. So instead, New England turned a short, 30-year-old slot receiver into the focal point. They fattened Wes Welker up with targets like he was a turkey the week before Thanksgiving, force-feeding him 347 targets over the next two seasons.
This is the example we should keep in mind when we consider what to do with all future Patriots tight ends in fantasy. That's to say, look at who the best pure talents are on the Patriots roster, and draft those guys. But for the love of all that is holy, please stop assuming there is another Rob Gronkowski waiting in the wings of Gillette Stadium. There just isn't.
Check out Jake Trowbridge's new podcast, Drinking & Talking Fantasy Football!