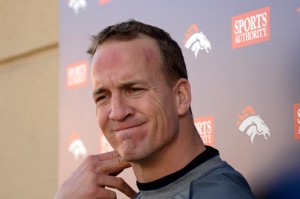 Fantasy Sleepers for Week 11 may not be as difficult to unearth as they have been this season. In fact, this week we touch base on a few names  we feel could have that sleeping giant impact you're looking for.
Last week was full of surprises - big ones - such as Big Ben coming off the bench to bail out HIS bailout, by the by, thanks to all the wonderful media people in Pittsburgh who convinced me to SIT Big Ben last week.
The rookie Jeremy Langford (RB - CHI) and the eternal one himself, grandpa football Zach Miller (TE - CHI) essentially dismantled the Rams "super-tough" defense by themselves, and Peyton Manning managed to somehow become the elusive All-Time passing leader in the same game he was benched.
Ya couldn't script this stuff if you tried.
---
Week 11 bye teams: Browns, Saints, Steelers, Giants
Wide Receivers: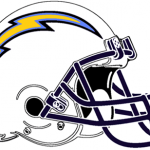 Whatever is left of the San Diego Chargers - (golf claps)
Here's the deal: Malcom Floyd is expected to "try" and play through his torn labrum which means one of two things:
A: The injury isn't that bad at all—*cough* ok.
B: He's gonna get knocked out of playing altogether the first time he crash lands on the ground.
I'm sticking with option B
Even if Floyd initially gets some work in, the Chargers are inevitably gonna limit his action on the field which not only bodes well for opposite starting receiver Stevie Johnson, but up-and-coming receivers Dontrelle Inman and Javontee Herndon.
I like Inman's chances of having a pretty good game from a fantasy sleepers perspective against a Chiefs defense that allows an average of 244.3 yards per game, and is 6th worse in the league for passing TDs allowed.
Consider placing Herndon on your watch list as he was just promoted off the practice squad earlier this month, and bound to see some action down the road if the Chargers continue to reel.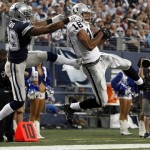 Andre Holmes - Oakland Raiders
I admit, Holmes is not the guy you're gonna start every single week, but if you're looking for a savvy fantasy sleepers pick who is matchup-dependent, Holmes could be that guy.
The Raiders get the Lions this week. Both defense are horrible against the pass. A shootout is almost a given in this one.
QB Derek Carr primarily targets this guy out of his 3-Wide sets, and he has been a favorite focal receiver in the red-zone, and I believe this week's contest is gonna open up some additional opportunities for Holmes that fantasy players aren't used to seeing.
Watch list adds: Jared Abbrederis (GB), Dwayne Harris (NYG), Justin Hardy (ATL)
---
Running Backs: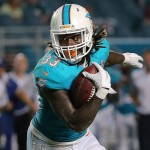 Jay Ajayi - Miami Dolphins
Get...him...now!
It is, for now, Lamar Miller's backfield but it's gonna be very difficult to ignore Ajayi's presence the more the kid is allowed to play.
Ajayi slightly out gained Miller this past week, but more importantly, showed everyone a slight glimpse of the type of runner he is developing into.
Remember, Miami likes to mix in a collection of 4-Wide sets, and when they do, Miller often plays as a receiver like he did this past week, so it is safe to assume they will feature Ajayi when that happens.
Still, Ajayi is a solid bet for 10 to 12 touches per game and is worth taking a chance on this week as a bye fill-in against Dallas.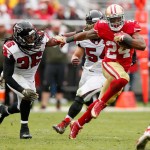 Shaun Draughn - San Francisco 49ers:
The 49ers have been non-committal as to the health of starter Carlos Hyde which doesn't point to anything good. But in his absence it was Shaun Draughn outplayed the remainder of the 49er backfield against a good Atlanta D rushing 16 times for 58 yards and hauling in 4 catches for 38 yards.
This week they draw a divisional showdown with a Seahawks team that just lost SLB Bruce Irvin, and an overall run D that hasn't been all that bad, but hasn't been all that spectacular either.
Speaking primarily towards fantasy players in deeper leagues with paper-thin waiver wires, Draughn is a competent add this week.
Just pay attention to news updates on Hyde before giving him the start.
Watch List Adds: Javorius Allen (Bal), Jonathan Grimes (Hou)
---
Tight Ends: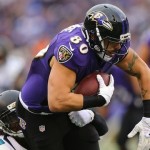 Crockett Gillmore - Baltimore Ravens:
I can nearly guarantee Gillmore will be available even in the deepest of formats this week, and Gillmore is a highly reliable fantasy sleepers play in Week 11 against the Rams.
That's right, the Rams. The team that just allowed 107 yards, two touchdowns on FIVE passes to the ageless wonder Zach Miller.
St. Louis is not the greatest at covering the TE position as they usually will cough up about 6 receptions for fifty to sixty yards, so the addition of Crockett in this matchup should serve you well as a fill-in.
Keep one thing in mind. The Bears introduced more double tight end sets than usual, which helped their fast start. The Rams on the other hand have only allowed 3 touchdowns all year to opposing TEs, ergo, Crockett has far more appeal in PPR formats.
The upside here is that Crockett is fast becoming more integrated into the offense with Steve Smith being shut down for the year—especially in the red-zone.
Watch List Adds: Zach Miller (CHI), Will Tye (NYG), Coby Fleener (IND)
Good luck this week, and be sure to check out our Fantasy Rankings for Week 11