We've got tons of ideas and well-thought out tactics and strategies for you to ponder.  But if you're reading this you must be interested in drafting a backup quarterback for your fantasy team. Normally team managers take their starting QB anywhere from round one through round seven and then grab a backup quarter back in the area around rounds 9-12. There are a few different (and possibly better) ways to approach your backup quarterback draft strategy and we're going look at several possibilities.  Each possibility really depends on the flow of your draft. It's this unpredictability that makes the fantasy football draft so much fun.
Now I know you're here to read about backup fantasy quarterbacks. But I highly recommend you read about your first quarterback pick in the draft because it goes a hand in hand with an overall QB strategy.
Drafting Back to Back Quarterbacks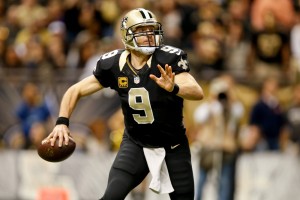 This tactic involves loading up on RB's and WR's with your first six picks and then taking two mid tier quarterbacks when the draft plays them into your hands.  The idea here is that by playing the match-ups week to week you end up with production that is worth close to what a top tier QB is supposed to provide.  Some other pro's of drafting a mid-tier backup is you get a great bye-week replacement, you insure yourself against injury, and you're using those higher draft picks on the less predictable positions, WR and RB. I recommend this if you're not good a reading match-ups on the weekly basis. And if things get ugly with your team you'll be able to trade your backup quarterback to help you make it into the playoffs.
Early Round Quarterback with Late Round Backup Quarterback
If your league is 12 teams or less I don't advise you drafting a early quarterback. This is because in a 14 team league (or more) the number of available wide receivers and running backs is really thinned out by the time the draft loops back to you. And since you can draft mid-tier quarterback later in the draft and them play them based on match-up, why waste the high pick on QB? If you're not one to want to manage the quarterback position week in and week out you should consider drafting a top tier quarterback. You usually can snag a top tier quarterback as late as round 4, but it's based on the flow. Once someone takes the top quarterback off the board you next pick needs to be quarterback if and only if he is a top tier pick. This is because the point drop off from the top tier to the mid tier is great but the drop off from the mid tier to the lower tier isn't as great.
Two Late Round Quarterbacks
If you're gambling man in a smaller league of 10 teams it's fairly easy to wait until the late rounds to draft your starting and backup quarterback. If the draft flows into your hand, you'll end up with two decent quarterbacks that when played properly will net you above average points. Listen, you're looking for 250 passing yards and 2 touchdown per game. If you can get that you'll be in good shape at the quarterback position.
No Backup Quarterback
There are people in the industry that I respect who are completely sold on this concept.  What you do is invest in one of the top 5 QB's and then completely avoid drafting a backup quaterback.  Why waste a roster spot on a backup quarterback (QB2) when you are going to start your stud every single week?  Got it.  Makes sense.  You could grab your high upside RB6 with that spot.  Maybe he hits and you've got lightning in a bottle.  It is better to give yourself a chance at that then to burn a roster spot on a backup quarterback.  On the bye week you just grab the best guy off of waivers who has a decent match-up.  Easy as that folks. This only works in leagues where the team rosters have less than 5 or 6 bench spots. In leagues where people can hold onto a lot of players with their bench spots it will make waiver wire quarterback hard to find.