When New Orleans Saints running back Mark Ingram was lost for the season due to a shoulder injury last week, the team did not have to look far for his replacement. Tim Hightower, who had only played sparingly in a handful of games before the Saints' week 14 win at Tampa, was the next man up. The 29-year-old, who had been out of football for four years before his training camp stint with New Orleans, took advantage of his opportunity and produced, earning a game ball as he rushed a career-high 28 times for 85 tough yards and his first touchdown since the 2011 season with the Redskins.
"You know, I don't know what I expected," Hightower said of his workload. "I just made sure my body was ready, made sure I was hydrated. It was pretty humid out there today. I just had to make sure I was prepared. I didn't know what was going to happen. I just wanted to make sure I was ready."
It's not easy to replace a back like Ingram. The former Heisman Trophy winner is as close to an every-down back as there is in the league these days, able to run, catch, and protect Drew Brees in coach Sean Payton's offense. Ingram was on pace for another good year, having evolved into a player that Payton, Brees, and company could trust to stay on the field at all times no matter what the situation. He was within a realistic reach of what could have been his first 1,000 yard season, but those rushing duties now fall at the feet of Hightower, a player whose teammates could not be happier for.
"As much as Mark Ingram meant to this team, and obviously for him to be gone for the season now, somebody needed to step up," Brees said. "Tim has traveled a really interesting road – being out of football for a while, with what a lot of people thought was a career-ending knee injury. He continued to fight, and believe and battle his way back and was with us throughout camp. He's really done a great job whenever he's gotten the opportunity, and today he knew he was going to be the workhorse and he really came through for us."
While C.J. Spiller -- and Marcus Murphy to a lesser extent -- will continue to be sprinkled into the gameplan as they were when Ingram was healthy, Hightower is the clear-cut early-down and goal line back. He played 58 of the team's 82 offensive snaps in week 14 compared to just 15 for Spiller. He is also able to contribute in the passing game, having caught 63 passes during the 2009 season with Arizona. Payton and the Saints were not afraid to call his number late in the game, with the score hanging in the balance as New Orleans fought to get back into the win column for the first time since week 8. With fellow RB Khiry Robinson (broken leg) also out for the year, Hightower's time to step up finally came and, regardless of the struggling Saints' misfortunes in 2015, he was determined to grasp the chance with both hands as tight as he would a handoff from Brees.
"I've been on a team where you're starting to get to the end of the season and, 'Ahh, we didn't make the playoffs,' and guys just folded it in," Hightower said after the game. "We didn't do that, man. To come out here on the road and get this win against a team that's been playing pretty well, we didn't do it. Man, I'm a fighter. And it just resonated with me, this team. And I just wanted to embrace these guys. They fought, we fought."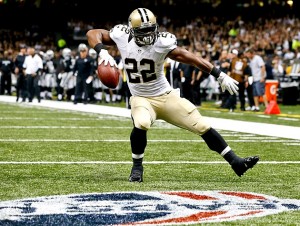 The Saints will look to keep fighting in week 15 as they host the Detroit Lions on Monday Night Football. Hightower has another favorable matchup against a Lions unit that ranks 21st in rush yards allowed. Sean Payton has long emphasized his want to establish a more physical approach to running the football, and Hightower fits the bill of a back capable of playing that role. With Drew Brees and the offense at their best inside the Superdome, Hightower will be called upon to help provide the balance that has been missing at times this season and in seasons past.
"You train all offseason, you work hard. If you're a competitor, you want the ball in your hands and you want the team to be counting on you in the most critical situations on the road," Hightower said. "When coach called my number the last few drives, it just shows the confidence that he has in us."
If you managed to scoop Hightower up off of the waiver wire last week (or if he is by some chance still available), he is a legit RB2 as we enter the fantasy football playoffs. After Detroit in week 15, the Saints will face a Jaguars defense that is in the middle of the pack against the run. The Lions and Jags have combined to surrender a whopping 29 rush touchdowns this season, so Hightower will be licking his chops when the Saints find themselves in goal-to-go situations over the next two weeks.
Both 2014 and 2015 have been long, frustrating seasons for the Saints, who are still not quite mathematically eliminated from postseason contention as long as the odds may be. It's been an even longer, more frustrating four years for Tim Hightower, who thought his career may be over after a severe knee injury left his playing future up in the air. Sometimes, the ecstasy that results from long-awaited glory can be worth the wait, as Hightower can attest to.
"I'm trying to hold it in, because I don't want these (reporters) talking about me," Hightower told The New Orleans Advocate. "But I'm sure when I call my wife and son on FaceTime, they'll get a couple (tears)."
If Hightower can deliver as a RB2 in the fantasy football playoffs, owners will be just as ecstatic.