Third year wide receivers are an enticing target as this tends to be the time that a lot of wideouts have their true breakout season. Last year was a bit thin when it came to budding stars in their third season; basically Keenan Allen and DeAndre Hopkins were the headliners. This season, the crop of receivers entering their third year in the NFL is almost impossibly talented. The star power in this group is preposterous and there are going to be some huge numbers put up this year as a result.
Top 10:
Odell Beckham Jr. NYG – 2015 Numbers: 96 receptions 1450 yards 13 touchdowns
The argument can be made that Odell Beckham is the best wide receiver in the league after Antonio Brown. He will have a bit more talent around him this season with the return of Victor Cruz and hotshot rookie Sterling Shepard arriving on the scene. Although Beckham may see a few less targets, it is likely that he will see less double coverage as well. Expect an absolutely huge season; Beckham is a fantasy monster.
Allen Robinson JAC – 2015 Numbers: 80 receptions 1400 yards 14 touchdowns
After a decent campaign in 2014, Robinson seemed to put it all together last year. This coincided with Blake Bortles seeming to click as an NFL quarterback. It also did not hurt that the Jaguars were usually playing from way behind. I see no reason to doubt that either of these things will continue, though. Robinson should be a rock solid option at wide receiver once again in 2016.
Wide Receiver Fantasy Football Sleepers 2016
Brandin Cooks NO – 2015 Numbers: 84 receptions 1140 yards 9 touchdowns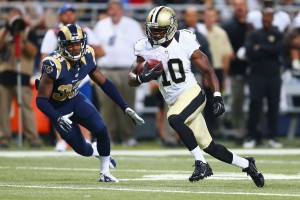 Cooks had a bit of a rough start to the 2015 season, putting up only 215 yards and no touchdowns over the first four games. Any fantasy owners that hung on were feeling much better by the end of the season, however. Cooks finished up with seven games of more than 80 receiving yards and narrowly missed double digit touchdowns. With Drew Brees still in the fold and another year of experience, there is every reason to believe that 2016 could be Cooks' breakout year.
Jarvis Landry MIA – 2015 Numbers: 111 receptions 1159 yards 4 touchdowns
Landry was a PPR machine last year and one of the favorite targets of Ryan Tannehill. His yards per receptions leave a bit to be desired, but if he can break some more big plays in 2016, his yardage and touchdowns will jump off the page. A high volume of opportunities is a huge factor in favor of taking Landry. He is not the flashiest player on this list, but when it comes down to it he will be one of the most productive.
Sammy Watkins BUF – 2015 Numbers: 60 receptions 1047 yards 9 touchdowns
At first glance, Watkins' numbers look like they are very good but not great. Factor in that he produced these numbers in only 12 games and you get a better picture of how dominating he was on the field. There were a couple of games where Watkins looked borderline unstoppable in 2015 and that is his upside. The downside is the 5 games that he missed due to injury. He is already dinged up this year and will likely be a constant risk to sit out on a week to week basis. The reward is huge in his case, but so is the risk.
Kelvin Benjamin CAR – 2015 Numbers: N/A (injured)
Benjamin is an interesting case because this will actually be his second NFL season, but his third year on a pro team. He missed all of 2015 due to injury after a stellar rookie campaign where he put up 1008 yards and 9 touchdowns. Benjamin was a favorite target of Cam Newton in 2014, but the receiving corps is more crowded with talent at this point. A thousand yard season is well within reach, but watch for Devin Funchess to steal some targets and Greg Olsen always gets his. By all means draft Benjamin, just don't overreach.
Running Back Fantasy Football Sleepers 2016
Mike Evans TB – 2015 Numbers: 74 receptions 1208 yards 3 touchdowns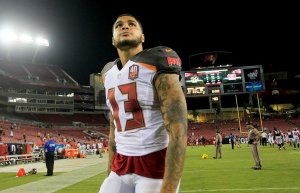 Mike Evans has freakish athletic ability and will be the leading receiver for the Bucs again in 2016. He is not all upside as he does not have elite hands, tending toward drops at times. The 3 touchdowns from last season are an anomaly, he will have several more in 2016. I think that the yardage from last year is on point, but expect close to 10 scores.
John Brown ARI – 2015 Numbers: 72 receptions 1108 yards 7 touchdowns
Speedster John Brown put up some impressive numbers for an explosive Cardinals offense last year. Their wide receiver corps is stacked, but Brown is still one of the top talents available to Carson Palmer. A lot of Brown's upside revolves around the health of his quarterback and that is a scary proposition. Palmer has not been known for his durability and if he misses time, it could sink the whole team. Still in all, Brown is a very attractive player for fantasy owners. With his blistering speed, he can take one to the house at any time. Year three should be good to him and anyone that drafts him.
Jordan Matthews PHI – 2015 Numbers: 85 receptions 997 yards 8 touchdowns
Last season, Matthews was supposed to take over as the no-doubt number one receiver in Philly. He did this to an extent, but the team was so dysfunctional that his numbers fell short of what they could have been. This year, the Eagles will look to prove that 2015 was a fluke and Matthews wants the fans to see that he can be a top flight wideout. At this moment he is battling an injury that may keep him out the entire preseason. Follow the situation carefully if you plan to target Matthews in the draft.
Donte Moncrief IND – 2015 Numbers: 64 receptions 733 yards 6 touchdowns
Moncrief looked like a world-beater at the beginning of the season, but faded down the stretch due to subpar quarterback play. This season, Andrew Luck should be ready to go and that will bode well for the receivers. One of the steadiest performers over the first half of last season, Moncrief will look to build on that success in 2016. He is far from a sleeper at this point, but in some leagues you should be able to get him well below the price that you will pay next year.
How To Win Your PPR Fantasy Football League
This season will be a real bonanza for third year wide receivers. The players on this list are all but a sure bet to put up top notch numbers this season. If you miss out on all of these studs, or just want a few more names to keep in mind for the later rounds then you are in luck. Here are a few more third year receivers that I think have a good chance to break out in 2016:
-Davante Adams GB
-Brandon Coleman NO (although Michael Thomas is coming on strong)
-Bruce Ellington SF
-Allen Hurns JAC
-Jeff Janis GB
-Seth Roberts OAK
-Willie Snead NO
Stop playing fantasy football and start winning. We're the only site that combines premium tools and services for both full season leagues and DFS for under 20 bucks. Start winning - sign up here. You'll have everything you need before, during and after the draft.