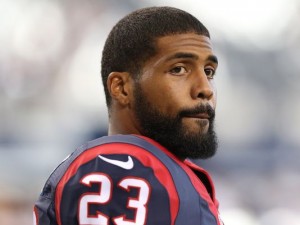 Draft season is in full swing! While you've likely seen many pieces on who to draft, when to draft them, how to draft them, and in what manner to appropriately celebrate your pick (OK, perhaps not so much the last one), an important consideration that is often overlooked by pontificating prognosticators such as myself is depth! Alright, OK, of course we can all have our "Sleepers" and "Late round targets" and "Fliers" but depth is also composed of one more critical item: backups! And no position is more critical to "back up" than the running back position- often plagued by injury. I remember the first fantasy "rule" I learned way back in the late 90s was, "Always handcuff your studs."
And so, with an eye to true depth, let's have a look at my top-5 fantasy RB handcuffs. Of course, I am leaving a few obvious names off the list namely: whoever is truly starting for Arian Foster in his absence (we assume Alfred Blue, but right now I'm thinking Chris Polk). I don't consider the Dallas situation hand-cuffable, or predictable in any way and I view Ameer Abdullah as potentially the starter, so maybe Joique Bell would count as a handcuff- still I think both are independently own-able and again in a murky situation.
James Starks, GB
The Eddie Lacy handcuff is often involved for a series or two, anyway. On an offense as potent as the Packers, there's a solid argument to be made that every position player should be owned. Starks has the most value for a Lacy owner, but should be rostered in almost all leagues.
David Cobb, TEN
Currently battling a calf injury, but we all remember the hyped Bishop Sankey who did nothing in 2014. I've seen the occasional Twitter buzz and even an article or two suggesting the Titans may be "open" to adding another RB (whatever that vagueness means), but I suspect this late in the game they're going to roll with Sankey and Cobb. Which means, in all likelihood, that whenever Cobb is fully healthy he'll get a long look.
Cameron Artis-Payne, CAR
The Panthers' 2015 5th-round pick is the proverbial next man up if Jonathan Stewart goes down and, let's be honest, the Daily Show hasn't exactly been the pinnacle of health throughout his career. Payne has talent and, given the opportunity, could really produce.
Matt Jones, WAS
Dude's a beast. I really would prefer to have as few Redskins on my roster as possible, but he has a skillset that, frankly, I feel is superior to Alfred Morris. Morris has been fairly durable, so this isn't a great "injury" pick as he may simply not see the field enough to be valuable but if he does, look out.
Ryan Mathews, PHI
You may argue that, similar to the Abdullah/Bell situation, Mathews isn't a true handcuff. Fair enough. Still, DeMarco Murray is the starter for all intents and purposes and, 2014 aside, Murray (like Mathews, sadly) has had his fair share of the injury bug- and that's putting it lightly. Mathews is a great upside pick and should also be owned in all formats regardless of whether or not he's a true handcuff.
Wouldn't Fred Jackson to the Cowboys be interesting? #FantasyFootball

— Petros Karagianis (@pkaragianis) August 31, 2015