Passing is the most important phase of the offensive game in the NFL. This means that talented receivers are at a premium and some wide receivers  are bound to be undervalued. The best offenses can hide buried treasures easily, but even low scoring teams can offer some value at wide receiver. These are all based on current ADP and trends can change, but there should be value to be found in this group.
WR1 Potential
Jamison Crowder WAS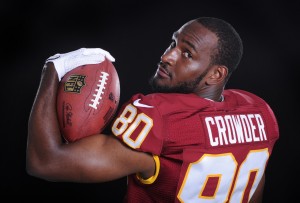 This guy is an emerging star in an improving offense and that should mean good things. Despite a quiet end to the 2016 season, Crowder at one point had a string of 6 games with either 80 yards or a touchdown. Kirk Cousins should continue to improve with the addition of Terrelle Pryor and the return of Josh Doctson. Crowder may see a few less looks, but they should be better quality as the defense will not be able to key on him. I see 2017 as a potential breakout for Crowder.
Cameron Meredith CHI
Quarterback play is the main concern when it comes to being high on a Bears receiver. Mike Glennon should probably not be a starter, but for the moment he is the guy. Meredith was the guy last season, coming out of nowhere to carry the bears receiving corps. In 8 of the 14 games that he played, Meredith caught at least 4 balls. This trend should continue into 2017 unless Kevin White has had an epiphany and learned to run routes. I have consistently been able to get Meredith around his ADP (somewhere around WR 40-45). For my money this is a steal and Meredith will be on a lot of my teams.
WR2 Potential
Kenny Britt CLE
Despite never having a superstar season, Kenny Britt has been a fairly steady performer in some bad offenses. The Browns will probably be heavily run oriented in 2017 and they lack a star quarterback. Last season, however, Britt topped 75 receiving yards 6 times with an abysmal quarterback in LA. Depending on the division of targets with Corey Coleman, another 1,000 yard season is entirely possible for Britt.
Tyrell Williams LAC
Keenan Allen is not just the best receiver on the Chargers, he might be their best offensive player. The problem for fantasy owners is that Allen will go very early in the draft and is injury prone. The better play may be to grab a more reliable receiver early (Pryor, Edelman and Crabtree all have comparable ADP) and let Tyrell Williams be the Charger on your roster. If Allen stays healthy then he will easily lead the Chargers in all receiving categories. That same sentence is written every preseason and will probably not come to pass in 2017 either. Grab Williams and your worst case scenario will be a cheap, reliable WR3.
WR3 Potential
Adam Thielen MIN
Things have not changed for the Vikings and that means that their receivers are more valuable in PPR. Sam Bradford loves the checkdown pass which means that Thielen and Diggs will have a lot of catches. The big difference between Diggs and Thielen is ADP. The two receivers are separated by about 30 spots among wide receivers. I believe that their stats will be comparable enough in PPR to justify letting someone else take Stefon Diggs and grab Thielen later.
If you like sleepers, check back soon for running back sleepers and also some deep sleepers at multiple positions.