Trends and popular opinions shape the way that the masses of fantasy footballers approach their drafts. Names rise and fall throughout the offseason, and general consensuses are made about individuals because of what the fantasy community at large is saying. However, bucking the trend and finding the guys that are incorrectly overlooked is how you win fantasy leagues. Carlos Hyde and Jeremy Maclin have seen their fantasy football stock take a huge hit and I'm here to steer you away from the general consensus.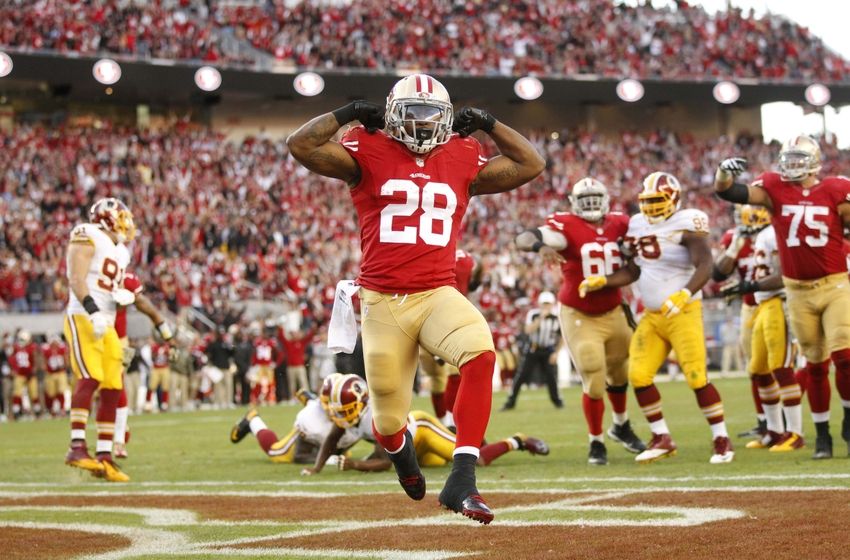 Carlos Hyde Will Be A Stud
The offseason has not been kind to Hyde. With the departure of RB Frank Gore shortly following the 2014 season, Hyde's stock initially skyrocketed. It was thought that Gore's 1,106 rushing yards would be a conservative floor for the back coming into his second year, but now the fantasy community is reneging these hopeful projections.
Hyde's stock has been dropping with every offseason blow that the 49ers have suffered. A new head coach got hired, two offensive line starters have left, the defense has lost tremendous amounts of talent and leadership. All of these things have been hurting Hyde's hype. Plus, many are concerned by the signing of Reggie Bush.
Currently his ADP falls behind fellow RBs Mark Ingram, Melvin Gordon, and Lamar Miller, but this is in error. And here's why:
The 49ers are going to run the ball a lot. We all saw what happened when the Niners abandoned the run game and relied heavily on Colin Kaepernick. If head coach Jim Tomsula has any sense about him, he'll know that the best way to help his troubled QB is to give him a consistent and effective run game. The Niners are going to get back to their roots, the roots that had solidified them as one of the toughest teams in the league in recent years.
Reggie Bush is not a concern. Consider this, Joique Bell, running back for the Detriot Lions, managed to be the 14th ranked fantasy back last year sharing the backfield with Reggie Bush. Hyde is faster, stronger, and a better overall runner than Bell, and Hyde's right to the starting job is not and has not been in question. Bush will do his usual Bush thing, catching some passes and playing some third downs. He's not going to take the early down work, the goal line carries, and he might not even get all the catches out of the backfield. Hyde has shown some skills with his hands as well and might actually cut into "Reggie's workload."
The offensive line is going to be fine. The reality is that the 49ers offensive line actually wasn't super last year. In years previous, they were the most dominant O-line in the league, but 2014 was a different story. They were good, but not as great as everyone remembers them being. The losses of Anthony Davis and Mike Iupati are going to hurt, but not as much as everyone believes. SF still has incumbent big uglies Joe Staley and Alex Boone, and with these cornerstones of the line still solidified, the coaching staff is going to be able to fill in the gaps.
The fantasy community is down on Hyde, but this is to the believers' advantage. He is going to be the workhorse back in a run-first team, and I do think that 1,100 yards is the floor that he has. And as the best redzone option on the team, double digit touchdowns seem more than possible. With Hyde slipping in drafts, he's a value at an ADP of 36 overall. That's about the fourth round, which is a hell of a place to get a top-12 back.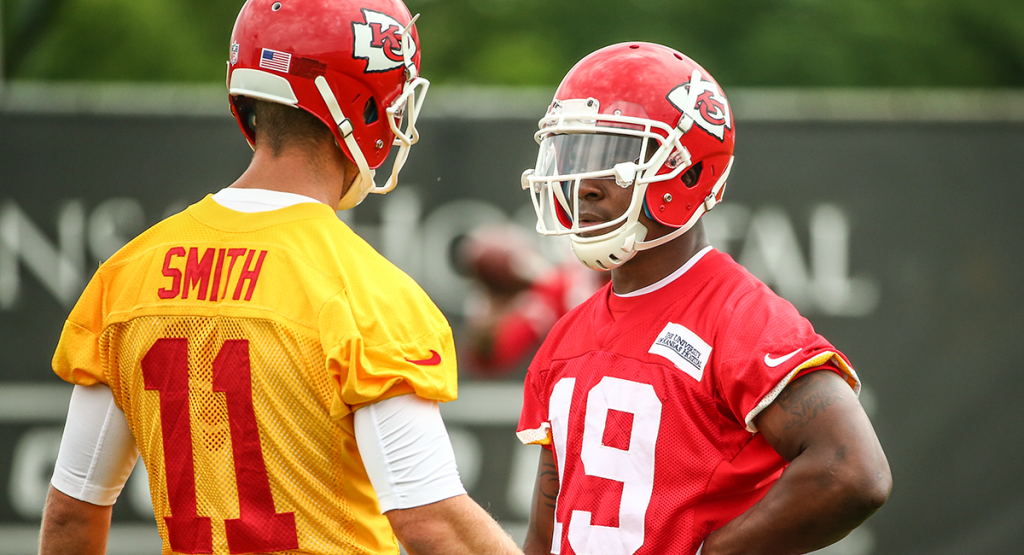 Jeremy Maclin Still A Top-15 WR
Another man that the fantasy community is really down on is Jeremy Maclin. He has fallen from grace because of his change from the Philadelphia Eagles to the Kansas City Chiefs.
Maclin was an absolute stud last year with 85 receptions, 1,318 yards, and 10 touchdowns - he was the ninth best fantasy receiver in standard and full-point PPR leagues. But for 2015 he is currently ranked as the 28th best receiver, with an ADP of 66 overall.
Most believe that Chip Kelly's supercharged offense and solid running game are the reasons that Maclin found so much success last year. And because he is transitioning to Kansas City, with a quarterback in Alex Smith that is afraid to throw the ball further than 15 yards, he has fallen far out of favor in fantasy minds. The Chiefs threw the fifth least amount of passes last year, and the lack of production though the air has everybody real low on him.
But here's the thing:
Nobody realizes that Dwayne Bowe was actually targeted 95 times last year. That's still a far cry from the 143 that Maclin had in 2014, but that is a large number of targets for a player the quality of Bowe.
Nobody realizes that Andy Reid is and always has been a throwing coach. Those years with Donovan McNabb in Philly were balls-to-the-wall gunslinging - this is who Reid is at his core. He has not had an elite wide receiver in his two years in KC, but now that he does, Reid is going to use him as much as he possibly can. 95 targets will be Maclin's total by about week 12. Not only will we see Maclin running deep downfield, but fully expect him to be peppered with targets on quick posts, shallow routes, crosses, drags, and screens to get him on the run and in space.
Nobody realizes that Alex Smith is not actually going to be a huge detriment to Maclin's fantasy exploits. In 2012, Alex Smith provided Michael Crabtree with 85 receptions, 1,105 yards, and 9 scores. Again, Maclin is a better player now than Crabtree was then (and ever will be). Following a point mentioned above, Smith won't need to throw the ball deep in order for Maclin to put up serious numbers. He had the sixth most yards after the catch for WRs last year. Reid knows this is a strength of in his game, and he knows his quarterback's game as well, and he is going to plan to get Maclin opportunities to use that YAC ability - with short and intermediate throws that Smith is very capable of making.
A top 15 wide receiver finish is not crazy to project for Maclin, despite what the talking heads are saying today. A top 15 guy in the seventh round is the type of move that can win your fantasy league - don't be afraid to make it.