There's nothing worse you can say about a player for fantasy football purposes than "he's boring." We love talking about the exciting players, the controversial players, and the risky players. But the safe, secure guys? No way. While they may not make for the most tantalizing headlines, if your team is going to win that championship, it can't all be high-risk, high-reward players. You'll need a little safety in the lineup.
Consider them the vegetables in your fantasy football diet. You don't want 'em, but you know if you wolf down nothing but juicy, double bacon cheeseburgers and chocolate-dipped potato chips (yeah, that's a thing), you're probably going to end the season with a serious stomach ache. Here are some of the unsexy players you should hold your nose and draft.
Eli Manning
Current ADP: QB21
He's 37, he had a stinker of a year in 2017, and you want to punch his doofy looking face every time you see it. I get it. There are plenty of reasons to avoid Eli Manning. And yet...Odell Beckham is being taken as a Top 5 WR. Saquan Barkley is being taken as a Top 7 RB. Evan Engram is being taken as a Top 7 TE. But Manning is way outside the Top 15 QBs.
Who is going to be getting these elite players the ball? Manning is in the exact same situation as Patrick Mahomes, a guy people are tripping over themselves to hype up, except Manning actually has experience to back up his expectations. He has all the tools around him to succeed, and is worth rostering if you don't want to pay up for a quarterback.
Lamar Miller
Current ADP: RB25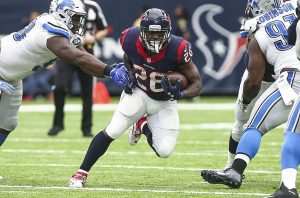 Hard truth time. We have no idea how long D'onta Foreman's injury will keep him on the bench. We don't know if he'll see the field in Week 1, let alone become the main guy in the Houston backfield by that time. Lamar Miller will be heavily involved in this offense -- especially in the first few weeks -- whether you like it or not. And when Watson was on the field last year, Miller looked legit. He looked like the guy fantasy owners were begging him to be back in 2015.
Most of Miller's receiving production happened in the 7 games Watson was healthy, so look for him to improve on his 36-327-3 stat line in that area if the sophomore QB can stay on the field. And if Miller continues putting together solid games, there will be no reason for the Houston coaching staff to rush Foreman back onto the field.
Isaiah Crowell
Current ADP: RB39
He will be a lead back. He will be a lead back. He wll be a lead back... When you're on the clock in the 8th round and Crowell's name is staring you in the face, just keep repeating that phrase to yourself.
Crowell ended the season with the 30th most targets amongst running backs, and finished as the RB32 in PPR leagues. Of course, that was in a backfield with Duke Johnson, basically a wide receiver who just happens to line up as a running back. Crowell should see more targets in New York, especially now that value pick Elijah McGuire may miss significant time with a fractured foot.
Larry Fitzgerald
Current ADP: WR13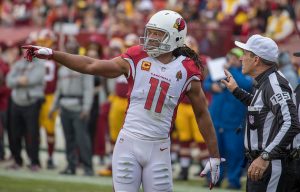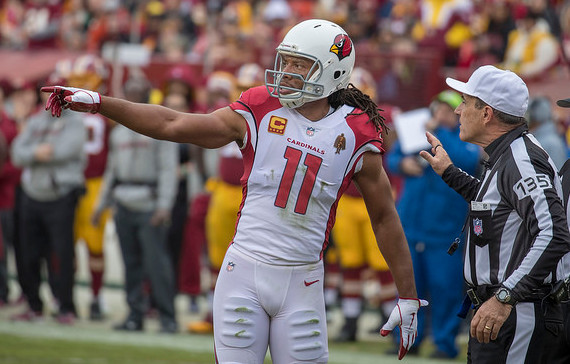 Frequent readers of this site may be tired of me pumping up Larry Fitzgerald this offseason, but to be fair, that's only because so many fantasy football dummies are still sleeping on him.
Every year Fitz blows away his ADP, and every year people undervalue him. He's not even on most people's radar as a WR1, even though he's finished as one the last 3 years. Fitz is currently valued as a high-end WR2 in PPR formats, which is quite frankly an insult to the 34-year-old dynamo. If you're going running back heavy in the first two rounds, grabbing Fitz there in the 3rd round as your WR1 is a beautiful thing.
Delanie Walker
Current ADP: TE8
You know who and what Delanie Walker is at this point in his career. He's finished as a Top 5 tight end the last 3 years. This is a man who should be treated like a tasty rack of ribs, but everyone's acting like he's a mushy mound of Brussel sprouts. They'll choke him down if they have to, but they're not going to feel great about it.
Walker is the 8th tight end going off the board with an ADP that puts him in the 7th round, just ahead of guys like Trey Burton and Jordan Reed. He's in that weird tier of tight ends where fantasy owners feel like they've missed out on the "elite" guys, and feel compelled wait until the last few rounds of the draft to snag an upside guy like Tyler Eifert or O.J. Howard. But Walker is about as safe of a bet at the position as there is, and there's no reason not to grab him.