This is it, the regular season is done for fantasy football and the best have risen to the top. Congratulations to those of you still in the hunt for a title. Just remember that late in the NFL season things tend to change quickly. Keep on top of the waiver wire and it could be the difference between a championship and just a contender.
Quarterback
Ryan Tannehill TEN Rostered - 22%
It has been a nice run for the former Dolphins QB, despite a lackluster point total against the Colts. Even against strong pressure from the Indy front, Tannehill still managed a pair of touchdown passes, 77% completion, and 8.3 yards per attempt. This week brings a much easier matchup against a soft Raiders pass defense. It should be back to business as usual as Tannehill shreds the silver and black topping 20 fantasy points.
Kyle Allen CAR Rostered - 14%
The Panthers young quarterback has had two very productive outings in a row. He is making good use of the explosive weapons at his disposal and fantasy points are coming in bunches. At the same time, he is still turning the ball over too much (1 int and 1 fumble vs. WAS). The next game brings Carolina down to visit the Atlanta Falcons. This should be a very positive matchup, although they embarrassed Allen three weeks ago at home.
Scary Streamer
Ryan Fitzpatrick MIA Rostered - 6%
One thing that Fitzpatrick has proven over the course of his career is that he can string together big fantasy games. Another thing that he has proven is that he will crash back to earth without warning. This week he has a good chance to go off for huge points against his former team (isn't every team his former team?) the Jets. There is an equally good chance that he throws for 60 yards and 5 picks though.
Running Back
Rashaad Penny SEA Rostered - 38%
There is no reason that Penny should be so lightly owned. He has garnered a huge share of touches on a talented, run-heavy offense. I would still recommend starting Chris Carson, but I would recommend also starting Penny. Both backs have huge upside, even if they only get 50% of the touches in a given week.
Adrian Peterson WAS Rostered - 46%
Another back locked in a timeshare, Peterson still has the ability to put up solid numbers. He gets a matchup against a beatable Packers run defense in week 14 and should be worth a flex spot. Also, keep in mind the lengthy injury history of Derrius Guice. If he should go down again at some point, Peterson goes right back to being the undisputed top dog in the Washington run game.
If You're Desperate
Darwin Thompson KC Rostered - 5%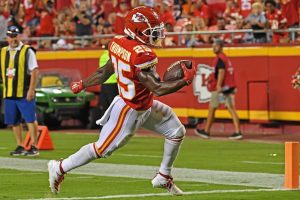 It has been a while since I typed this guy's name. He has been largely irrelevant despite plentiful preseason hype. It may finally be time for Thompson to get some touches as both Darrel and Damien Williams have been missing time. If neither Williams can make it into the game this week, it seems very possible that Thompson splits touches with Shady McCoy and that would be worth a start.
Raheem Mostert SF Rostered - 14%
Choosing a 49ers running back to start is a difficult proposition. They have a multitude of quality options and there is no telling which one will produce in a given week. In week 13, Mostert took advantage of increased touches in the absence of Matt Breida. In the coming matchup, it seems more likely that Breida will suit up, but perhaps Shanahan will take touches away from Coleman in favor of Mostert. In the end, it is a risky proposition to start any of these backs, but the payoff could be huge.
Wide Receiver
Deebo Samuel SF Rostered - 44%
Deebo is the number one receiver outside George Kittle for the 49ers. He is seeing consistent targets each week and turning them into production. Samuel has put up double digit fantasy points in 4 straight weeks and 5 out of the last 6. He is probably not available in many competitive leagues, but if he is then grab him right now.
Darius Slayton NYG Rostered - 24%
Relying on someone from the Giants offense is an up and down proposition, but Slayton has real boom potential. He has at least 7 targets in each of his last three games. The pass defense is one of the biggest weak spots in the Giants next opponent, Philadelphia. The floor for Slayton is not as low as you might think in PPR leagues and the ceiling is massive.
Zach Pascal IND Rostered - 25%
Another volatile option, Pascal has the ability to be a week winner in the right situation. He has topped double digit fantasy points 5 times in PPR leagues and should be a top option moving forward. The Colts have some serious injury issues and Pascal is one of the answers to those problems in the passing game.
Streamers
James Washington PIT @ARI
A.J. Brown/Corey Davis TEN @OAK
Phillip Dorsett NE vs. NE
Demaryius Thomas NYJ vs. MIA
Allen Lazard GB vs. WAS
Tight End
Jack Doyle IND Rostered - 46%
This is strictly a matchup play. The Buccaneers are second worst in the league defending tight ends and Doyle is decent. There is every reason to believe that the Colts tight end should have a big game for the second week in a row.
Mike Gesicki MIA Rostered - 10%
It has been an exciting couple of weeks for the Dolphins as they are finally putting things together on offense. Their young tight end, Gesicki, has been very good in the last two games. He has been targeted 7 times in each game and turned those targets into production. While the Jets are decent against the tight end, Gesicki should keep seeing targets. At this position, volume is the best you can hope for outside the top options.
Be sure to check out our weekly positional rankings before setting your playoff rosters. Check me out on Twitter for some extras or lineup questions answered:@brendancole16. Good luck in the playoffs!