Another season of fantasy football goodness kicks off tomorrow. With that in mind, there is an epic amount of lineup tweaking going on around the world. Well, tweak no more because your week 1 quarterback rankings are here. 
Sure-Thing Elite Starters
1. Deshaun Watson HOU @NE
Last season, Watson seemed to be fairly matchup proof. In this case that doesn't even matter because nobody is scared of New England's defense.
2. Aaron Rodgers GB vs. CHI
The addition of Khalil Mack makes the Bears solid defense good. Aaron Rodgers is the best quarterback in the game, though.
3. Cam Newton CAR vs. DAL
Between short passes and quarterback runs, Newton is a huge percentage of the Panthers' offense. With most teams, I would be worried that they would just run out the clock on the Cowboys. In this case, short throws to McCaffrey, Funchess and Moore should substitute for a running game.
Check out all of the weekly rankings
4. Drew Brees NO vs. TB
The Saints have plenty of dynamic options on offense and Brees will use them to perfection. A couple of picks thrown by Fitzpatrick turn this game into a blowout with at least a pair of Brees touchdowns.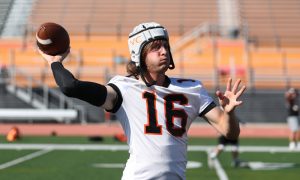 5. Jared Goff LAR @OAK
The Rams are going to pick up where they left off last season as Goff takes another step forward. In week 1 they face a Raiders team that is in disarray after Gruden traded away their all-pro edge rusher Khalil Mack. The Raiders get boat raced here and Goff runs up the score.
Very Good Options
6. Matthew Stafford DET vs. NYJ
Two things are almost a sure thing in Detroit: a truckload of passing yards for Stafford and no run game. There are some new faces in the backfield, but the strength is still in the passing game here.
7. Ben Roethlisberger PIT @CLE
It feels like the Browns are going to take some teams by surprise on offense. I think that the Browns could get out to an early lead on a suspect Pittsburgh defense and force Big Ben to throw. Scores will be easy to come by in this one.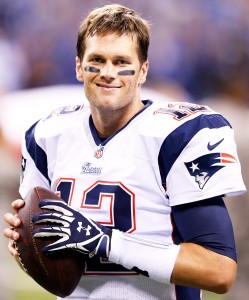 8. Tom Brady NE vs. HOU
I have some concerns about Brady in this one. He is missing his favorite wide receiver in Edelman and facing a strong Texans defense. In spite of that Gronk, Hogan and James White should be enough to power Brady to some nice numbers.
9. Kirk Cousins MIN vs. SF
Cousins has never had receivers like Thielen and Diggs at his disposal before. He is facing a decent Niners defense, but the Vikings will be able to put some points on the board. 
10. Marcus Mariota TEN @MIA
The Titans offense looks like it could break out in a big way this year. Dion Lewis will pad Mariota's stats on short passes while Corey Davis emerges as a true WR1. 
Surprise Showing
11. Tyrod Taylor CLE vs. PIT
Taylor has three solid running backs to set the tempo while Jarvis Landry and David Njoku soak up targets. If Josh Gordon shows up to play, that is just a bonus. Oh, and did I mention that Taylor can take off on his own when he gets pressure?
12. Russell Wilson SEA @DEN
13. Andrew Luck IND vs. CIN
14. Andy Dalton CIN @IND
15. Matt Ryan ATL @PHI
16. Alex Smith WAS @ARI
Bust Alert
17. Philip Rivers SD vs. KC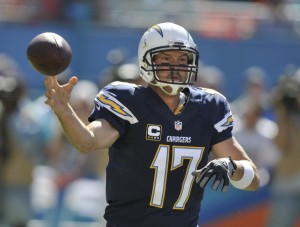 This matchup looks like a cakewalk for Rivers on paper. The fact is, the Chiefs' defensive coordinator Bob Sutton owns Rivers. In the last 8 games versus the Sutton coached Chiefs defense, Rivers has averaged 239 passing yards per game. He has 6 touchdowns and 13 interceptions. I love Rivers this season, and the Chiefs personnel is not what it once was. Still, I think this will be a Melvin Gordon game.
18. Jimmy Garoppolo SF @MIN
19. Patrick Mahomes KC @LAC
20. Dak Prescott DAL @CAR
21. Blake Bortles JAC @NYG
22. Mitch Trubisky CHI @GB
23. Case Keenum DEN vs. SEA
24. Nick Foles PHI vs. ATL
25. Derek Carr OAK vs. LAR
26. Joe Flacco BAL vs. BUF
27. Sam Bradford ARI vs. WAS
28. Ryan Fitzpatrick TB @NO
29. Eli Manning NYG vs. JAC
30. Ryan Tannehill MIA vs. TEN
31. Sam Darnold NYJ @DET
32. Nathan Peterman BUF @BAL
Be sure to check out the waiver wire picks if you need some help filling out your week 1 roster. For extra advice, hit me up on Twitter: @brendancole16.