The 2018 fantasy football season is officially underway! That means it's time for some serious lineup tweaking...and constant second guessing. But fear not, fine fantasy folks, because your Week 1 wide receiver rankings are here.
For more in-depth, in-season lineup advice, make sure to check out Fantasy Knuckleheads premium content!
Sure Things
1. Antonio Brown, PIT @ CLE
Don't worry about the "Big Ben is terrible on the road" narrative this week. So long as Le'Veon Bell is holding out, this offense runs almost exclusively through Brown, who should feast against Cleveland's middling pass defense.
2. Michael Thomas, NO vs. TB
Tampa Bay ranked last against the passing game in 2017, and their secondary is still the swiss cheese of the league. With Mark Ingram suspended, expect Drew Brees to throw a little more than he might otherwise. It wouldn't surprise me one bit to see Thomas put up his first 100-yard game of the season.
3. Deandre Hopkins, HOU @ NE
Even with the return of JJ Watt and an improved Texans defense, expect something of a shootout between Tom Brady and Deshaun Watson to start the year. That bodes well for Hopkins, who amassed more touchdowns than any other receiver in 2017.
4. A.J. Green, CIN @ IND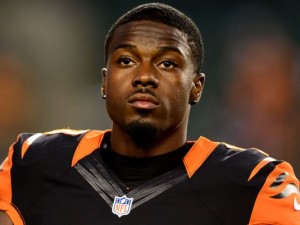 The Colts defense was a fantasy goldmine for opposing receivers in 2017, and the team's secondary ranks dead last heading into this season according to Pro Football Focus. Green's connection with Andy Dalton will flourish in Indy. If you have Green on your roster, he could singlehandedly win your matchup this week.
5. Keenan Allen, LAC vs. KC
Notice a theme in this section yet? Another elite wide receiver who gets to match up with a wafer thin secondary in Week 1. Even with the immortal Antonio Gates back on the field, Allen will get his playing across from a terrible defense that could be without Eric Berry, unquestionably their best player on that side of the ball.
Big Game Potential
6. Julio Jones, ATL @ PHI
Jones put up 9 receptions for 101 yards the last time he faced the Eagles on their home turf. The only concern here is how much Calvin Ridley will cut into Julio's target share. But having another threat on the field could take home heat off the Falcons' No 1 receiver and actually increase his fantasy output, especially in the red zone.
7. Davante Adams, GB vs. CHI
Lambeau Field. Prime time. The return of a freshly-motivated (and highly-paid) Aaron Rodgers. The addition of Khalil Mack certainly adds a layer of intrigue to this matchup, but you should never bet against Rodgers -- and, by default, his No 1 receiver -- in a scenario like this.
8. Stefon Diggs, MIN vs. SF
Diggs looked like a behemoth in the preseason, having established a tight rapport with new quarterback Kirk Cousins. San Francisco's pass defense got a boost from offseason acquisition Richard Sherman, but he may not be up to full health just yet. Speaking of health, the Vikings may want to ease Dalvin Cook back into action while simultaneously opening up their shiny new QB. Diggs will take care of the rest.
9. Chris Hogan, NE vs. HOU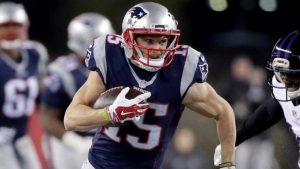 As I mentioned before, it could turn into an unexpected shootout in Houston. With Chris Hogan sitting atop one of the smallest position groups in the league -- it's basically just him and Phillip Dorsett at this point -- the speedy wideout should get plenty of looks while the Texans attempt to shut down Gronk.
10. Odell Beckham Jr., NYG vs. JAC
Yes, it's the Jaguars defense. But it's also Odell freaking Beckham. Elite wide receivers still produced against the top flight defense last season -- Antonio Brown blew up for 157 yards while Deandre Hopkins posted 80 yards and a TD against them in their last meetings. Trust that a player with Beckham's exception talent can get it done, even against a stout defense.
Very Fine Options
11. Adam Thielen, MIN vs. SF
Diggs may have established a better connection with Kirk Cousins, but you can't rule out Thielen's ability to put up game-winning numbers. Again, the Vikings may not want to give Dalvin Cook all he can handle, leaning on the arm of Cousin and the hands of Thielen to get in done in San Francisco.
12. Larry Fitzgerald, ARI vs. WAS
Larry the Legend is kicking off his final season (presumably) by lining up against an underrated pass defense in Washington. But with David Johnson returning to keep their defense honest, there could be more opportunity for Fitz as the locked and loaded No 1 option in the passing game.
13. Tyreek Hill, KC @ LAC
14. T.Y. Hilton, IND vs. CIN
15. Golden Tate, DET vs. NYJ
16. Allen Robinson, CHI vs. GB
17. Emmanuel Sanders, DEN vs. SEA
18. Nelson Agholor, PHI vs. ATL
19. Demaryius Thomas, DEN vs. SEA
20. Brandin Cooks, LAR @ OAK
Question Marks
21. Mike Evans, TB @ NO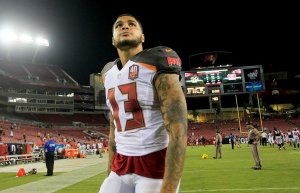 I'd love to say I trust Evans in what could be a pass-heavy game script, but his numbers with Ryan Fitzpatrick under center don't look great. With Fitzpatrick supplanting Jameis Winston in a handful of starts last season, Evans' catch percentage and target share took a big hit. He should still see enough opportunity to make him a viable fantasy option this week, but temper expectations.
22. Doug Baldwin, SEA @ DEN
After some concern about his knee, it seems Baldwin will start Week 1. And that's great. But is he really healthy enough to take on cornerback Chris Harris? Or will be simply be a decoy? I wouldn't consider sitting him this week, but there's certainly reason to be concerned.
23. Marvin Jones, DET vs. NYJ
24. Cooper Kupp, LAR @ OAK
25. Corey Davis, TEN @ MIA
26. JuJu Smith-Schuster, PIT @ CLE
27. Jarvis Landry, CLE vs. PIT
28. Jamison Crowder, WAS @ ARI
29. Will Fuller, HOU @ NE
30. Robert Woods, LAR @ OAK
Bust Candidates
31. Amari Cooper, OAK vs. LAR
Look, I want "The Season of Amari Cooper" to get underway as much as anybody, but it will probably have to wait until after Week 1's road tilt against the Rams.
32. Josh Gordon, CLE vs. PIT
He's back, which is great. But he missed the majority of the preseason, which is...not. He's also nursing a hamstring injury and was moved down the depth chart behind rookie Antonio Callaway. Gordon should dominate weaker defenses most of the season, but there are much safer options for Week 1.
33. Michael Crabtree, BAL vs. BUF
The Ravens shouldn't have to throw much to get a win in Buffalo, and I'm still not convinced Crabtree is the team's actual No 1 receiver.
34. Robby Anderson, NYJ @ DET
35. Kenny Stills, MIA vs. TEN
36. Marquise Goodwin, SF @ MIN
37. Sammy Watkins, KC @ LAC
38. Kelvin Benjamin, BUF @ BAL
39. Jordy Nelson, OAK vs. LAR
40. Randall Cobb, GB vs. CHI
Best of the Rest
41. John Ross, CIN @ IND
This Indy defense is just so bad. If you're looking for a contrarian play, especially in DFS, you could take a shot on Ross and hope Andy Dalton spreads the ball around a little.
42. Keelan Cole, JAC @ NYG
With Marqise Lee gone for the season, the once-crowded Jacksonville receiving group has started to sort itself out. The team will slide Donte Moncrief into Lee's role as the de facto deep threat, while Keelan Cole assumes the true No 1 position. There's a lot of upside here.
43. Chris Godwin, TB @ NO
44. Mike Wallace, PHI vs. ATL
45. Tyler Lockett, SEA @ DEN
46. Rishard Matthews, TEN @ MIA
47. John Brown, BAL vs. BUF
48. Tyrell Williams, LAC vs. KC
49. Allen Hurns, DAL @ CAR
50. Sterling Shepard, NYG vs. JAC
Check out all of our weekly rankings here!
And for more lineup advice, talk to me on Twitter @JakeTrowbridge.