Game week is here, folks. The 2015 NFL season officially kicks off Thursday night as the defending champion New England Patriots play host to the Pittsburgh Steelers in Foxboro, with an exciting slate of week 1 matchups to follow on Sunday and Monday.
Whether you've already drafted and assembled what you hope will be a championship-caliber roster, are locked in to a last-minute draft, or are simply trying to play with the last one or two spots in the hopes of scooping up the next waiver wire hero or super sleeper your counterparts overlooked on draft day, now is the time for owners across the fantasy landscape to go over their respective teams with a fine-toothed comb and ensure that all bases are covered.
In an attempt to help ease any hair-splitting decisions that may be weighing on your mind, we will provide you with our weekly rankings at all positions. (See: Phil Clark's week 1 QB rankings.) It never hurts to have an extra source or two, or ten, to turn to for any additional guidance in making some of these decisions, and we'll do our best to assist you throughout the 2015 season.
Whether you're in a standard league or a PPR format, receivers can be the catalyst in winning weekly matchups and positioning teams for favorable finishes heading into December. Owners who completed their drafts earlier in the summer have already been scrambling to replace the likes of Kelvin Benjamin and Jordy Nelson, both lost for the season with knee injuries.
No matter the format, the situation, or the player, we've got you covered with our week 1 WR rankings.
Week 1 WR Rankings
1. Julio Jones vs. PHI
Jones, recent recipient of a tasty five-year, $71.25 million contract extension, has just as delectable a week 1 matchup on Monday night against the Eagles. Philly struggled against elite receivers last season, and Jones will see plenty of work with Roddy White nursing an elbow problem and Devonta Freeman's status up in the air. Expect big things from Jones, who has been tipped by some to have a career-best year in 2015. Week 1 is a great starting point, and Matt Ryan should be looking for Julio early and often.
2. Dez Bryant vs. NYG
In two games against the G-men last year, Dez put together a chunky 16/237/2 line, and the hamstring injury that has hampered him throughout the last two weeks should be a non-issue heading into week 1. Bryant has a favorable matchup against the Giants, and should see his usual allotment of targets on Sunday night. Bryant is at his best under the bright lights of prime time, so look for a big game from the 26-year-old playmaker.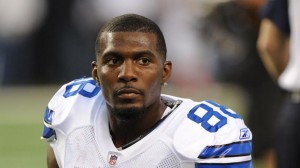 3. Odell Beckham Jr. @ DAL
Much like Dez, ODB shines on the big stage. Just ask the Cowboys' secondary, victimized as Beckham burst onto the scene with this one-handed grab on a Sunday night in November of last year. Dallas' secondary has taken a hit as Orlando Scandrick has been lost for the season, and Morris Claiborne is still trying to make his way back from a knee injury which cost him most of 2014. It will be up to Claiborne, the Boys' 2012 first-rounder, and/or Brandon Carr to slow down Beckham, who caught 14 balls for 180 yards and 4 touchdowns in his two games against Dallas last year.
4. Demaryius Thomas vs. BAL
Peyton Manning's top target set career marks in receptions, receiving yards and targets in 2014. Did we mention he was Peyton Manning's top target?
5. Antonio Brown @ NE
Reception monster Brown may be relied upon even more now that the pass-happy Steelers are set to be without WR Martavis Bryant through suspension. Furthermore, lead back Le'Veon Bell is also suspended, which leaves veteran DeAngelo Williams as the team's main rusher heading into Thursday night in Foxboro. Ben Roethlisberger will be looking Brown's way more than ever, regardless of how the Patriots choose to cover him.
Week 1 WR Rankings 6-10
6. Calvin Johnson @ Chargers- Megatron...enough said.
7. A.J. Green @ Raiders- Contract year? Expect A.J. to deliver.
8. Randall Cobb @ Bears- Expects to be ready to play, and ready to fill in for Nelson.
9. DeAndre Hopkins vs. Chiefs- The undisputed number 1 in Houston.
10. Brandin Cooks @Cardinals- PPR beast with added upside in the form of rushing and return yards.
Week 1 WR Rankings 11-60
11. Jordan Matthews @ Falcons
12. T.Y. Hilton @ Bills
13. Mike Evans vs. Titans
14. Jarvis Landry @ Redskins
15. Emmanuel Sanders vs. Ravens
16. Alshon Jeffery vs. Packers
17. Keenan Allen vs. Lions
18. Davante Adams @ Bears
19. Amari Cooper vs. Bengals
20. Jeremy Maclin @ Texans
21. Andre Johnson @ Bills
22. Golden Tate @ Chargers
23. Julian Edelman vs. Steelers
24. Sammy Watkins vs. Colts
25. Allen Robinson vs. Panthers
26. Brandon Marshall vs. Browns
27. Larry Fitzgerald vs. Saints
28. Vincent Jackson vs. Titans
29. Steve Smith Sr. @ Broncos
30. DeSean Jackson vs. Dolphins
31. John Brown vs. Saints
32. Charles Johnson @ 49ers
33. Eric Decker vs. Browns
34. Anquan Boldin vs. Vikings
35. Eddie Royal vs. Packers
36. Mike Wallace @ 49ers
37. Markus Wheaton @ Patriots
38. Nelson Agholor @ Falcons
39. Kendall Wright @ Buccaneers
40. Marques Colston @ Cardinals
41. Rueben Randle @ Cowboys
42. Torrey Smith vs. Vikings
43. Stevie Johnson vs. Lions
44. Roddy White vs. Eagles
45. Terrance Williams vs. Giants
46. Pierre Garcon vs. Dolphins
47. Danny Amendola vs. Steelers
48. Devin Funchess @ Jaguars
49. Michael Floyd vs. Saints
50. Brian Quick vs. Seahawks
51. Allen Hurns vs. Panthers
52. Leonard Hankerson vs. Eagles
53. Doug Baldwin @ Rams
54. Malcom Floyd vs. Lions
55. Kenny Stills @ Redskins
56. Michael Crabtree vs. Bengals
57. Mohamed Sanu @ Chargers
58. Rishard Matthews @ Redskins
59. Victor Cruz @ Cowboys
60. Marquess Wilson vs. Packers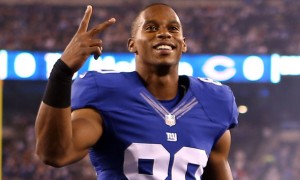 Week 1 Sleepers
John Brown- Tasty matchup against battered and undermanned Saints' secondary.
Leonard Hankerson- Good matchup vs. Philly; will see extra work if Roddy White (elbow) can not go, or is limited.
Michael Crabtree- May be overshadowed by rookie teammate Amari Cooper; has a chance to silence doubters after flaming out across the bay in San Francisco.
Injuries to Monitor
Keep an eye on the following players throughout the week, as they are nursing injuries that could either limit them, or perhaps, rule them out of week 1, (See also: Fantasy Football Week 1 Injury Report.)
Alshon Jeffery (calf)
Randall Cobb (shoulder)
Victor Cruz (knee/calf)
Michael Floyd (hand)
Final thoughts
Keep an eye on the aforementioned injuries and the subsequent impact they may have on the depth charts of those teams affected. Also be sure to check out our composite staff rankings. Good luck to all!