Fans and experts have a yearly argument about whether preseason performance is any indicator of regular season success. There are plenty of cases to prove that both points of view are valid. In my opinion, using some critical thinking along with the raw statistics can shed a bit of light on preseason heroes. It is not an exact science, but the more information available, the better draft and waiver decisions can be made.
Keep Your Eyes Open – There Could Be Something To This

Vance McDonald TE SF – Stat Line: 2 receptions 54 yards 1 touchdown
McDonald is a favorite target of Blaine Gabbert and if Gabbert is the starting quarterback, this could be a sneaky productive season for McDonald. His production spiked last season when Kaepernick headed to the bench and that may be the arrangement out of the gate. Watch this as the preseason progresses.

Christine Michael RB SEA – Stat Line: 7 carries 44 yards
I can't explain how much it hurts me to mention Michael once again, but it may be warranted. Rawls is not back at full health and Procise is more of a third down type back. The coaches have been raving about Michael and he is still very young. There is not always fire where there is smoke when it comes to this guy, but it is another situation worth monitoring.

Cody Latimer WR DEN – Stat Line: 7 receptions 82 yards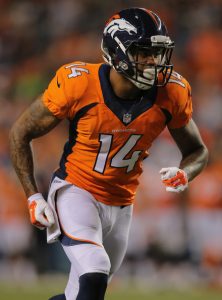 Latimer is a player that saw a moderate amount of sleeper hype going into last year but he barely saw the field. Now the Broncos are looking for a new offensive identity and perhaps Latimer can be a part of it. At the very least the coaches seem intent on taking a long look at him.

Jaelen Strong WR HOU – Stat Line: 4 receptions 42 yards
Despite the arrival of rookie Will Fuller and some uncertainty at quarterback, Strong is one of my wide receiver sleepers heading into this season. He saw a solid number of targets in week 1, but more information will be needed to discern his role in the offense.

Michael Thomas WR NO – Stat Line: 4 receptions 67 yards
Thomas is a highly regarded rookie on a team with some real offensive firepower. Drew Brees is one of the best in the league and if he starts drawing a bead on Thomas on a regular basis, he could be a great value. Keep an eye on the market share accrued by Thomas behind leading receiver Brandin Cooks.
Stay Calm – Matchup Based/Fluky Results

Titans Running Backs – Stat Lines:
Demarco Murray – 6 carries 93 yards 1 td
Derrick Henry – 10 carries 74 yards 1 td
Bishop Sankey – 3 carries 52 yards 1 td
I was briefly excited by the early returns from Demarco Murray and Derrick Henry, but the fact that Bishop Sankey ran well is troublesome. Odds are Sankey did not become a good pro running back overnight. That tells me that the competition did not come to play in this one and I am mostly disregarding the results. Murray and Henry did have decisive, violent runs but that is not news. The real question is whether or not the offensive line can make a run game feasible versus a motivated defense.

Teddy Bridgewater – Stat Line: 6 for 7 92 yards 1 touchdown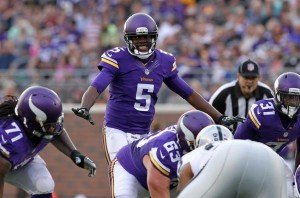 Bridgewater's line score looks excellent, but pretty much all of that production came against the backup defenders. Playing against the first team, Bridgewater was on the run and could not make any plays. This bears monitoring, but it does not seem like he has made any giant leaps in development just yet.

Ravens Running Backs – Stat Lines:
Kenneth Dixon – 9 rushes 44 yards
Terrance West – 9 carries 25 yards 2 touchdowns
Javorius Allen – 1 reception 19 yards 1 touchdown
Despite not getting to see Justin Forsett, I think that I can fairly quote the late Dennis Green and say "They are who we thought they were". The Ravens look like a full blown RBBC with Dixon and West battling for a decent share of the rushes with Forsett. Allen should handle most of the passing duties. For those going wild for "new goal line back" Terrance West, slow your roll. There are four backs getting work here and this was one week of exhibition.

Josh Ferguson RB IND – Stat Line: 8 carries 3 yards
The Colts have clearly not gotten better at run blocking overnight, but there is still hope here. Ferguson still has all of the talent that has made him a popular sleeper throughout the offseason. Frank Gore is the man in Indy, but Ferguson still has some solid appeal despite this awful first showing.

Week two is only a couple of days away from getting started, so we'll keep an eye on these and other storylines. The preseason is murky because of the shuffling of first and second team players, but some trends will emerge by week 3 and hopefully bargains will abound as a result.