Every week unheralded players make a difference in NFL, fantasy and DFS matchups. Just look at the tight end scores in Thursday night's matchup. Picking the next virtual unknown to go off is one of the hardest feats for fantasy owners. Here are some nice choices that should have enough opportunity to help out your fantasy team in week 10.
Quarterback
Case Keenum LA 2.6% owned
Keenum has been hit or miss all year; not necessarily a desirable trait in a fantasy football quarterback sleeper. On the other hand, he has gone off for a couple of huge games and can be had for nothing. Just two weeks ago Keenum threw for over 300 yards and three touchdowns. This Sunday the Rams face the Jets terrible pass defense and should be able to put up some points. Keenum belongs on the wire the vast majority of the time, but this week he may be a worthwhile spot starter.
Running Back
Rob Kelley WAS 39.4% owned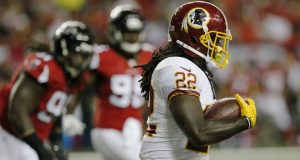 This unheralded running back is getting no respect from fantasy owners, but he is going to start for Washington this week. After falling out of favor with coaches, Matt Jones was injured. This gave Kelley a chance to take over the ground game and he flourished for a week. He managed 87 yards and a touchdown versus the Bengals and earned a second start even though Jones is healthy. This could turn into a rest of the season type move if Kelley continues to produce.
Peyton Barber TB 38.3% owned
The Buccaneers have just about run out of running backs to throw out on the field. The run game in Tampa has been devastated by injuries and Barber is one of the last men standing. Doug Martin is on the way back and may play this week, but he will probably not see a full workload right out of the gate. That means that Barber should still see a nice number of touches after filling in last week. In all likelihood this is the last week that he will be useful, but one week is better than nothing.
Paul Perkins NYG 30.9% owned
The Giants run game is a scary thing to get involved in, but Perkins is talented. The rookie saw 14 touches last week, for a nearly 50/50 split with Rashad Jennings. It seemed like Perkins was the back that coaches preferred based on the times that he was in the game. Before long the New York backfield could transition from the struggling veteran to a less known quantity in Perkins.
Wide Receiver
J.J. Nelson ARI 22% owned
The only reason that Nelson qualifies as a sleeper is the depth of talent in Arizona. On most other teams this is a guy that would be a top receiver. That transition may be happening for the Cardinals as well. At the moment, Bruce Arians is calling Nelson the teams number 2 receiver. That should mean a lot of targets against the 49ers defense that routinely gets burned on the ground and in the air. Nelson could be considered as high as a WR2 this week, maybe with even more upside.
Dontrelle Inman SD 7.2% owned
The injury report for the Chargers has been packed all year long. Now that starting wide receiver Travis Benjamin is doubtful to play on Sunday, Inman should be seeing quite a few targets from Phillip Rivers. Miami is not a team that is likely to be able to stop Rivers and the Chargers offense, so Inman should be worth a start in this one. PPR leagues add even more appeal as Inman may be the Bolts top receiver in this one.
Jakeem Grant MIA 0.1% owned
This is a deep draw, but the Dolphins are beat up in the wide receiving corps. Jarvis Landry, Kenny Stills and Leonte Caroo are all questionable for the game versus the Chargers. Even if some of them play it is likely that Grant will get in on the action this week. Landry is the most important as far as health since Grant is more of a slot receiver type. If the Dolphins sit Landry or limit him, Grant should have a good chance for flex worthy numbers.
Tight End
Austin Hooper ATL 8% owned
There is no chance that Jacob Tamme plays this week against the Eagles, so Hooper gets the start. Over the last two weeks, Hooper has acquitted himself well as the Falcons top tight end. He has 8 catches and has gone over 40 receiving yards in the two games he has been the starter. Last week he also managed to reach the end zone. These numbers are not amazing, but Hooper looks like someone that should have opportunities. That is about the most that can be asked from a streaming option at tight end.