---
Well this season is certainly making a viable argument for grabbing a wide receiver in the first round of your draft. Week 9 saw surprise sensation Dion Lewis lost for the season and some other running backs are barely holding it together to stay on the field. Hopefully you have drafted well enough or made the right waiver moves to be in position for a playoff run. Whatever your record may be, here are the running back rankings for week 10.
Key Players On A Bye: Devonta Freeman ATL, Frank Gore and Ahmad Bradshaw IND, Danny Woodhead and Melvin Gordon SD, Choose an awful 49ers running back
Injury Concerns:
LeSean McCoy BUF Questionable, Eddie Lacy GB Questionable, Bilal Powell NYJ Questionable, Latavius Murray OAK Questionable, DeAngelo Williams PIT Questionable
Week 10 Waiver Wire Picks: Quarterback And Tight End / Running Back / Wide Receiver / IDP
Elite Tier - Must Starts
1. DeMarco Murray PHI vs. MIA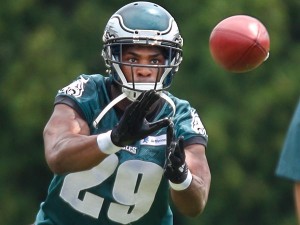 2. Justin Forsett BAL vs. JAC
3. Todd Gurley STL vs. CHI
4. Adrian Peterson MIN @OAK
5. DeAngelo Williams PIT vs. CLE Questionable
6. Doug Martin TB vs. DAL
7. Mark Ingram NO @WSH
Murray has been clicking on all cylinders for the last few weeks, even with Ryan Mathews getting some touches. Miami is not scaring anyone on defense and Murray should have another big day. Forsett goes up against Jacksonville and he is the Ravens' best offensive weapon. Whether running or catching passes Forsett will put up points. Gurley is probably the best back playing right now, you never sit him. Adrian Peterson is no longer dominant but he has plenty in the tank to put a hurt on the Oakland defensive front. The only concern is if the Raiders jump out to a big lead. DeAngelo Williams did not disappoint in his start last week, but there is some injury concern there. Doug Martin gets a weak Cowboys defense and he should be able to take advantage. Ingram is basically matchup proof, especially now that the Saints offense is in gear.
Strong Plays - Reliable, But A Notch Below
8. LeGarrette Blount NE @NYG
9. Giovani Bernard CIN vs. HOU
10. Darren McFadden DAL @TB
11. Lamar Miller MIA @PHI
12. James Starks GB vs. DET
13. Chris Ivory NYJ vs. BUF
14. Marshawn Lynch SEA vs. ARI
Blount should see a larger role in the Pats offense with the absence of Dion Lewis. Bernard is the more consistent back in Cincy and as a result merits the higher rank. McFadden has been a borderline stud since taking over in Dallas. Lamar Miller has been great recently but Philly can stop the run so expectations must be lowered for a week. Starks has outplayed Lacy for a few weeks. If Lacy cannot go, Starks becomes a top-ten option. Chris Ivory is great, but a matchup with Buffalo is no cakewalk. Lynch has an even tougher matchup against Arizona, but he is a good bet to score.
Risk/Reward - Potentially Shaky
15. Jeremy Hill CIN vs. HOU
16. Latavius Murray OAK vs. MIN Questionable
17. Charcandrick West KC @DEN
18. Eddie Lacy GB vs. DET Questionable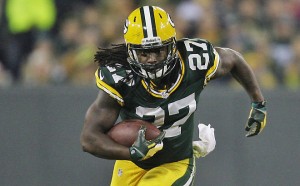 19. Jonathan Stewart CAR @TEN
20. T.J. Yeldon JAC @BAL
21. Ryan Mathews PHI vs. MIA
22. Duke Johnson Jr. CLE @PIT
23. LeSean McCoy BUF @NYJ Questionable
Jeremy Hill is the definition of risk/reward. Murray would be ranked higher but he is in the concussion protocol and may not play. West would also be ranked higher but he is playing the Broncos. Lacy may not play at all and he is a risky start if he does. Stewart has been decent, but the Titans defend the run well and Cam Newton is on fire throwing the ball. Yeldon may not see a lot of carries because Baltimore is so easy to throw on. Ryan Mathews performs miracles with his limited touches, but he has a dud now and then. Duke Johnson is reliant on passing plays for most of his scoring. LeSean McCoy has an awful matchup on a short week and he is injured.
Question Marks - RB2 Upside
24. Karlos Williams BUF @NYJ
25. Jeremy Langford CHI @STL
26. Ronnie Hillman DEN vs. KC
27. Alfred Blue HOU @CIN
28. Shane Vereen NYG vs. NE
Karlos Williams will see an expanded role whether or not McCoy plays; unfortunately the Jets aren't likely to give him much. Langford looked great last week but the St. Louis defense is another story. The Broncos running backs looked awful in week 9; I think Hillman has a better chance to produce in week 10. Blue is not an impressive back but he has most of the touches out of the Houston backfield. Vereen is up against his former team and the revenge factor is the only reason to believe he could put up some points.
Flex Appeal - Usable In A Pinch
29. C.J. Anderson DEN vs. KC
30. Chris Johnson ARI @SEA
31. Matt Jones WAS vs. NO
32. C.J. Spiller NO @WAS
33. Charles Sims TB vs. DAL
34. James White NE @NYG
35. Antonio Andrews TEN vs. CAR
Anderson may be the lead back this week or not, only the Denver coaches know. Chris Johnson has a very tough matchup in Seattle and I don't expect much. Matt Jones has a fairly easy matchup and I don't expect much there either. Spiller could break a big one but there is just as much chance that he puts up a donut. Sims remains a nice PPR option and little else. James White is a huge roll of the dice that could pan out if he sees some of Dion Lewis's touches. Antonio Andrews gets a good volume of touches but that will probably not be enough against Carolina.
Tough Sledding - Let Them Be Someone Else's Problem
36. Chris Thompson WAS vs. NO
37. Dexter McCluster TEN vs. CAR
38. Theo Riddick DET @GB
39. Bilal Powell NYJ vs. BUF Questionable
40. Alfred Morris WAS vs. NO
41. Rashad Jennings NYG vs. NE
42. Andre Ellington ARI @SEA
43. Isiah Crowell CLE @PIT
44. Jonathan Grimes HOU @CIN
45. Darren Sproles PHI vs. MIA
46. DeAnthony Thomas KC @DEN
47. Denard Robinson JAC @BAL
48. Marcel Reece OAK vs. MIN
49. Ameer Abdullah DET @GB
50. Javorius Allen BAL vs. JAC