There are just four weeks left of the regular season in most fantasy leagues. It is time to start thinking about what players can help you secure your playoff spot. Beyond that, maybe stash a lottery ticket or two for your run for the championship. Whatever your team may need, the waiver wire is the perfect place to start.
Quarterback
Derek Carr OAK Rostered - 39%
The Raiders look like the real deal and Derek Carr is a big part of that. He has been extremely efficient, particularly since the team's bye week. Since the bye, Carr has thrown 7 touchdown passes in three games and only turned the ball over twice. The silver and black have some very nice matchups on the schedule still and Carr should pay dividends for any team that grabs him.
Ryan Tannehill TEN Rostered - 8%
Every time I have recommended Tannehill, I have come to regret the decision quickly. The difference now is that he is surrounded by talent and put in positions to succeed. He is still turnover prone, but having good receivers can cover up the blemishes. The Titans current starter has put up over 20 fantasy points in three straight games. While he is still Ryan Tannehill, it looks like he could be a decent fill-in/spot starter down the stretch.
Running Back
Ronald Jones II TB Rostered - 38%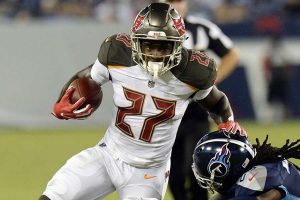 If you are looking for a solid addition for that playoff run, here is your guy at running back. He has the endorsement of his coach and the starting job in a decent offense. RoJo has gotten double digit carries five times this season and he scored at least 9 fantasy points in four of those games. If the coach is true to his word and Jones is the guy going forward, he could be a huge boon to fantasy teams. I would make him my top waiver priority for the week and start him against Arizona this week.
J.D. McKissic DET Rostered - 6%
The fun, buzzy name coming out of the Kerryon Johnson injury was rookie Ty Johnson, but he has had no success. The veteran McKissic, on the other hand, has looked effective in his limited attempts. He averaged 8 yards per carry (on only 4 attempts), while bringing in 3 catches for 40 yards and a score. Next up, the Lions face off against the Bears and the latter has struggled against pass catching backs. By this time next week, the window to grab McKissic may have closed. Go grab the new model of J.D. McKissic (aka Theo Riddick 2.0) and enjoy the PPR goodness.
For The Incredibly Desperate
Kalen Ballage MIA Rostered - 9%
On the one hand, it looks like Ballage should be the lead back for the Dolphins following the suspension of Mark Walton and the trade of Kenyan Drake. On the other hand, Ballage is terrible and so are the Dolphins. There should be some volume to be had here, but the quality is maybe the worst from any starting back in the league. It is basically going to be touchdown or bust for Ballage and I'm not expecting touchdown. If you really feel spicy, feel free to grab Myles Gaskin in case he manages to leapfrog the uninspiring second year man.
Handcuff Holding
Alexander Mattison MIN
Darrell Henderson LAR
Damien Harris NE
Ryquell Armstead JAC
Tony Pollard DAL
Wide Receiver
DeVante Parker MIA Rostered - 26%
This may feel like a very unpleasant deja vu, seeing Parker on a waiver wire column. The difference is that this time Parker is getting targets and producing. He is going to have to produce at a higher level now with the loss of rookie Preston Williams. Parker has five games this year with at least six targets. He has only been targeted less than four times once. He is the 27th ranked receiver and the volume is going to keep coming for a team that is always playing from behind. While most of his production comes in garbage time, it still counts.
Zach Pascal IND Rostered - The Colts are working without their top receiver, T.Y. Hilton, and so far Pascal has stood out. He has had several nice games this year, but his role has been inconsistent so far. With the absence of their star, the Colts may turn to Pascal in a big way going forward. He showed a nice rapport with both Jacoby Brissett and Brian Hoyer during the Colts game against the Steelers. If I were to choose one piece of the Colts passing game to own, it would absolutely be Zach Pascal.
A.J. Brown TEN Rostered - 15%
One of the reasons that Ryan Tannehill is a roster-worthy quarterback right now is rookie A.J. Brown. He is not setting the world on fire statistically, but Brown passes the eye test and has some nice weeks. There has not been a single breakout week for the young receiver, but he always appears to be right on the precipice of becoming a focal point in the Titans offense. I recommend grabbing him now, before he takes off in a big way.
Emerging Threat
Hunter Renfrow OAK Rostered - 3%
Things are looking up for the Raiders offense and Renfrow has been a big part of that over the last two games. The rookie receiver has 8 catches for 142 yards and two scores over the course of those games. There are plenty of mouths to feed in the Oakland offense, but Renfrow clearly has the trust of his quarterback and that is the first step to success. He is probably a matchup play at this point, but the next couple of weeks might change that.
Tight End
Mike Gesicki MIA Rostered - 3%
There was plenty of hype surrounding the Dolphins tight end coming out of college. He failed to produce in his first season, but is making clear strides in his second. Now that the offense is down a couple of targets (Williams - Injury, Walton - Suspension), Gesicki should become more of a focal point. He has 15 targets over the course of the last four games and that should only increase going forward. At the tight end position, volume is the best that you can hope for, and it will be there for Gesicki.
Noah Fant DEN Rostered - 8%
The career of Brandon Allen as the Broncos starting quarterback got underway with a bang on Sunday. He led the Broncos to a win over the Browns, thanks in no small part to Noah Fant. The talent has never been in question for Fant, but it has not translated to much production. That may change down the stretch with a new quarterback and hopefully more reliance on the tight end position. The insane physical talent makes Fant worthy of a roster spot. He makes for a scary starter right now, but in a week or two he may be the TE for your playoff squad.
Be sure to come back and check out our weekly positional rankings before setting your lineup. Follow me on Twitter for extras and questions answered: @brendancole16.