Week 10 poses a new set of questions as we gear up for the stretch run of the 2015 NFL season. Will Antonio Brown keep rolling if Ben Roethlisberger misses more time? Has Randall Cobb finally arrived? Will DeAndre Hopkins pick up where he left off before the bye week? Are Dez Bryant and DeSean Jackson ready to produce after overcoming long-term injuries? We'll sift through the latest matchups, injuries, and bye weeks as we sort out our week 10 wide receiver rankings. We'll also look at some potential sleepers as new faces begin to emerge on the playmaking landscape.
Remember: an asterisk (*) next to a player's name denotes a possible injury concern for that player.
Week 10 Wide Receiver Rankings 1-10
1. Odell Beckham Jr. vs NE- Coming off of a 17 target, 9 catch, 105 yard outing in Tampa, Beckham gets Bill Belichick's Patriots next. It's always tough to construe a matchup against New England as good, but Beckham won't see any shortage of opportunities. Even in the three games in which he has failed to top 50 receiving yards, Beckham still averaged over 8 targets.
2. DeAndre Hopkins @ CIN- Fresh off of a bye, Hopkins has shown that he doesn't need a future Hall-of-Famer under center to produce. Arian Foster is done for the year, and Houston will need Nuk's playmaking presence more than ever. The re-emergence of Cecil Shorts III and Nate Washington has helped keep him from getting absorbed by opposing defenses. The Bengals are in the top-half of the league against the pass and talented outside, but like Beckham, Hopkins has major target volume working in his favor on a weekly basis.
3. Antonio Brown vs CLE- Even with Ben Roethlisberger back on the sidelines, Brown is buzzing and looking like his usual self. Fresh off of 17 catches and 284 receiving yards -- both franchise records -- in week 9, Brown faces the underrated Browns defense next. Cleveland managed to keep A.J. Green from making too big of an impact, but they face a different test in Brown. Landry Jones will start in place of Ben, and Brown managed to put together a 6/124 line against the Chiefs in week 7 with Jones under center. Jones is a pure passer, and he'll be locked in on Brown.
4. A.J. Green vs HOU- A.J. was a victim of game flow in week 9, as Cinci leaned on the run to beat Cleveland. They could employ a similar strategy against a Houston team that is in the top-10 against the pass but, nevertheless, it's tough not to consider Green a top-5 play when he's available. Andy Dalton's progression as a passer bodes well for the likes of Green, Marvin Jones, and Tyler Eifert.
5. Demaryius Thomas vs KC- Quiet week 9 by his standards as Denver suffered their first loss of the season. Look for them to get back on track against the Chiefs in week 10, and look for Demaryius to get back in his groove as well. He showed how he can provide a spark in the short-passing game with his after-catch brilliance on screen plays last week. Peyton Manning will be looking to make similar throws to the ones made in the week 8 game against Green Bay, when Thomas put together an 8-168 line. He's due for a touchdown or two.
6. Alshon Jeffery vs STL- "Jeffries" had a huge game in front of his biggest fan, Jon Gruden, as the bears came back to beat the Chargers on Monday night in week 9. Caught 10 of 16 targets for 151 yards. He seems primed to start scoring, and has managed just over a whopping 13 targets per game this year. Most importantly, he's healthy.
7. Emmanuel Sanders vs KC- Sanders had the better day of the Broncos' big-2 receivers in week 9. There seems to be a bit of a flip-flop effect between Sanders and Demaryius Thomas as to who thrives as the downfield threat, but there will be no shortage of opportunities for both to shine against a Chiefs unit that is 22nd in the league in terms of pass yards allowed. The Broncos will be steaming as they come off of their first loss of the 2015 season, and looking to do what they do best.
8. Julian Edelman @ NYG- Touchdown in week 9 helped sweeten the 5/55 receiving line. He has been seeing a shade under 10 looks a game from Tom Brady, and the Pats get a Giants secondary just two weeks removed from giving up an inordinate amount of big plays and yards to Drew Brees and the Saints. Giants/Patriots usually means lots of big plays will be made by both teams.
9. Allen Robinson @ BAL- 6 catches and 121 yards on 11 targets. A-Rob is a strong weekly play and just put up those numbers against one of the best in Darrelle Revis. He gets a beleaguered Ravens secondary next. Robinson and fellow knucklehead favorite Allen Hurns have just become the first two teammates to hit the 600 yard/6 touchdown mark this early in a season since Randy Moss and Wes Welker did so in 2007.
10. Randall Cobb vs DET- He's alive! Cobb thrived as Green Bay went into catch-up mode, nearly overturning a massive fourth-quarter deficit before eventually falling to the still unbeaten panthers in week 9. Only caught 4 balls, but turned them into 99 yards and a score. The 12 targets are key, and with the Pack suddenly slumping, it's time to get back to the basics, i.e. get Randall Cobb going. Eddie Lacy's continued woes could mean for air time for Cobb and Aaron Rodgers.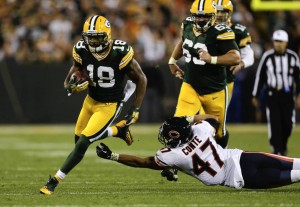 Week 10 Wide Receiver Rankings 11-60
11. Brandon Marshall vs BUF
12. Calvin Johnson* @ GB
13. Michael Crabtree vs MIN
14. Jarvis Landry @ PHI
15. Dez Bryant @ TB
16. Amari Cooper vs MIN
17. Larry Fitzgerald @ SEA
18. Mike Evans vs DAL
19. Pierre Garcon vs NO
20. Jeremy Maclin @ DEN
21. Brandin Cooks @ WAS
22. Stefon Diggs @ OAK
23. John Brown* @ SEA
24. Sammy Watkins* @ NYJ
25. Allen Hurns* @ BAL
26. Davante Adams vs DET
27. Rueben Randle vs NE
28. Marvin Jones vs HOU
29. Vincent Jackson* vs DAL
30. Martavis Bryant vs CLE
31. Eric Decker vs BUF
32. Travis Benjamin @ PIT
33. Brandon LaFell @ NYG
34. DeSean Jackson vs NO
35. Nate Washington @ CIN
36. Kamar Aiken vs JAX
37. Rishard Matthews @ PHI
38. James Jones vs DET
39. Jordan Matthews vs MIA
40. Tavon Austin vs CHI
41. Willie Snead @ WAS
42. Golden Tate @ GB
43. Kendall Wright* vs CAR
44. Cecil Shorts III* @ CIN
45. Mike Wallace @ OAK
46. Michael Floyd @ SEA
47. Ted Ginn Jr. @ TEN
48. Marques Colston @ WAS
49. Jamison Crowder vs NO
50. Tyler Lockett vs ARI
51. Marquess Wilson @ STL
52. Doug Baldwin vs ARI
53. Marlon Brown vs JAX
54. Mohamed Sanu vs HOU
55. Chris Givens vs JAX
56. Cole Beasley @ TB
57. Justin Hunter vs CAR
58. Albert Wilson @ DEN
59. Kenny Britt vs CHI
60. Kenny Stills @ PHI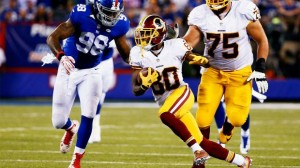 Week 10 Wide Receiver Sleepers
Kamar Aiken/Marlon Brown/Chris Givens vs JAX- The Steve Smith Sr. era has come to an end, at least for now. This trio of wideouts will be counted upon moving forward, with Aiken and Brown seeing a major spike in work as they did when Smith missed a game earlier in the year with a rib injury. Givens earned praise from coach John Harbaugh over the weekend, due to his rising chemistry with QB Joe Flacco.
Jamison Crowder vs NO- DeSean Jackson's return gives his value a hit, but he could be in for a nice day against a bad Saints defense. Still managed 8 targets in week 9, catching 6 of them for 50 yards.
Albert Wilson @ DEN- Has emerged alongside Jeremy Maclin and Travis Kelce as another weapon at Alex Smith's disposal. If The Broncos defense schemes to take those two away, Wilson and Chris Conley could have extra freedom to make some plays underneath in the short-passing game.
Week 10 Wide Receiver Injuries to Monitor
Calvin Johnson (ankle)
Vincent Jackson (knee)
Allen Hurns (foot)
Kendall Wright (knee)
John Brown (hamstrings)
Sammy Watkins (ankle)
Cecil Shorts III (hamstring)
Eddie Royal (knee)
Good luck in week 10.